Black Friday is just over the horizon and in a few days, we'll start to see retailers posting up their offerings for this once-in-a-year event. We're bringing all of our doorbusters straight to your door this coming Black Friday / Cyber Monday 2023!
Black Friday Gifts for Him
Forget about getting new gadgets like the new Playstation 5 or Xbox X series, (it's been a couple of years since they came out and it's STILL not easy to find them) new computer? Forget it, the cryptocurrency boom has still made finding decent parts next to implossible.
Plus you don't want him to sit around all day (and night!) facing the telly or the pc right? Here at Mr Pool Man, we're all about family and togetherness so why not get him something the whole family can enjoy?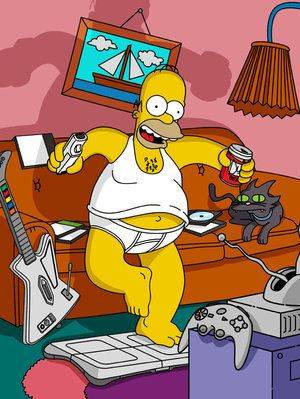 As we mentioned earlier, this year's Black Friday Sale and Cyber Monday Offerings will be different, aside from putting up great items on sale, we will be offering a spend and save promotion where you can get up to $200 off on any qualifying purchase in this year's celebrations. That's right, on top of other discounted gift items, we will be offering an extra $200 off on puchases on Mr Pool Man, and did we say that all orders above $79 will have free shipping?*
Black Friday Pool Gift Ideas
Ten percent off on everything? Can't decide which item to get? Well, don't worry. We'll share with you the top five most "wish-listed" items here on Mr Pool Man so you can see what everyone else is wishing for!
Robotic Pool Cleaners like the Water TechniX SoniX re always on the wishlist for Mr Pool Man shoppers. It's the ultimate in pool cleaning convenience! Why are they always on the list? Well, here are some benefits that robotic pool cleaners bring to the table (or pool!) that makes them one of the most common Black Friday gift ideas.
They clean the pool - Yes, they clean the pool. Charge them up, drop them into the pool, and that's that. No more scrubbing, no more assembling pool hoses, no more manually vacuuming the pool, just plug and play! So yeah, if he did get a new gaming console behind your back, getting him a cordless robotic pool cleaner will ensure that the pool will still get cleaned while he sits in front of the boob tube for hours on end.

Robotic pool cleaners are energy efficient - Robotic pool cleaners like the Water TechniX SoniX Cordless Robotic Pool Cleaner costs around 5 cents an hour to operate. This is because they don't need to be powered by your pool's pump. They're self-contained, they have their own engine blocks that power and propel the unit around the pool, cleaning, scrubbing and filtering as they go along.
They get the job done every single time - Robotic pool cleaners are as thorough as anyone. No more missed spots where algae can cling to, just sparkly clean pool surfaces and water every single time! We're all guilty of missing some spots here and there, especially if there's a game coming up on the telly or if the sun gets too hot and we just want the cleaning to be done with, but with a robotic pool cleaner? No missed spots!
So we've lumped pool covers and rollers together as you really can't really use a pool cover roller with a pool cover. Pool covers are more than just for keeping debris out of your pool. What a lot of people don't realize is that pool covers and rollers makes your pool maintenance tasks a lot easier and saves you money in the long run as well! Here are some benefits of owning a pool cover and roller sets that have put them on everyone's Black Friday wishlist as well: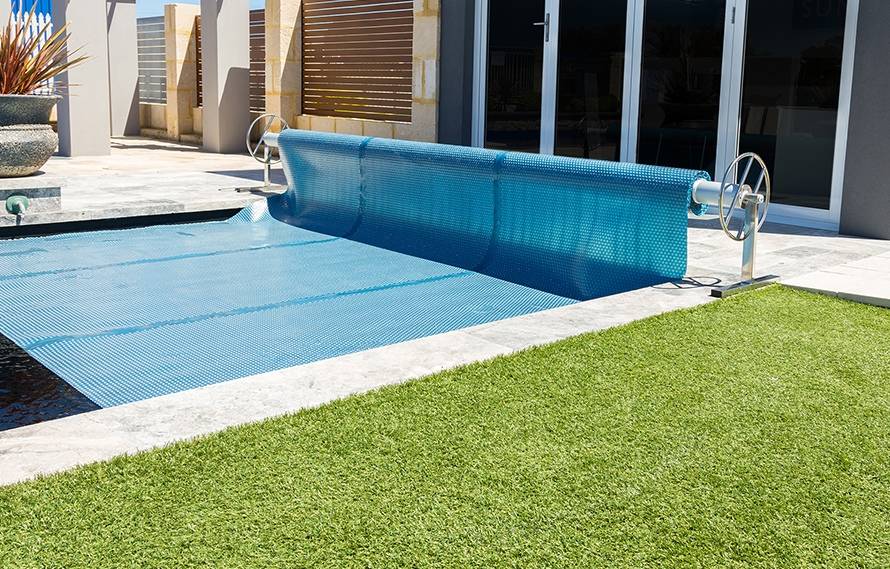 Pool Cover Benefits
They save on water - While it may seem negligible if you're not monitoring the water levels, an average-sized pool can actually lose anywhere from 50,000L to 100,000L of water every year! That's right, that's not a typo. Up to 100,000L of water in evaporation lost every single year for an average-sized pool. With a pool cover? Studies have shown that with a good pool cover like the ones made by Daisy can save you up to 95% from evaporation. To learn more about how covers can help you maintain your pool water, check out this really helpful article on

how to keep your pool water level during Australian water restrictions.

 

They save on chemical usage - Some chemicals evaporate along with your pool water, especially during those hot days. By utilising a pool cover, you're effectively cutting down on your pool chemical usage as well by as much as 60%!

Less cleaning involved - With a pool cover, you no longer have to spend precious time fishing out leaves and debris with a leaf rake. This leaves you with more time to enjoy the pool!

Save on heating bills - If you're the type of person that has to have warm pool water then a swimming pool cover is the way to go. Thicker pool covers like the Daisy 400 or the 525 will retain as much as 8 degrees of heat overnight! This will help you cut down a lot on your heating bills and make sure that your pool water isn't ice cold if you ever decide to take an early morning dip!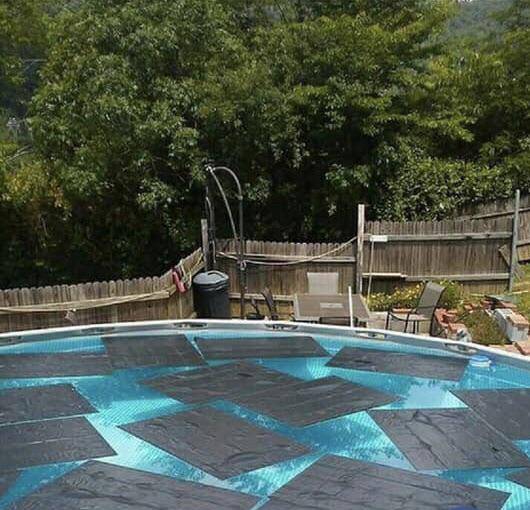 *This wasn't what we had in mind when we heard "ultra-affordable" pool cover solution
Pool Roller Benefits 
Ease of use - Remember that you can only reap the benefits of having a good pool cover when you actually use the cover! After a long day of swimming (yes, we're guilty of this at times as well) sometimes we're just too tired to manually unroll the pool cover to cover up the pool for the day. So if the pool cover is just there in the corner, it's not doing its job. On average, it takes around 5 to 10 minutes to roll or unroll a pool cover depending on the size and shape of your pool, but with a pool roller it only takes about 30 seconds to do it!

Protects your pool cover - Having a pool cover roller means that your cover is properly stored each and every single time. It prevents creases and other physical damage that might happen to your pool cover if it's just yanked out and stashed in a corner somewhere.
If you've always wanted to heat up your pool water but was worried about the associated electric/gas bill that comes with it then we have the perfect solution for you! Pool heat pumps like the Water TechniX Inverter Heat Pump Paradise are the most energy efficient heating solutions for Australian pools. Depending on the size of your pool and your heat pump size, you can save up to 90% on your pool heating bills when compared with traditional gas or electric pool heaters!
Tangible Benefits of having a pool heat pump
Extremely Durable - Since heat pumps draw in heat from the atmosphere and actually produce no heat themselves, there are no parts to "burn out" like filaments and the like. This means that long after a traditional pool heater has burned out and needs replacements or repairs, your heat pumps will still be there, chugging along like the first day it was installed.

Extremely Efficient - Regular pool heaters have a coefficient of performance or COP of about 1. This means that for every 1 unit of energy that is consumed, 1 unit of heating is transferred to the pool. Heat pumps on the other hand have a COP of around 10. For every 1 unit of energy consumed, 10 units of heating is transferred to the pool! Talk about efficiency right? I'll take those numbers any day! Update: The latest Water TechniX Paradise Heat Pumps have an Average COP of 14!

ECO-Friendly - Yes, we want the pool water heated up, but not the atmosphere. Less energy used to heat up our pool not only equates to savings on your part, but less greenhouse gasses as well!
For more benefits to using heat pumps, you can read more here: The Benefits of Using a Pool Heat Pump.You can check out our entire range of pool heat pumps here. If you need help in determining the right sized heat pump so you can get one during the Black Friday / Cyber Monday 2023 then reach out to our customer service team so we can figure out the best size for your pool!
Do you have an older pool? Everything's making too much noise or there are leaks everywhere? Lights dead and needing replacements? Well, maybe it's time to replace everything with a pool equipment package from Water TechniX. Each bundle is carefully put together so you'll get the perfect sized setup for your pool. Not only that, but each pool bundle has been discounted to give maximum savings!
While these pool equipment bundles are available whole-year-round, now's the chance to get them at even lower prices with Mr Pool Man's site-wide Black Friday discounts. There's really nothing else left to think about except when to click that "buy now" button!
Water TechniX Pool Bundles
Energy Efficient Pool Bundles - This pool bundle comes with the Water TechniX Pump Switch ECO Pool pump, a Water TechniX Atomic Salt Water Chlorinator, and the filter type of your choosing (either a sand media filter or a cartridge filter system, both made by Water TechniX of course, media or filter cartridge included!).
Regular Pool Bundles - These bundles come with a standard Water TechniX Pump Alpha, a Water TechniX Atomic Salt Water Chlorinator, and the filter type of your choosing (Sand or cartridge filter system with included filter media)
Pool Chemical Bundles - While not a specific Black Friday / Cyber Monday gift idea, it's a good idea to stock up on pool chemicals while they're heavily discounted! If you're worried about stocking chemicals then you can check out our article on "

Do pool chemicals expire?

" to see which ones you can safely stock up on.
Water TechniX LED Pool Lights - Our newest LED Pool light offering, LED Lights can transform your pool from drab to fab in just a few minutes! The Water TechniX LED pool lights are designed to retrofit for the most popular pool light installations in Australia in no time at all!
Final Black Friday Thoughts
Black Friday isn't just about getting great products at discounted prices (although it is a nice perk to it!) but it's also a way to get your pool essentials at prices that you'll only see once a year. It's also a great opportunity to get Christmas shopping out of the way early as well! It's a sneaky way of getting something for everyone as well! Mark it as a Black Friday or Early Christmas gift for him and everyone in the family benefits!
We've come to realize that the recommendations on this page are a bit high-ticket, so that's why we've partnered up with some of Australia's most trusted payment companies to make sure that all of your purchases are protected and you have options of spreading out the payments to make them lighter on the pocket as well! For purchases under $2,000 we recommend Afterpay so you can split up your payments into 4 interest-free payments. For purchases over $2,000 we also have the SplitIt facility available, which also gives you the option to split up your purchase into separate interest-free payments. For more information on our payment options, check out our Payments page here.
Do you have any questions about this topic or the featured products? No worries, we're here to help! Drop us a question down below and we'll get back to you ASAP.
Happy swimming :)