Oh my gourdness! It's finally Halloween! The scary season is coming up and what better way to celebrate it by hosting your own spooktacular Halloween pool party! In this post, we'll be looking at easy-to-do activities for the whole family, Halloween pool decorations that you can do at home, and of course, what's a pool party without some themed food right? All treats and no tricks for this guide! Well, maybe a trick or two wouldn't hurt!
DIY Halloween Pool Decorations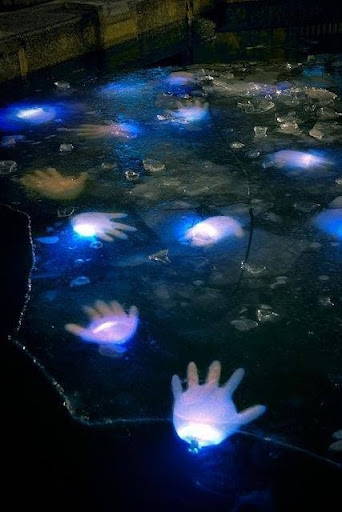 This first one is pretty simple to do and is good fun for the kids to do as well. Take a box of surgical gloves (pretty easy to find now due to the pandemic and with the lockdowns being eased, they should be pretty cheap) and blow them up, insert a glow stick inside (don't forget to activate it first!) tie it up tightly and chuck it into the pool! When dark comes, you're going to be treated to a scary pool with glowing and floating hands. If you can't find gloves then white balloons can work, and you can have a contest to see who can draw the scariest or funniest face on them!

Even though they seem to be too heavy to float, pumpkin and squash has lesser density than water, allowing them to float! Carve out your favorite designs (don't throw out the pumpkin squash meat! We'll have a very good recipe for it down below) and set them gently on your pool and you'll have floating jack-o-lanterns! You can also place tea candles inside for a spookier feel! If candles aren't your thing or if you just want to be extra safe, glowsticks inside the jack-o-lanterns work fine as well. OR if you don't want the hassle of carving out pumpkins, you can always use the plastic pumpkin candy baskets which you can buy anywhere, but where's the fun in that right!
If you're short on time, then grab some baby pumpkins, chuck them into the pool and you'll have a Halloween themed pool in no time! And the best part is, your guests can take some home with them as tokens! #SquashGoals
P.S. Don't forget to turn off the pool lights for maximum effect!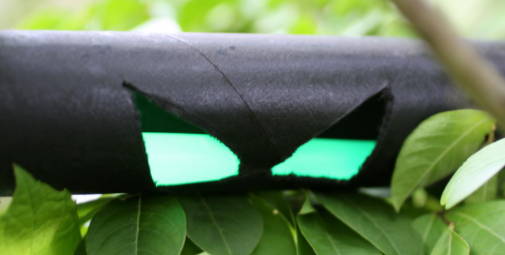 All you need for this is some glow sticks and some toilet paper cores or some thick construction paper (preferably black) and some scissors! Cut out some scary eyes on the cores or construction paper, stick a glow stick inside, hide in dark places (like bushes or shrubs) and when dark hits, watch your kids and guests get creeped out when scary glowing eyes peek at them from everywhere!
If you have multicolored LED pool lights then this can be as simple as pressing a button on the remote! But if you still have the old fashioned single color halogen or fluorescent lights then maybe you can consider upgrading to a multi color LED pool light here. If you want a bloody red pool for your Halloweeen spooktacular then you can always get some pool-safe dye which can be purchased at specialty pool shops. Just make sure to give your pool a good shock with the Water TechniX Tri-Shock afterwards to get rid of any organic residue left to ensure that your pool chemical balance stays on point afterwards.
Fun Halloween Poolside Activities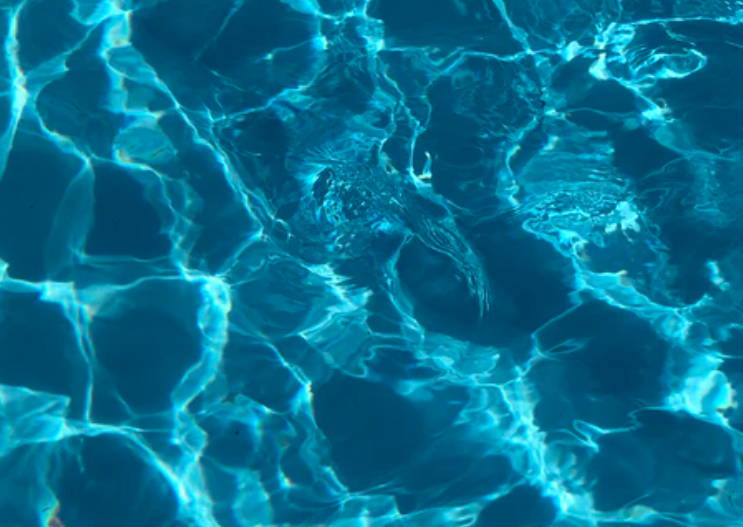 Yup! There's a bottle there somewhere
When it starts to get dark, get some clear white water bottles, remove the labels, fill them with pool water and drop them in the pool. The one who can gather the most bottles win! Don't laugh, it's much tougher than it sounds like! The dark-ish water plus whatever floaties you have in the pool coupled with the clear plastic bottles will make them almost invisible and very challenging to find!
Whether it's floating jack-o-lanterns or floating hands, you can easily make a game of it! Start from one end of the pool and try to push it all the way to the other end of the pool. The twist? Contestants can't use their hands! They can only use their noses to push whatever floating prop you have across the pool!
The game is quite simple, grab a handful of coins, throw them into the middle of the pool and have the contestants gather as much as they can! As a bonus, they can use the treasure that they have collected to "buy" prizes! Added incentive for everyone!
For even more family fun, make the prizes with the kids! Create gift bags of different sizes for different "prices" so that the winners can use their pirate booty to buy them!
P.S. To avoid cheating and from people using their own stash, mark the coins with some nail polish!
A Halloween party wouldn't be complete without some rocking tunes to party to right? Here are some tracks to set the mood for your halloween pool party! P.S. We suggest using a floating bluetooth speaker so that your music can come from the pool itself! Plus it's waterproof so you don't have to worry about lugging out and damaging your home sound system!
"Monster Mash" — Bobby (Boris) Pickett
"Anthem" — Michael Ables
"Bury a Friend" — Billie Eilish
"The Phantom of the Opera" Overture — Andrew Lloyd Webber
"Stranger Things" Theme — Kyle Dixon & Michael Stein
"Haunted" — Beyonce
"Haunted" — Taylor Swift
"Zombie" — The Cranberries
"A Nightmare on My Street" — DJ Jazzy & The Fresh Prince
"Hells Bells" — AC/DC
"I Put a Spell On You" — Bette Midler
"Thriller" — Michael Jackson
"Ghostbusters" Theme — Ray Parker Jr.
"Superstition" — Stevie Wonder
"Somebody's Watching Me" — Rockwell
"The Addams Family" Theme — Vic Mizzy
"I'm in Love with a Monster" — Fifth Harmony
These are just some of the tracks we suggest to set the mood! There are hundreds more of tracks out there that are just as good, simply type in spooky songs on spotify, stream to your bluetooth speaker and your pool party is almost complete!
Halloween Pool Food Ideas
Hard Boiled Eggs, Halloween Style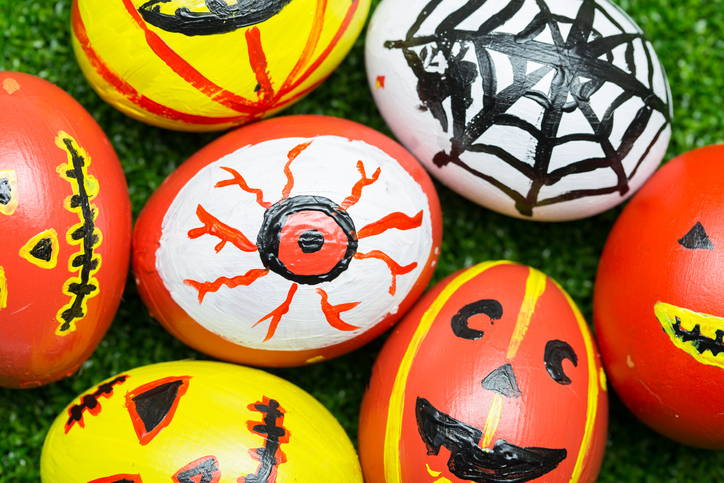 Just like Easter Eggs, this can be a very fun family bonding activity with the kids! Instead of painting the eggs with cheery and colorful designs, draw some spooky things on it like skulls, eyeballs, ghosts, creepy faces and more!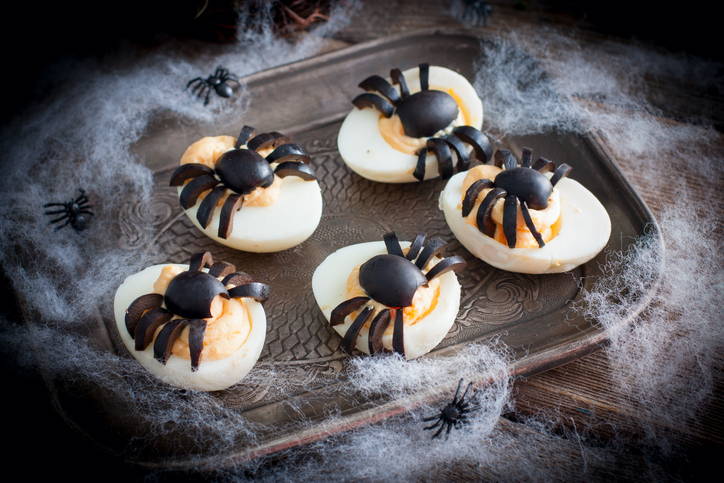 If you have extra eggs, then you can make spider devilled eggs, perfect for the theme right?
Ingredients
Six Hard Boiled Eggs

¼ Cup Mayo

1 teaspoon white vinegar

1 teaspoon yellow mustard

Salt to taste

Black Pepper to taste

Sweet/Smoked paprika for garnishing

Black Olives for some extra spookiness
Steps
Carefully peel the hard boiled eggs and slice them in half. Separate the yolks from the whites

Combine yolks, mayo, vinegar, mustard, salt, black pepper and mash into a paste

Arrange egg whites on a serving platter and carefully spoon egg yolk mixture into each one.

Place half a black olive in the middle for the spider "body" and ⅛ slices all around for the legs of the spider

Garnish with sweet or smoked paprika


Not only will this taste amazing, but it adds to the overall theme of the party as well!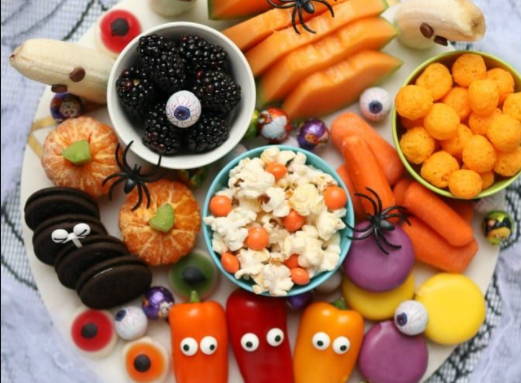 Another simple thing to do for your party is to take your favorite fruits and add a scary twist to it! Get the kids together and use chocolate chips, raisins, and mini marshmallows to create scary faces on the fruits! P.S. We did this last year and the kids made ultra-funny faces instead of scary ones, but the idea remains the same! Fun for everyone and yummy treats for your guests!
Old-Fashioned Pumpkin Pie Recipe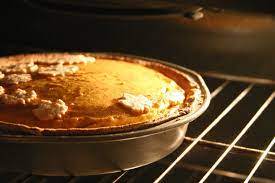 Now if you've followed the earlier suggestion of creating jack-o-lanterns, then you might have a lot of pumpkin meat left over. A lot of people simply throw them away, but where's the fun in that right? With this old-fashioned pumpkin pie recipe, you can avoid waste and have a tasty treat as well!
Ingredients
1 store bought pie crust (you can make your own, but we found that store bought crusts work just as well)

500g of pumpkin meat

1 cup brown sugar (we love brown sugar because it has a more "caramel" taste than white sugar

1 tablespoon ground cinnamon

¼ tsp ground nutmeg

¼ tsp ground cloves

¼ tsp ground ginger

3 eggs

½ teaspoon salt

2 tablespoons flour

Steps
Take your pumpkin meat and boil until soft. Drain well and set aside

Mash the pumpkin meat with a fork until there are no more lumps (unless you want a chunky pie filling then you can opt for that as well)

Combine all of the ingredients together except for the eggs. Once the mixture is completely mixed, add in the eggs one by one and continue mixing until smooth.

Add the pumpkin mixture to your pie crust, then bake at a preheated oven (350F) for 35-40 minutes.

Turn off the oven and allow to continue cooking and cool down in the oven for at least an hour for the filling to set properly before serving.
Before serving, you can decorate your pumpkin with spooky decorations to fit the theme, but after tasting it, you'll be making it the whole year round!
So that's it! Everything you'll need for a fangtastic Halloween pool party! You know, here at Mr Pool Man we're just creepin' it real so this coming Halloween, eat drink, and be scary! The guide is there for a howling good time and your guests will definitely fangs you for the memories. Time to get this party startled!
Dive into summer-themed pool party ideas we have prepared below and make a splash at your next pool party!
Do you have any questions about this topic or the featured products? No worries, we're here to help! Drop us a question down below and we'll get back to you ASAP.
Happy swimming :)