Have you ever thought about getting a pool roller but you're concerned about the footprint taking up a lot of precious real estate around your pool? Apparently, the folks over at Daisy keep getting these emails as well so they came up with something that can utilize the space used by pool roller covers.
Introducing the Daisy Under Bench Roller
When I first saw the Daisy Under Bench Roller, my first reaction was "Why didn't I think of that?" The Daisy Under Bench Roller is basically their pool cover roller built into a bench that serves multiple purposes:
It allows the space to be used as a bench for pool users to sit or place stuff on like towel, pool toys, food, and other things!

It also provides some protection for your pool cover, shading it from direct sunlight which can damage your pool cover, especially when dry.

Of course, it's a pool cover roller, it allows you to roll your pool cover on and off in a matter of seconds and not minutes! (Safely too for that matter!)
Adds to your pool aesthetics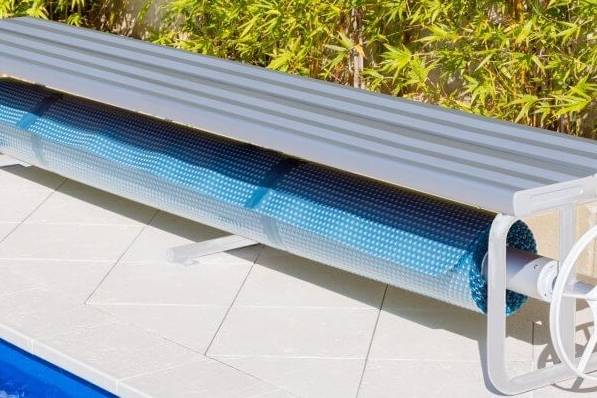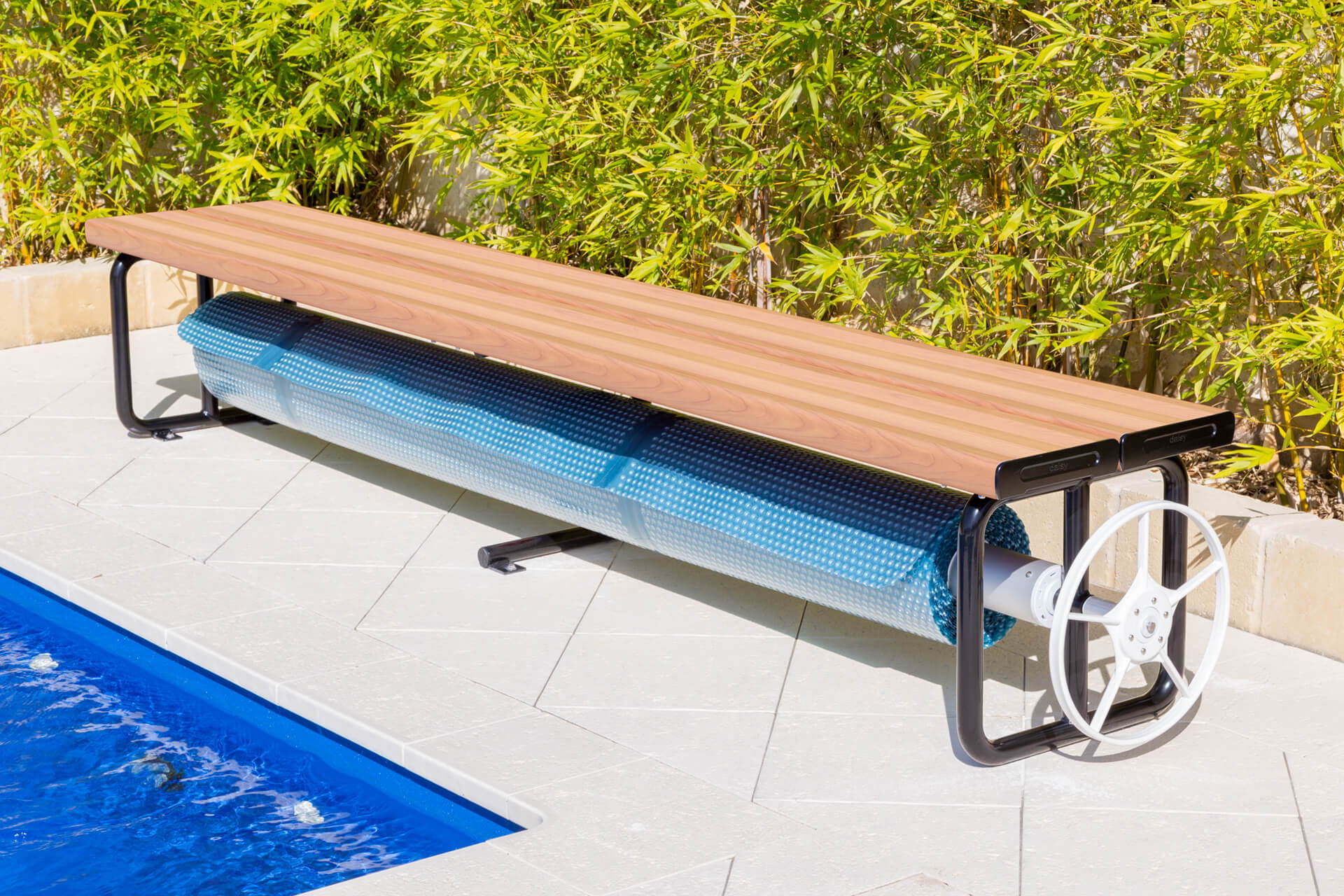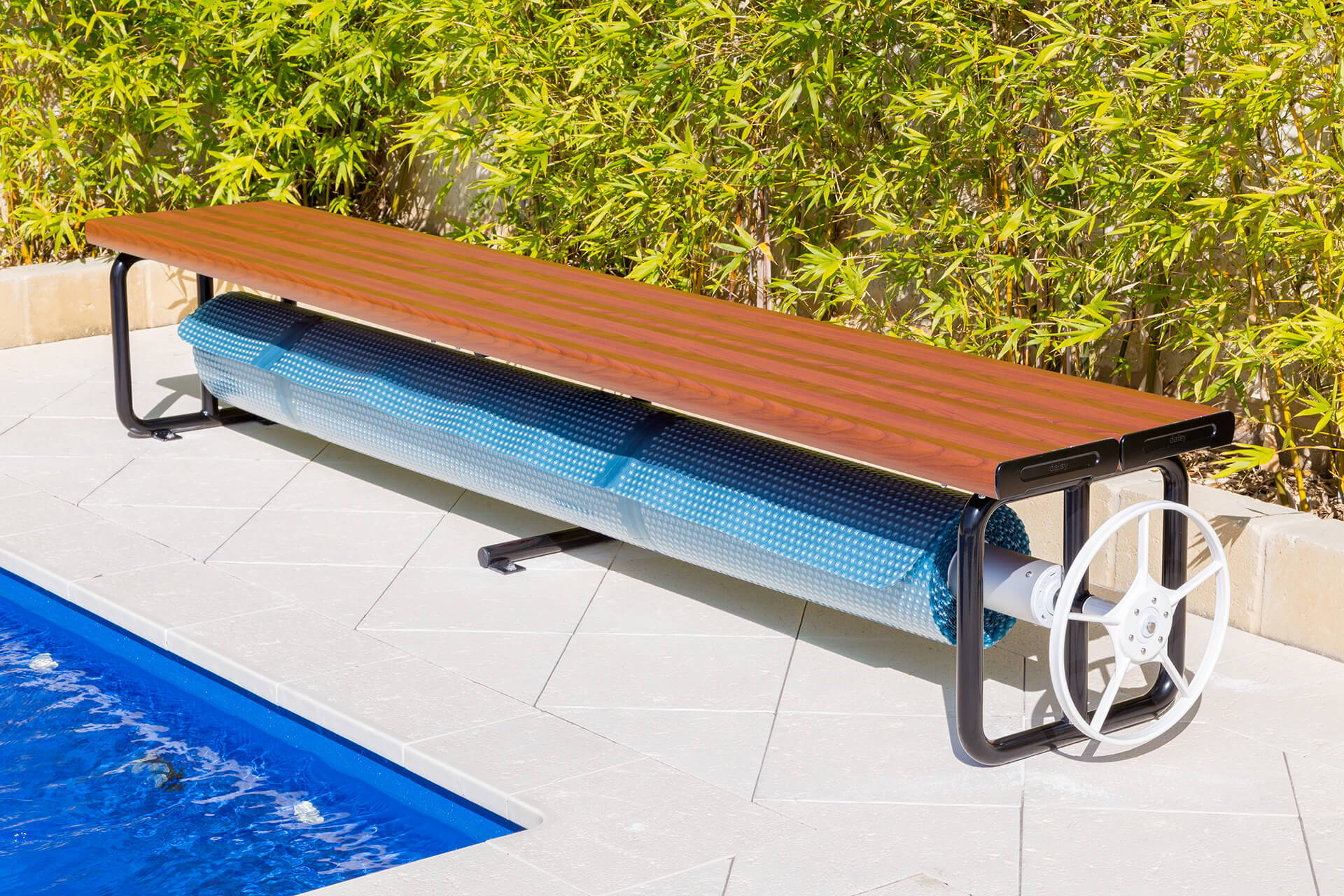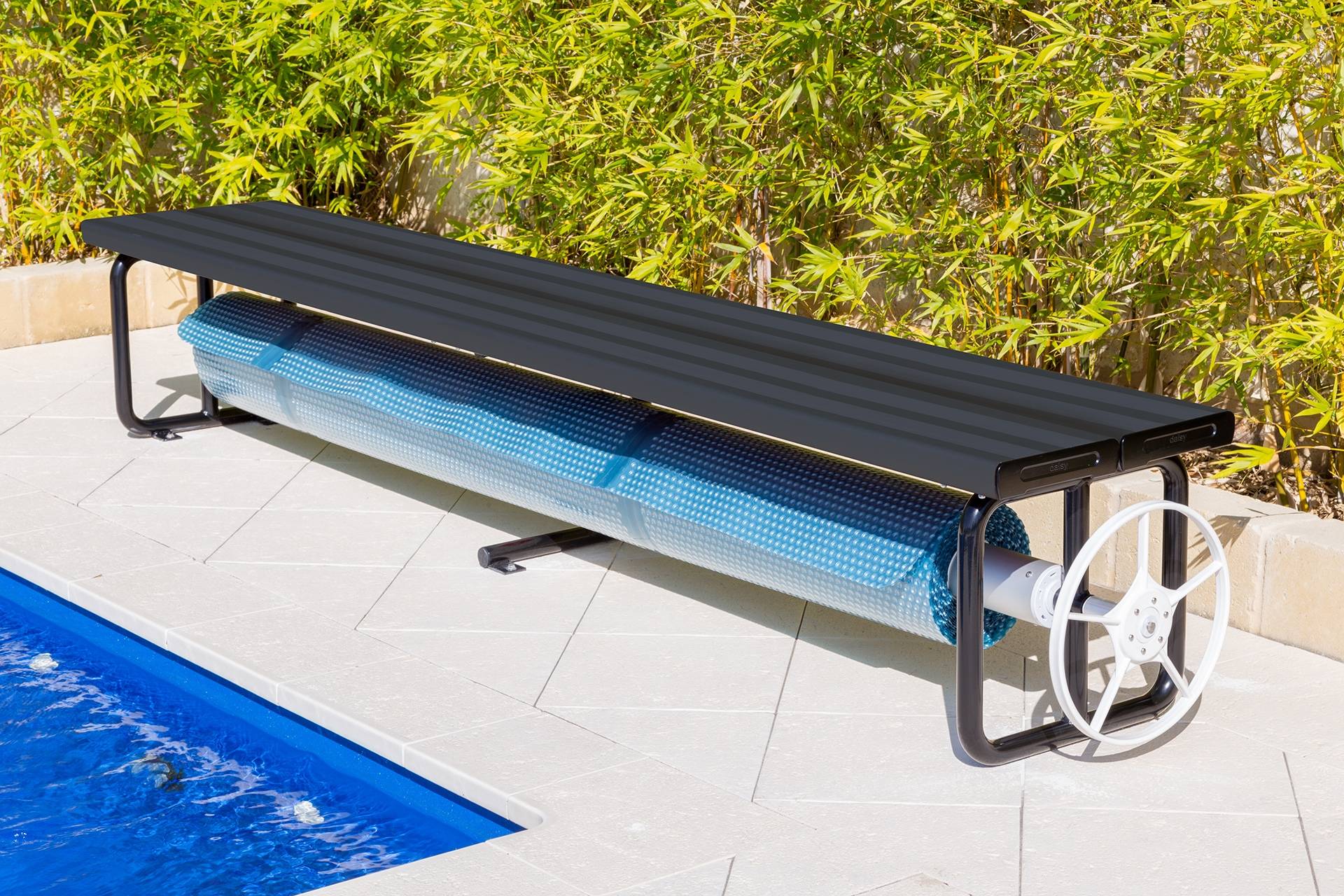 Available in different colors and designs, choosing the right Daisy under bench roller is not only a functional addition to your pool, but it can be aesthetically pleasing as well! The under bench roller comes in four colors/designs that you can pick to match the overall feel of your backyard paradise.
Full Aluminum - If you're into the minimalist look for your pool and you're going with the full-metal / clean look then this is the option to go for.

Charcoal Shimmer - If your home and private paradise has that modern look then this color scheme is for you. The Charcoal Shimmer version of the Daisy under bench roller adds that sleek black look that's perfect for modern homes.

Wood look - While not exactly wood, the Daisy under bench is powder coated in two shades, Light Oak and Western Red cedar, to help you achieve that rustic look for your pool area if your overall theme is wood/rustic.
Benefits of a pool roller cover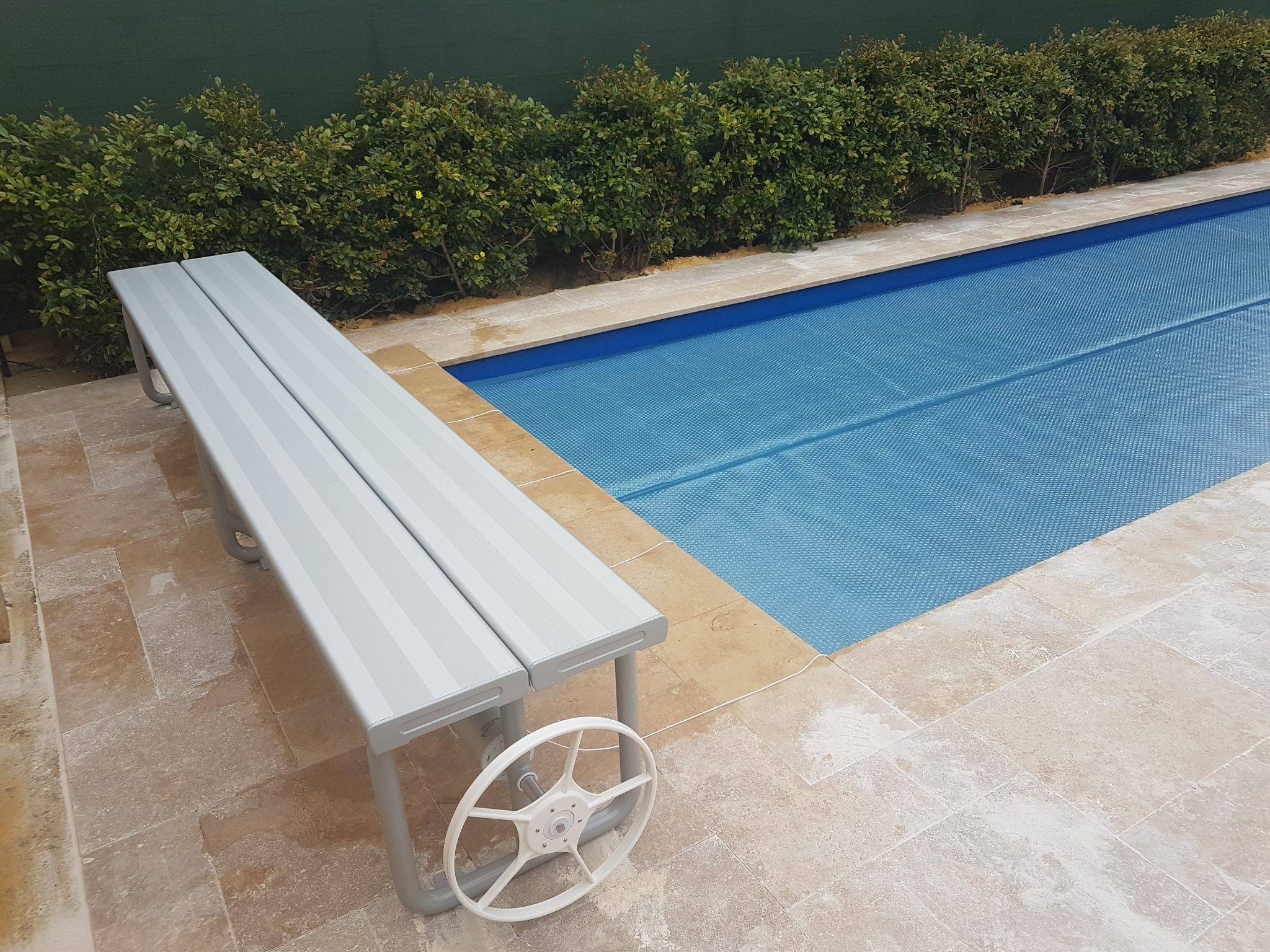 While some people may think that a pool roller cover (especially one with a built-in bench) is a waste of money, there are actually really good arguments that can be made for getting a pool roller cover.
First and foremost, a pool roller cover can help you reduce the time it takes (and effort!) to roll your pool cover on and off. This is actually very important as we found that a lot of people will get their pool covers and leave it on the side of the pool afterward because they're already too tired to unroll their cover and properly cover their pools. This in itself is a waste if you think about the investment of getting a pool cover and just leaving it unused.

A Pool cover roller can also protect your pool cover from damage! If you just put your pool cover to the side somewhere, the kids (or pets!) can play with it and cause damage to your precious pool cover.

Remember, a pool cover is only useful if you use it! And a pool roller cover will take away all of the excuses not to use it.
For an in-depth guide on how to buy and fit a pool cover and roller, click here.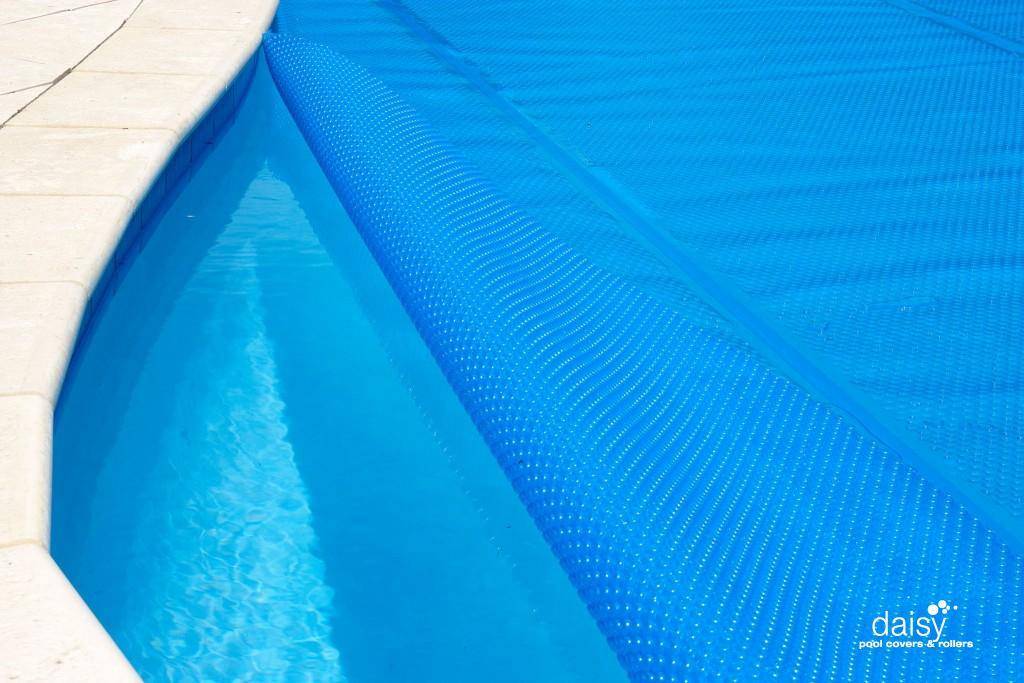 Why is getting a pool cover roller like the Daisy Under Bench Roller something really important? Well, we did say that a pool cover is only useful if you use it! So let's quickly review the benefits of a pool cover.
Saves you water by protecting your pool water from evaporation

By protecting your pool water from the sun's UV rays, you're also saving on pool chemicals.

Saves you some cleaning effort. By preventing debris from entering your pool, you're cutting down on time spent cleaning and scooping out debris from your pool.

Saves you money on heating bills. If you're actively heating your pool then a good pool cover can keep your water warm by up to 8 degrees Celcius. If you're not actively heating your pool then it's free heating!

If you're getting a Daisy pool cover, then you're also supporting a local business since it's proudly made in

Australia!
There's not much to say really about the Daisy Under Bench Roller aside from the fact that it gives you all the benefits of a regular pool cover roller plus the added benefits of having more usable space (the bench!) and adding a more aesthetically pleasing look to your poolside. If the color and size combination isn't visible on the online store, send us an email and we'll look for one in the warehouse, it's probably there somewhere!
Do you have any questions about this topic or the featured products? No worries, we're here to help! Drop us a question down below and we'll get back to you ASAP.
Happy swimming :)