It seems that nothing is going right this year with our extended staycations due to the pandemic. One thing that seems to have defied the trend though is the bumper crop this year of Avocados! This year's crop harvest has been unexpectedly bountiful and we can actually find avocados for under $1 a piece! (This is down from $5 to $8 a piece a few years ago!).
And one of the best things? These are local avocados! One of the best things about supporting local growers is actually reducing your carbon footprint, something that we're extremely passionate about here at Mr Pool Man. How is supporting local growers helping with this? We rarely think about the physical lengths our food travels before they hit the market shelves and this brings with it a hefty environmental cost that is usually concealed in the price tag of our fruits!
Yes, we admit it, we're huge fans of avocados, more specifically guacamole! And since International Guacamole Day is almost here we've decided to share our favorite guacamole recipe here! Sure, you can celebrate with store-bought guacamole, but where's the fun in that? Our guacamole recipe is easy to prepare and more importantly, tastier than any store-bought variety!
Mr Pool Man's Ultimate Guacamole Recipe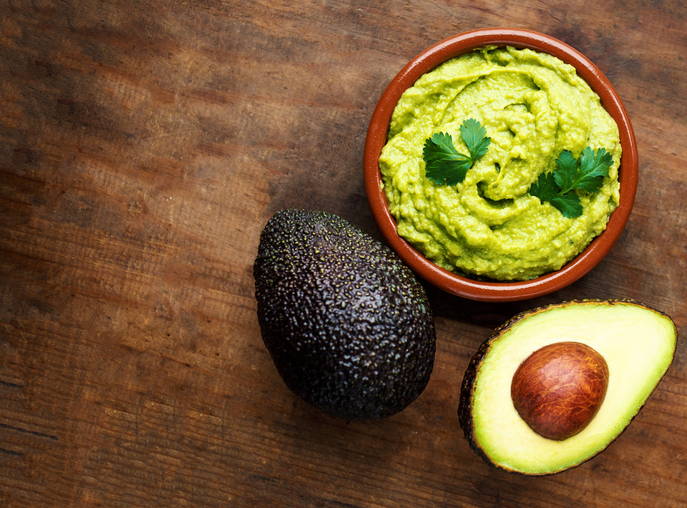 First thing's first, not all avocados are alike! For the best guacamole, pick the small Hass variety avocados. While you might be tempted to get the larger Shepard variety, we strongly suggest going with the smaller Hass avocados. The reason for this is simple: the Hass avocado contains less water, which means a tastier guacamole! I mean, who likes watery and mushy guacamole anyways?
Ultimate Guacamole Ingredients
3 to 4 Hass Avocados, peeled and pitted

Juice of 1 lime or lemon (or both!)

Salt to taste

½ cup diced onions

2-3 tablespoons chopped fresh cilantro

2 plum tomatoes, diced (cherry tomatoes also work here if you're looking for a sweet twist)

2 cloves garlic (approximately 1 teaspoon), finely minced *optional

1 jalapeno pepper, minced *optional
Let's go over the ingredients. We'll be adding lemon or lime (or both) for the acidity. This adds a pleasant tartness to the guacamole that cuts through the richness. As for the salt, add just enough to bring together all of the flavors. Many people try to lessen their sodium intake but a pinch or two of salt wouldn't hurt! The onions and tomatoes are as central to the guacamole as the avocado! I mean, it is a type of salsa after all and a salsa isn't complete without onions and tomatoes.
Now for the optional ingredients. Garlic adds a bit of pungency and depth to the guacamole, but since many aren't fans of raw garlic, this can be omitted safely from the recipe. As for the jalapeno pepper, even if you're not a big fan of spicy food, we recommend adding just a little bit to give it a little bit of a kick! Don't worry about it burning your tongue, the richness from the avocado will neutralise any lasting effects. But if you love spicy food, then by all means add more!
How to prepare the Guacamole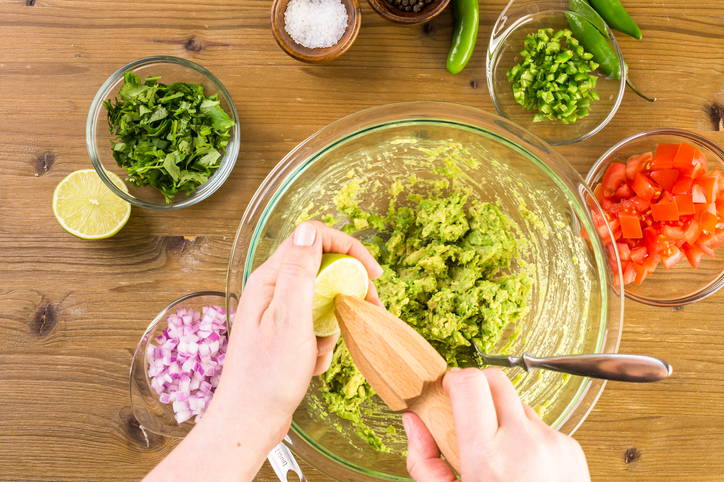 Preparation takes just a few minutes! Simply cube up the avocados,chop everything else into bite-sized pieces and mash together with a fork. Don't over mash though, you'll want to have chunky bits in there. Refrigerate for at least an hour and then serve and enjoy!
Bonus: The Guacarita! (patent pending, just kidding)
Got extra avocado? Or do you want to keep to the theme of Guac day? Well, say no more! Here's a quick and easy margarita recipe using most of the ingredients above!
1 Slice Avocado (about 30 grams or 2 tablespoons)

1 or 2 slices of jalapeno (small slices, just to give it a kick, remove the seeds)

Mint leaves

1 ounce of lemon or lime juice

2 ounces of your favorite tequila (omit if you're doing a mocktail)

1 ounce of orange liquer (or use 3 ounces of orange juice if you're doing a mocktail)

1/2 ounce of simple syrup

Garnish: Salt and the zest of the lemon or lime
How to assemble the Guacarita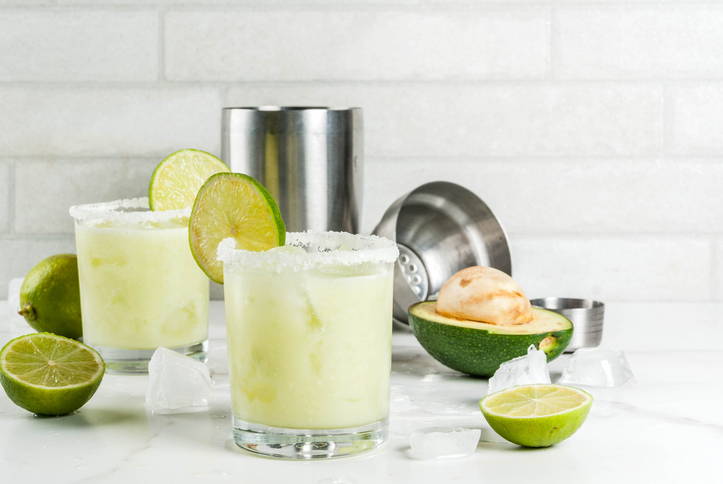 Step 1: Prepare the garnish by getting equal amounts of salt and zest. Crush them together with a mortar and pestle (or a rolling pin) then set aside.
Step 2: Rub the rim of your favorite glass with lemon or lime to moisten it and lightly press it against the salt and zest mixture to rim the glass, then set aside
Step 3: In a shaker, add the jalapeno, avocado, mint (about 3-4 leaves) and lime juice. Muddle it until everything is mashed together.
Step 4: Add the rest of the ingredients, fill with ice, and shake until chilled
Step 5: Add fresh ice to your glass, and strain the drink into the glass
Step 6: Enjoy!
Protecting your pool from the aftermath
We usually don't recommend swimming or using the spa with food, but with an amazing guacamole, who can resist right? I mean, it is guacamole day and where better to celebrate it than poolside right?  Well, don't worry, here are some things you can do to protect your pool while having fun at the same time!
Catch crumbs and other food items before they reach your pump and get spread around your pool with an extra layer of protection! These ultra-fine skimmer socks will catch any debris in your pool to take the load off of your pump and filtration system! And the best part? They're reusable and they are quite easy to clean! Plus they're not only for guacamole! They work for all types of debris like fine leaves, dog hair (if your doggo loves swimming in the pool), and more!
Why bother getting in and out of the spa or pool just to enjoy your snacks right? With the Life Floating Bar, you can enjoy your guacamole, drinks, and other snacks right there IN the pool or spa safely without worrying about spills!
After a day of celebrating, we should expect that our pool water's balance will be out of whack! So make sure that you always have a bottle of Water TechniX Pool & Spa Test strips handy so you can check which chemical levels need adjusting and you can bring you pool back up to perfect balance again!
So that's all for now! Remember, we're running a sale for Guacamole Day and you can check out everything we have at reduced prices at our Sale Page here. Have fun, stay safe, and enjoy your pool!
Summer is just around the corner, so we have listed the things you need to know for the upcoming summer heat!
Do you have any questions about this topic or the featured products? No worries, we're here to help! Drop us a question down below and we'll get back to you ASAP.
Happy swimming :)