Pool ownership isn't just about making sure that the pool is crystal-clear and inviting, it's about making it all worthwhile as well! This holiday season, we're sharing some of our favorite ideas on how to make your pool experience as festive as the season!
Food Ideas for an Unforgettable Holiday Pool Party

No celebration is complete without food! And our resident chef has shared his favorite holiday snacks to make that pool party complete!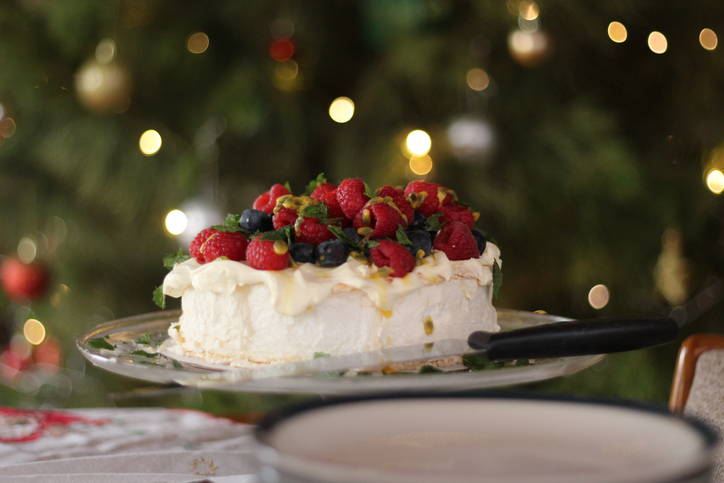 Pavlova is a dream come true for those who love texture in their food. In fact, the best pavlova has THREE textures in every bite. A chewy-crisp texture on top, shattering the second you bite into it. A soft marshmallow texture inside that melts in your mouth after a few seconds. And the oh-so-pleasing crunchy-crisp texture along the edges where they're starting to brown! Just thinking about it makes me hungry!
But since it's the holidays, we're going to be adding a FOURTH layer of texture to our pavlova! And that is, the addition of a bit of whipped cream on top of our fruit topping! That silky smooth and rich texture envelops everything and makes for the perfect indulgent holiday treat!
Ingredients:
4 large egg whites

1 cup superfine sugar

1 teaspoon vanilla extract

½ teaspoon cream of tartar

1 teaspoon cornstarch.

Whipped cream for topping

Fresh fruit in season
Instructions:
Before starting anything, pre-heat your oven to 177C or 350F. Line a baking sheet with parchment paper and set it aside.
With a handheld mixer (or a whisk if you don't have one) beat the egg whites until soft peaks form. Add half of the sugar then continue to whisk for about 30 seconds. Add the rest of the sugar and continue to beat for 2 more minutes or until stiff peaks form. You'll know it's perfect when you pull on the mixture won't fall down on its own.

Add the vanilla extract and continue to whip for about a minute more or until well incorporated. Once that's done, fold in the cream of tartar and cornstarch.

On a baking sheet, spread the pavlova mixtures into round shapes (the size is up to you) and leave a small dimple in the middle so that you can have some space to put in the whipped cream and fruit.

Note: You can use a piping bag to make it look extra fancy but I find the spooned approach much more "authentic" feeling.

Once all of the mixture has been shaped, place the baking sheet into the oven and IMMEDIATELY turn down the temperature to 93C or 200F. This trick is so that the exterior crisps up while still maintaining the marshmallow-type texture in the middle.

Bake for about 90 minutes or until the pavlova is dry.

Turn off the oven and allow the pavlova to cool inside of the oven.

Once completely cooled, you can top it with whipped cream and your favorite fruit!
P.S. you can store them in an air-tight container for up to two days! Perfect for making ahead and just assemble before eating!
We have some of the best meats in the world and it's no secret that come Christmas, the barbie is going to be singing the praises to the meat gods! But this year, let's give it a twist, shall we? I mean, anyone can put on great meat on the barbie and come out a winner, but skewers from all over the world? Now that's something else! Skip the bottled sauces and try these ideas this holiday season (or any season for that matter).
This is a bit complicated to make, but even if you screw up the meat and it ends up tasting like shoe leather, you and your guests will still gobble them up because of the sauce. But it won't taste like shoe leather, it'll taste like a slice of heaven that has landed on the grill!
Ingredients:
For the Marinade
1 tablespoon brown sugar

1 tablespoon fish sauce

1 tablespoon canola oil

Kosher salt and freshly ground black pepper, to taste

1/4 cup coconut milk

2 tablespoons reduced sodium soy sauce

2 1/2 teaspoons yellow curry powder

1 1/2 teaspoons turmeric

3 cloves garlic, minced

1 tablespoon freshly grated ginger
For the sauce
3 tablespoons creamy peanut butter

1 tablespoon reduced sodium soy sauce

1 tablespoon freshly squeezed lime juice

2 teaspoons brown sugar

2 teaspoons chili garlic sauce, or more, to taste

1 teaspoon freshly grated ginger
Instructions
The marinade is good for 2.2 pounds or 1 kilo of meat. We find that chicken boneless, skinless chicken thighs work best, but you can do this with pork or beef, shrimp or even chicken breasts. Slice the meat into skewer-sized pieces, mix everything in a bowl and massage, transfer to a ziplock bag and allow to marinate overnight.
Once the meat has done marinating, skewer them and set aside.

To make the sauce, combine all of the ingredients and whisk until well incorporated.

Grill the skewers until desired doneness (or until your ancestors whisper in your ears "that's perfect!") and then brush with the sauce

Serve and enjoy while hot!
This one works best with pork belly cubes, but boneless chicken thighs work as well. Doesn't work well with beef so we don't recommend using beef. For best results, slice the meat thin (like thick bacon slices) so that they cook fast. The following marinade is good for 4 pounds or 2 kilos of meat. (might sound like a lot, but trust me, the kids will love this!)
Ingredients:
Marinade
¾ cup soy sauce

½ cup juice extracted from lime or lemon

¾ cup banana ketchup

4 tablespoons dark brown sugar

2 tablespoons garlic powder

1 teaspoon ground black pepper

2 teaspoons salt

1 ½ cups lemon or lime soda
Basting liquid
1 cup oil

2 whole heads of garlic
For the sauce
Ketchup

Sprite / Any lemon soda
Instructions:
Mix the meat and all of the marinade ingredients in a bowl, cover with cling film and allow to marinate overnight in the fridge.
Once the meat has done marinating, skewer them and set aside. (Tradition dictates that the fattiest piece goes on the bottom edge)

To make the sauce, get some ketchup and add enough sprite until you get a sauce-like consistency.

To make the basting liquid, peel the garlic, and cook 1 cup of oil at a very low temperature for 20 minutes. This allows the garlic to infuse the oil with its flavor.

Grill the skewers, keep on basting with the garlic oil mix, this allows the meat to remain moist. Continue until cooked.

Brush with the sauce, serve, and enjoy!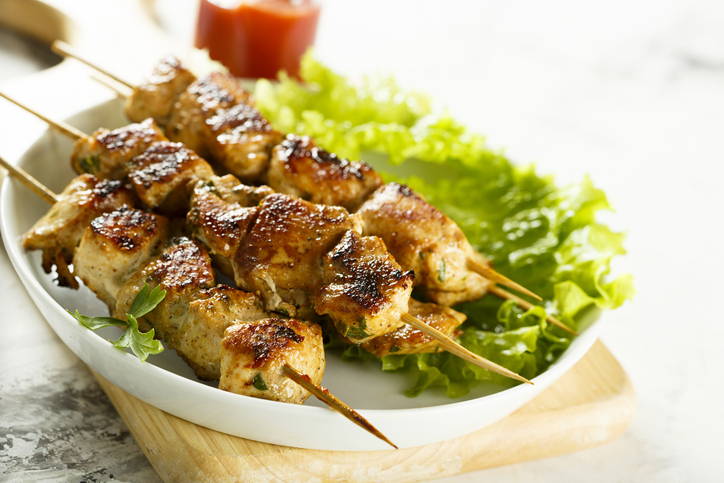 This time we're traveling to the most populous continent in the world, India! This is pretty simple to make and the marinade is good for about 1 kilogram of chicken.
Ingredients:
150g of regular yogurt (skip the low-fat version as they tend to make the skewers dry)

2 tablespoons pre-made curry paste

1 teaspoon turmeric powder
Instructions:
Cut the chicken into cubes. Mix everything in a bowl and cover with cling film. Allow meat to marinate overnight.
Once the chicken has marinated, skewer them.

Grill until done

Serve and enjoy!
As you can see, these recipes require a bit of hunting for ingredients, but they're well worth the hunt! They're easy to marinate, easy to cook, and the taste? You'll never go back to "plain" BBQ ever again!
Festive Pool Decoration Ideas
If you have any summer inflatables lying around then blow them up and leave them in the pool! The more the merrier! If you have Christmas-themed inflatables then that'll be even better! Nothing's more festive than floating Santas and Christmas trees to greet you in the morning.
Outdoor Christmas Ornaments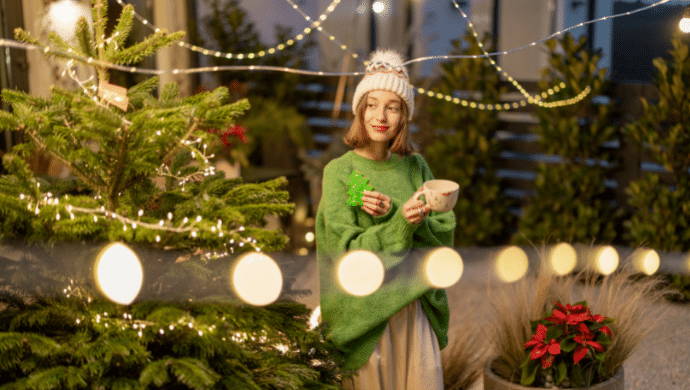 A big red bow! a.k.a. Giftwrap your pool!
Still keeping your pool covered over the holidays? Turn it into a giant present! Buy a bolt of cloth online or from your local fabric supply, make a giant ribbon, lay it on your pool cover and voila! A giant present ready to unwrap when summer finally rolls in!
Floating Christmas Candles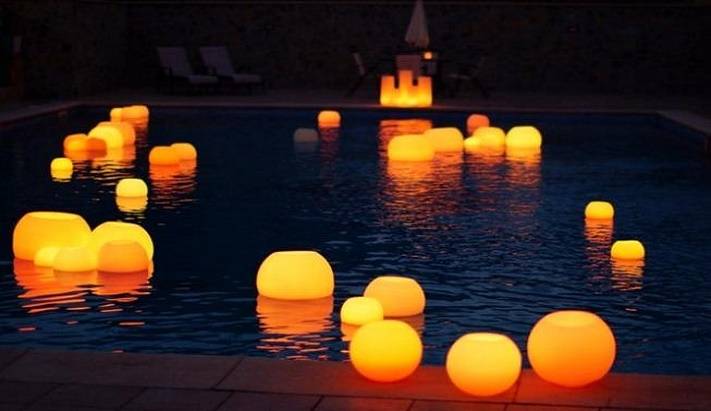 Remember the trick we did back in Halloween with the floating candles? Well, the same can be done with the holiday seasons! Instead of pumpkins, you can opt to get floating candles shaped like stars to match with the season. Just make sure to not do this at the same time as your inflatables.
P.S. To avoid dripping wax from damaging your pool filter elements, use some skimmer socks to catch the bits of wax right before they make it past your skimmer basket.
Color-Changing LED Pool Lights
Nothing says Christmas than red and green lights! With a Water TechniX LED Pool Light, you can switch colors of your pool not just for the holidays, but for any occasion you can think of! Pair it with a wireless remote and you can do it without cycling the lights manually.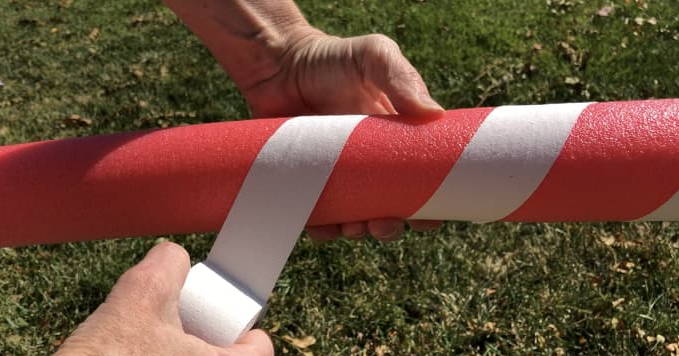 Any pool owner should have a bunch of pool noodles stashed around somewhere. Turn them into festive floating decorations! Simply shape them into donuts and decorate them and voila! Instant floating Christmas wreaths for the holidays! Shape them into a "J" and wrap some red ribbons around in a spiral pattern and you have giant floating candy canes!
With a little bit of effort, you can turn the holiday celebration (or any celebration for that matter) from drab into fab! And of course, as with any celebration, things may sometimes fall into the pool so it's best to protect your filter elements with the use of skimmer socks. And as good practice, make it a habit to shock your pool after every party with some Water TechniX Oxi-Shock to make sure your pool stays crystal-clear!
Summer is just around the corner so we have prepared a list of useful blog posts that will ready you for the summer heat! Check out the links below:
Do you have any questions about this topic or the featured products? No worries, we're here to help! Drop us a question down below and we'll get back to you ASAP.
Happy swimming :)