Summer is almost done and you might be thinking to yourself, "where did the time go?" Well, no use crying about spilled milk! Still, there's a couple of weeks of glorious summer left before the rains and cooler weather come so what better way to bid summer farewell than to host the best end-of-summer pool party!
Here are some great pool games, summer food, and pool decorating ideas to ensure that you'll end your summer with a splash! And of course, in true Mr Pool Man style, we'll help you make sure that your pool ends up unscathed after the party!
Best end of summer pool games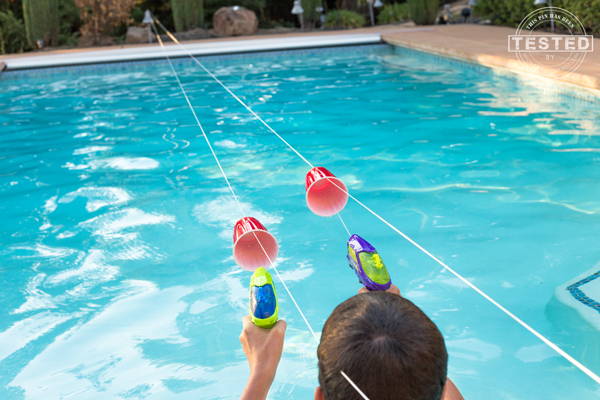 Do you have squirt guns or water cannons running around? Did you know that you can use them in your pool as well? Take a couple of lengths of string (make sure they're long enough to each one end of the pool to the other) and thread a plastic cup in each one and then thread it all across the pool. When it's in place, use the squirt guns to push the cups from one end of the pool to the other! For an added challenge, have them use their non-dominant hand to shoot the cups! Of course, fastest time wins!
P.S. you can even make it a relay race and setup lines all around the pool and yard as well!
Idea from: ThisGrandmaIsFun
The Invisible Bottle Hunt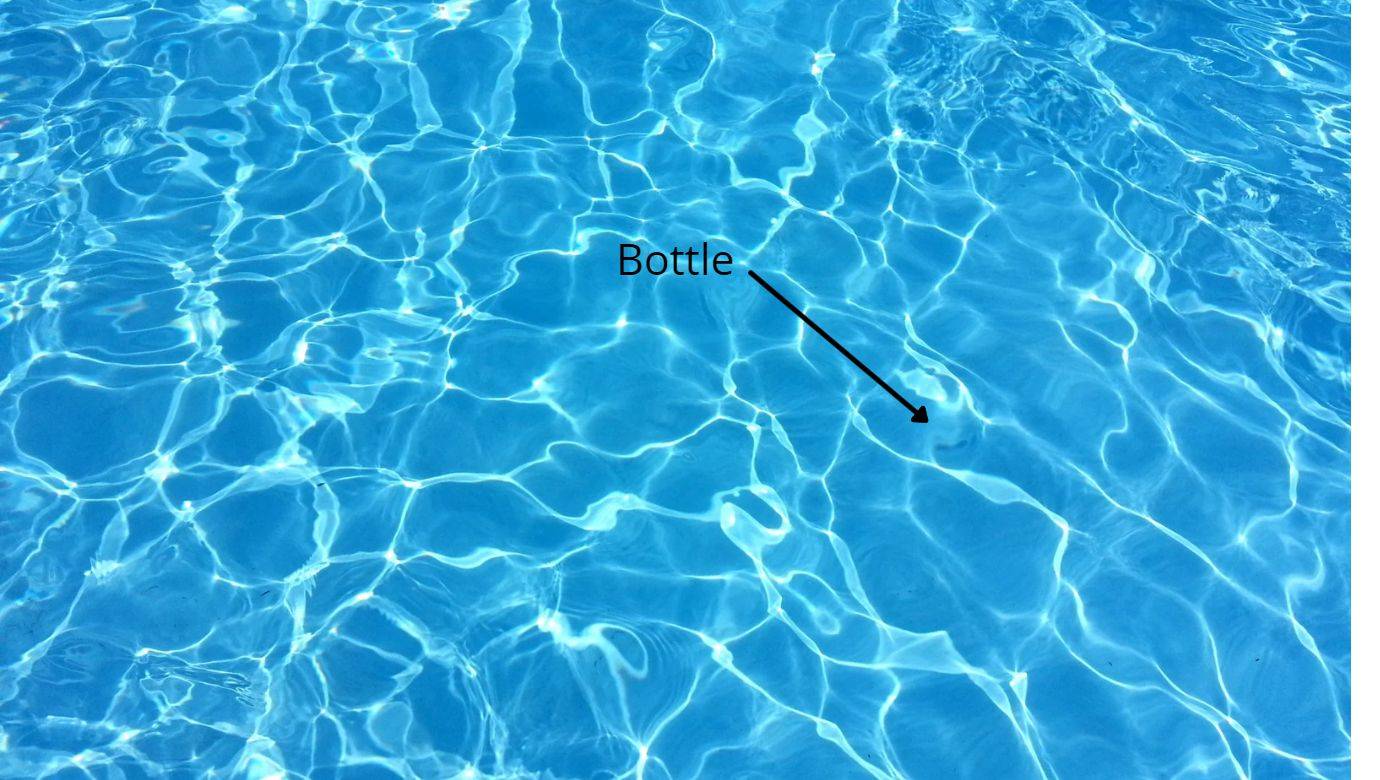 Works best if you have a crystal-clear pool. Simply fill a clear or blue plastic water bottle, drop it into the pool and watch it vanish! The clearer your pool water, the harder it is to find! Trust us when we say that this is harder than it sounds!
Check the photo above, if we didn't point it out, was the bottle obvious? Now imagine a pool with kids splashing around!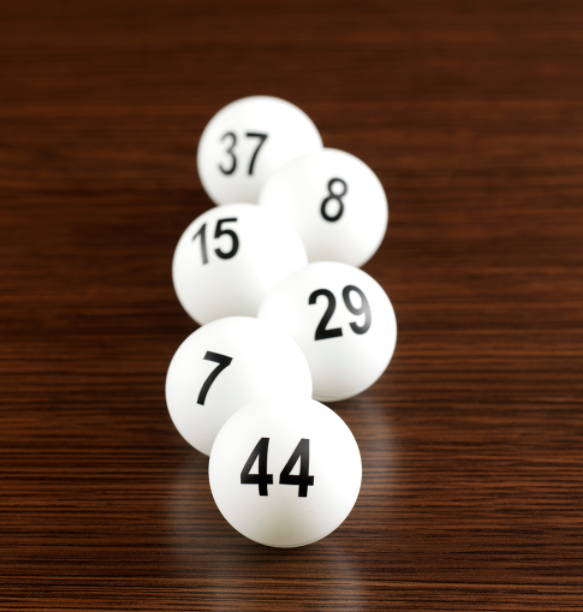 Take some ping pong balls, at least 30 (they're quite cheap), and write down random numbers on each one. Dump the bunch into the pool and whoever gets the highest total wins! To make it more exciting, a player has to jump in the pool, retrieve just ONE ball and gets out of the pool before the next one can get his ping pong ball! Expect a lot of splashes in this game! Plus, you can reuse the balls on Easter and paint them in lieu of eggs (no waste!). We have also prepared a separate blog post for other Festive pool party ideas. Click here for more information.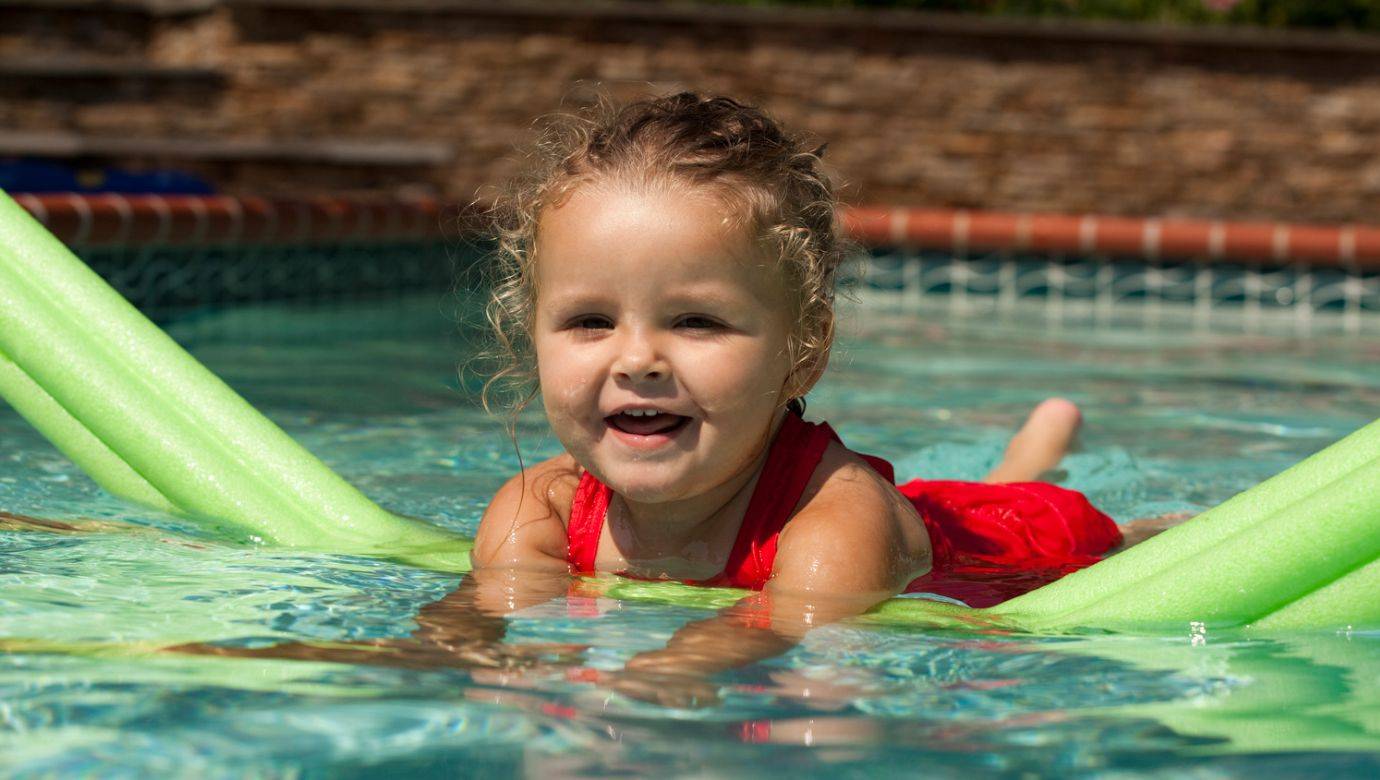 Every self-respecting pool owner should have a few pool noodles lying around! And if not, they can be had for real cheap from almost any toy store! Pool noodle races can have a ton of variation, from holding one with one hand while trying to race across the pool, to tying one up on one leg (don't laugh, it's tough even for a big person to swim with a pool noodle messing up his/her balance) and trying to make the best time across!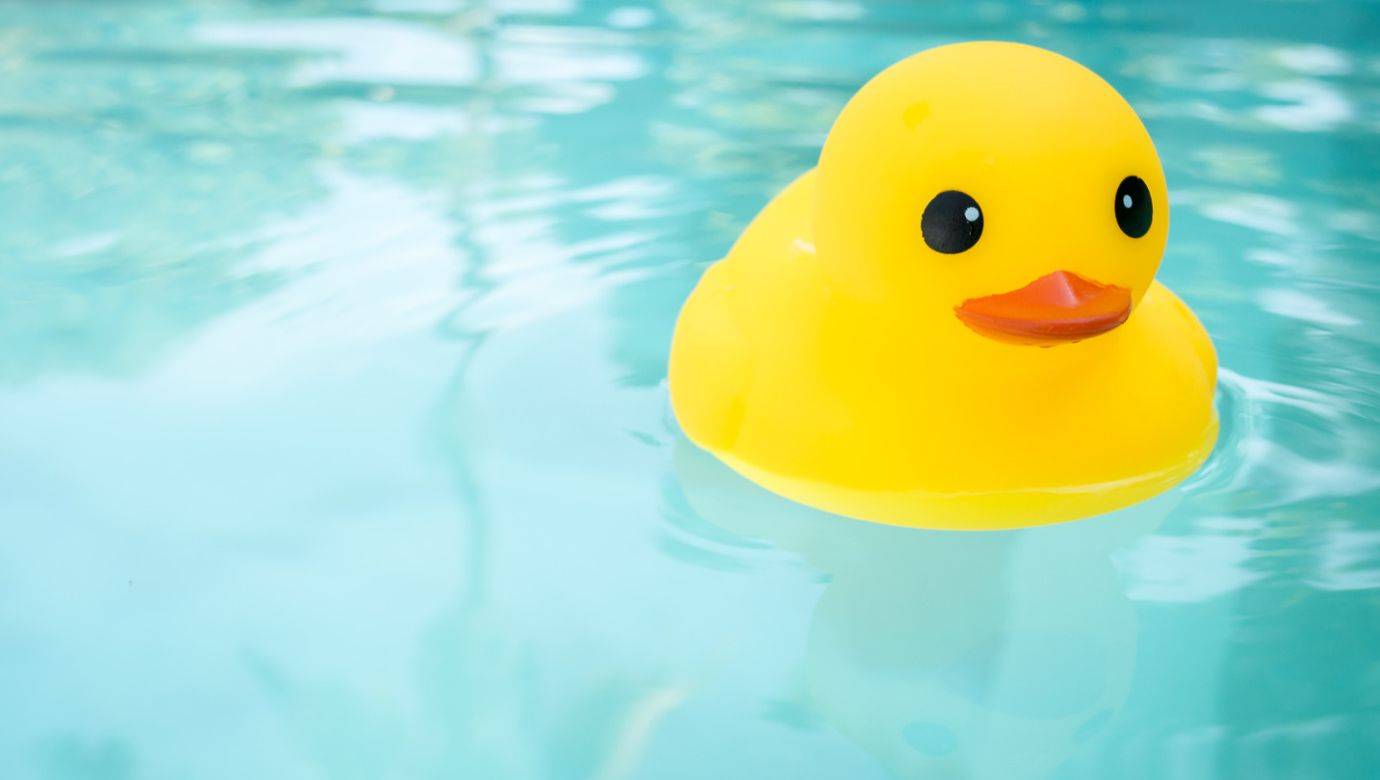 Well, it doesn't have to be a duck, but any small floating toy can work. The game is quite simple, push the toy from one end of the pool to the other. But here's the twist: contestants can't use their hands or make waves to push the toy! They can use their noses, blow on them, bump them with their faces, or any way they want as long as it doesn't violate the rules! Get your camera ready as you're sure to capture some really funny faces during this game!
You'll need a Bluetooth speaker that's waterproof for this one. Turn up the music, have everyone do their wildest dance moves in the pool, and when the music stops, everyone has to freeze in their tracks! Anyone who moves after the music stops gets eliminated and the game continues! With a floating Bluetooth speaker paired to a phone, stopping and starting the music is as easy as pressing a button on your phone!
It won't be a party without food right? Here are some really simple ways to bring out the chef in you!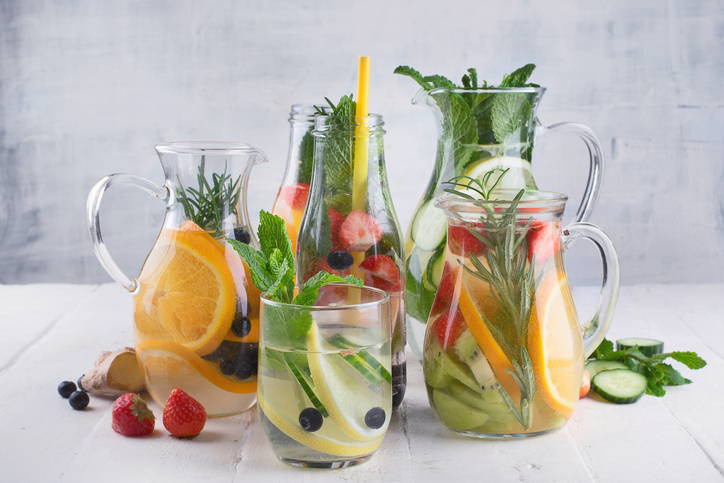 Skip the sugary drinks and soda this end of summer and try something just as tasty. A day before the party, slice up some fruit (it doesn't matter what really) and fill up half a pitcher with the fruit and fill with water, and then leave to infuse overnight. The result will be water infused with some pretty amazing flavors and with natural sweetness! And the best thing, they can munch on the fruits after the pitcher is empty! Be sure to prepare multiple pitchers as these will go fast!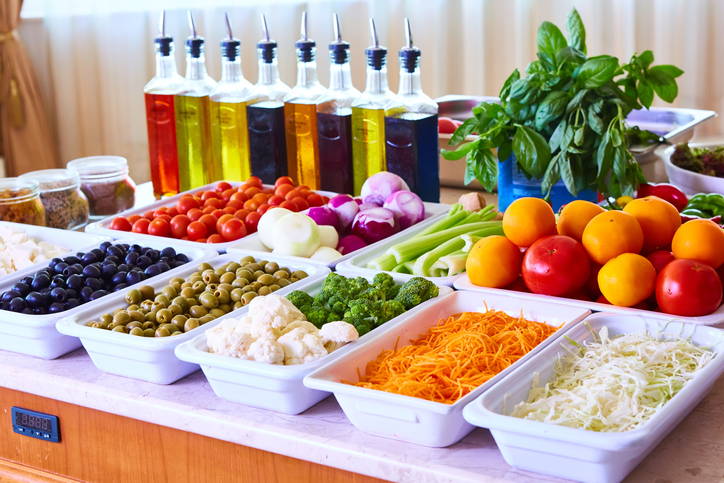 As we have discovered a long time ago, you really can't please everyone with just ONE type of salad. So this time, let's do a DIY salad bar! Less prep on your part and the best thing is everyone gets everything they want!
Greens Station

Green leaf or Red leaf lettuce - Your standard salad lettuce, its frilly leaves are great for soaking up dressings.

Arugula - Has a light peppery flavor, perfect for simple salads.

Butter / Bibb lettuce - As the name suggests, it has a buttery taste that people love.

Romaine - The traditional lettuce used for Caesar dressing, its cool crunch makes it a top contender for light, summary salads.

Iceberg - Although not as packed in taste and nutritional value when compared to the other greens on this list, a salad won't be complete without the texture and crunch that iceberg lettuce brings to the table.

Toppings Station

Grilled shrimp - Need I say more?

Grilled Chicken - Perfect to pair with asian-style vinaigrettes.

Nuts and Seeds - If you're looking for extra crunch in yourr salad then nuts and seeds are your friend! Pistachios, walnuts, almonds, chia seeds, pumpkin seeds, the combinations are endless!

Cooked Grains - These include cooked brown rice, farro, barley, and quinoa. Adding a bit provides a LOT of flavour!

Cheeses - Go wild! Shred hard cheese (cheddar, manchego, parmesan, gouda) to give a nice salty kick to any salad.

Hard boiled eggs - Not a big fan, but many people seem to love hard boiled eggs on their salad so why not right?

Sliced pickles - Yep, sliced pickles go great on any salad. Feel free to experiment! You can do pickled jalapenos, pickled olives, and even your standard pickled cucumbers!

Anything - You can't go wrong, anything that tastes good by itself goes with any salad as well!

Dressing Station (Good for 1 cup of dressing each)

Asian Vinaigrette - Sounds exotic but it's pretty simple to make! In a jar, add ¼ cup olive oil, ¼ cup seasoned rice vinegar, 2 tablespoons honey, 3 tablespoon sesame oil, 1 tablespoon soy sauce, shake vigorously until incorporated, and voila! Asian vinaigrette.

Classic Ranch Dressing - In a bowl, whisk together ⅓ cup buttermilk, ⅓ cup mayo, 2 tablespoons chopped chives, a pinch of dill weed, ¼ teaspoon garlic powder, ¼ teaspoon salt, and ¼ teaspoon black pepper.

Roasted Garlic Dressing - Takes a little bit more time, but is well worth it! Roast 1 whole head of garlic in the oven until soft, take the meat out, add 2 tablespoons red wine vinegar, 2 teaspoons Dijon mustard, 3 tablespoons parmesan, ⅓ cup olive oil, salt and pepper to taste and whisk everything together until incorporated.

Honey mustard dressing - Kids love this and it may even get them to eat salad! 2 tablespoons honey, 2 tablespoons Dijon mustard, 2 tablespoons white vinegar, ¼ cup olive oil, salt and pepper to taste, whisk together until incorporated!

Peanut-Lime dressing - ¼ cup creamy peanut butter, juice of one lime, 1 tablespoon white vinegar, 1 tablespoon honey, 3 tablespoons of water (or add a little bit more if too thick) whisk until well combined.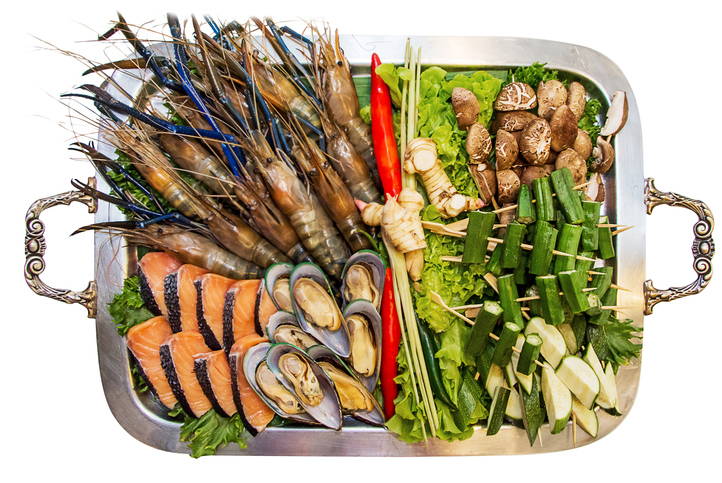 Although we'll setup as a DIY Grill, we're more than positive that someone will volunteer to become grillmaster as long as the cold ones keep coming!
Grill Station

Skewered Pineapples

Skewered Shrimp

Kababs (Meat, Onion, Meat, Bell Pepper)

Burgers

Sausages

Steak

Chicken

Firm Tofu

Actually, to keep this list short, if it can go on a grill, include it!
Now that we really think about it, since this is going to be the last party before summer ends, include everything that you like! Go crazy!
After the party, don't forget to make sure that your pool survives for the next swimming session. Here are some things that you can prepare to ensure that your pool stays clean and clear.
Water TechniX Mega Skimmer Socks
What's a party without stuff falling into the pool right? Take the load off of your filters with an added layer of protection right there in your skimmer boxes.
Water TechniX Crystal Cubes
Cloudy pool water shouldn't be a norm when it comes to home pools. Pop one of these babies in your skimmer basket and enjoy crystal clear water for a whole month!
Pro-level cleaning equipment
Yep, when things fall in the pool, best to scoop them out. Can't really chase them down one by one right? Best to use some professional-grade cleaning equipment so that cleanup will be a breeze!
After a party, your pool filters will have taken a beating! Sometimes a casual rinsing won't be enough to get them back to optimal condition. The solution? Well, a soak in some Water TechniX Filter Cleaning solution will melt all of the grime off and will leave you with a fresh and clean filter!
What do you do when you have garbage? Call the garbage man of course! After you've scooped out all of the visible debris from your pool, use some Water TechniX Oxi shock to take out everything that's left! The Water TechniX Oxi Shock is a highly concentrated oxygen compound that reduces and eliminates combined chlorine levels in pools and spas. The Oxi Shock will refresh your pool in just 15 minutes! It makes your water feel a lot smoother and eliminates that "pool smell" from your pool!
So there you have it! After all that's said and done, leave your pool as crystal clear after the party as it was before. Take lots of pictures and enjoy the memories so you can say, let's do this again next summer!
Thinking of Having a Pool Built for the summer? We have listed all the questions you need to ask your Builder - click here to know more.
Do you have any questions about this topic or the featured products? No worries, we're here to help! Drop us a question down below and we'll get back to you ASAP.
Happy swimming :)