We've all seen guides on how to revive a green or flooded pool, but we haven't really documented reviving a pool, until now that is.
Responding to an SOS, our team of pool experts, lead by Tom himself, answered the call and documented this pool's journey from green (in this case, muddy brown) to clean!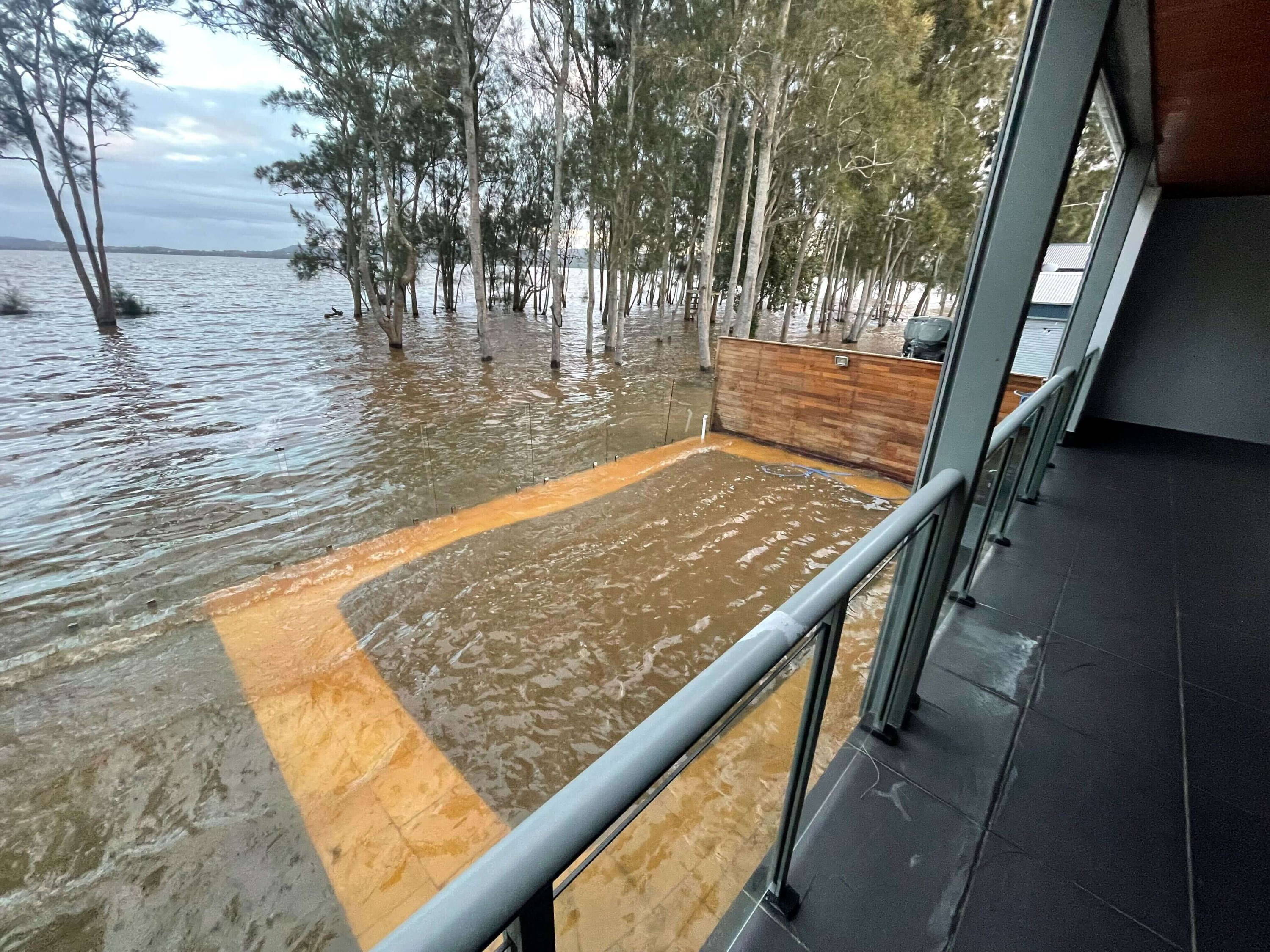 Cleaning a Flooded Pool, Important Points
The first thought anyone might have especially new pool owners when looking at a pool in this condition would be "Why shouldn't I just drain the pool and start from scratch?"
The answer for this is: Don't risk it. After a flood, especially after a flood, the hydrostatic pressure in the ground will push the pool out of the ground. And once that happens, there's no coming back. Better safe than sorry we always say. Plus, after reading through this guide, you'll never want to drain your pool ever again when you see how simple and straightforward it is to take your pool from green to clean.
If you have a fibreglass pool (just like what we have here) you can't just drain it (even halfway) because of the risk of the hydrostatic pressure caving the pool in.

On the other hand, if you have a cement or traditional pool, the hydrostatic may cause your pool to "pop" out of the ground, so don't risk it.
Before doing anything, check all the power connections and equipment BEFORE doing ANYTHING if you suspect that the equipment may have been submerged in the flooding. If you're not confident about your DIY skills then get a licensed electrician to check all the connections before turning anything on.
Green to Clean Pool: Day 1 - Absolutely Horrific Pool
As you can see from the video, this pool is practically screaming "drain me!" but as consumate pool professionals, nothing is impossible when it comes to reviving a swimming pool.
Using a leaf skimmer, remove all of the visible floating debris.

Clean the filter elements right from the start for maximum filtration

Check equipment for any damage

Add initial chemicals. At this stage, don't worry. Let the pool chemicals do the work.

Leave the pump running and let the filter and the chemicals

Don't worry about the overall balance of the pool water at this point, bringing the pH down will allow the chlorine to do its magic (plus you don't have to worry about irritation as the pool at this stage is not swimmable)

TRUST the process
Pool Chemicals used in Day One
Pool Equipment used in Day One
Green to Clean Pool: Day 2 - Not much improvement, but trust the process
As we can see, there hasn't been much improvement and clarity is still not there. We made a booboo yesterday when we didn't scoop out all of the debris at the bottom of the pool, but we won't be making that mistake again!
Using a leaf rake, scoop up all of the debris from the bottom of your pool.

Clean your filters AGAIN

, it may sound like it's too soon, but trust us, you'd be amazed at the amount of gunk and dirt that's been collected in just 24 hours.

Empty all of your skimmer baskets.

Connect the chlorinator (we've replaced the busted one) to boost chlorine production.

Dose the pool with clarifier and even more shock.
Pool Chemicals used in Day Two
Pool Cleaning Equipment used in Day Two
Green to Clean Pool: Day 3 Magic! Pool is Clear, Sediment on the Bottom  
In what looks like magic, the pool water is crystal clear and is a massive improvement from day 2! This is the cleaning power of the Water TechniX chemicals at work. The clarifier has binded with the fine silt and filtered them out and what's left has settled down to the bottom of the pool, leaving us with crystal clear water.
Manually vacuum the debris and the silt from the bottom of the pool to waste. If you don't have a sand filter that will allow you to vacuum to waste, you may need to have a three-way bypass to allow you to vacuume the silt and debris out.

This is when we have to vacuum FAST, since we will be losing about an inch or two of water when vacuuming to waste. (Be sure to check with local authorities if you're allowed to top up your pool water, but in all likelihood, this will be allowed but it's better to check)

Always keep an eye on your water level to ensure that the water level stays about halfway up your skimmer basket.

Empty your skimmer baskets and pump baskets and give it another pass with your vacuum.

Brush the pool sides and then let your filter do its thing.

The pool water will look a little bit cloudy at the end of the day, but this is normal after brushing the pool walls and surfaces.

Make sure your pool's filtration cycle is set as normal.

Get a good night's sleep
Pool Cleaning Equipment used in Day Three
*Please note that you will be using your existing vacuum plate that suits your pool, not necessarily the Poolrite S2500 plate as showcased above. If you have a different vacuum plate, you can see our entire range of Vacuum Plates through the button below.
Green to Clean Pool: Day 4 Wrapping everything up and Final steps
The pool already looks like it's ready to receive guests, but before jumping into the pool, there are some things that we need to do first to ensure that the pool STAYS crystal-clear.
Take out the filter again and give it a quick clean.

There's going to be a little bit more debris on the bottom of the pool but it shouldn't be as much as the day before. Vacuum your pool as you've done previously, except this time, you can vacuum it through your filter as there isn't much left.

Clean your filter after vacuuming.

Test and balance your pool chemicals.

That's it!Just be sure to test that your chemical levels are back down to a safe level before jumping in!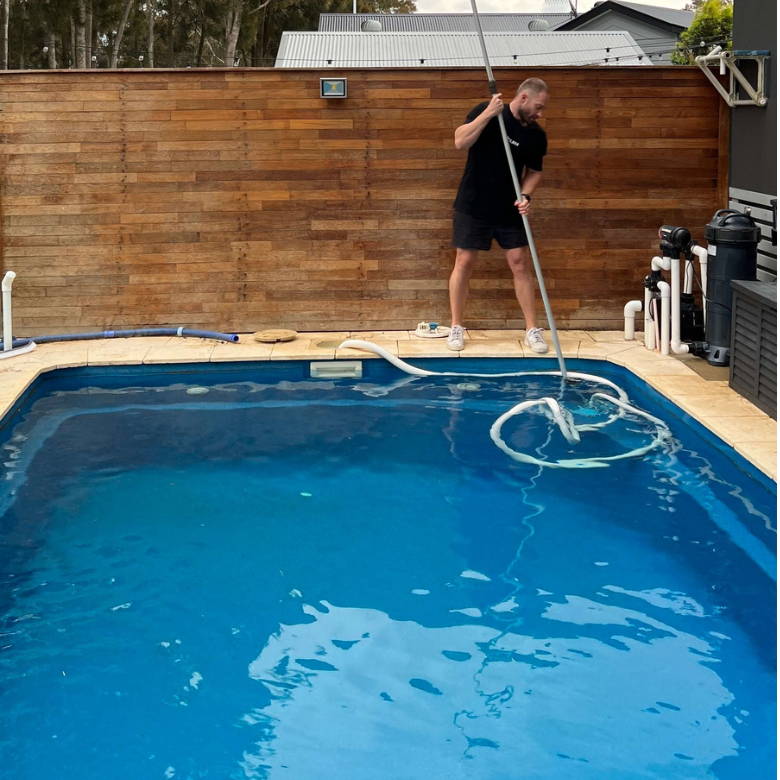 Remember the photo we showed you at the start of this Green to Clean journey? Yep! That's the same pool! After four days, it's back to it's original pristine form! That's right, a crystal-clear pool in under a week from being flooded. What's more, there's no draining involved and no danger to the pool, just some hard yakka and some help from Water TechniX pool equipment and pool chemicals!  
Do you have any questions about this topic or the featured products? No worries, we're here to help! Drop us a question down below and we'll get back to you ASAP.
Happy swimming :)