You're dreaming of a warm summer's day, the sun is out, you have your swimwear on, you have a cool drink and the smell of BBQ is in the air as well as the sound of the laughter of kids and the splashing of pool water. You wake up and you see that it's cold outside and the poolside is bare and uninspiring, what a bummer right?
Now that it's starting to get cold, instead of just dreaming about summer, we can start planning on how to make our backyard oasis an actual summer destination rather than just somewhere we can cool off!
Why proper landscaping is key for Australian Pools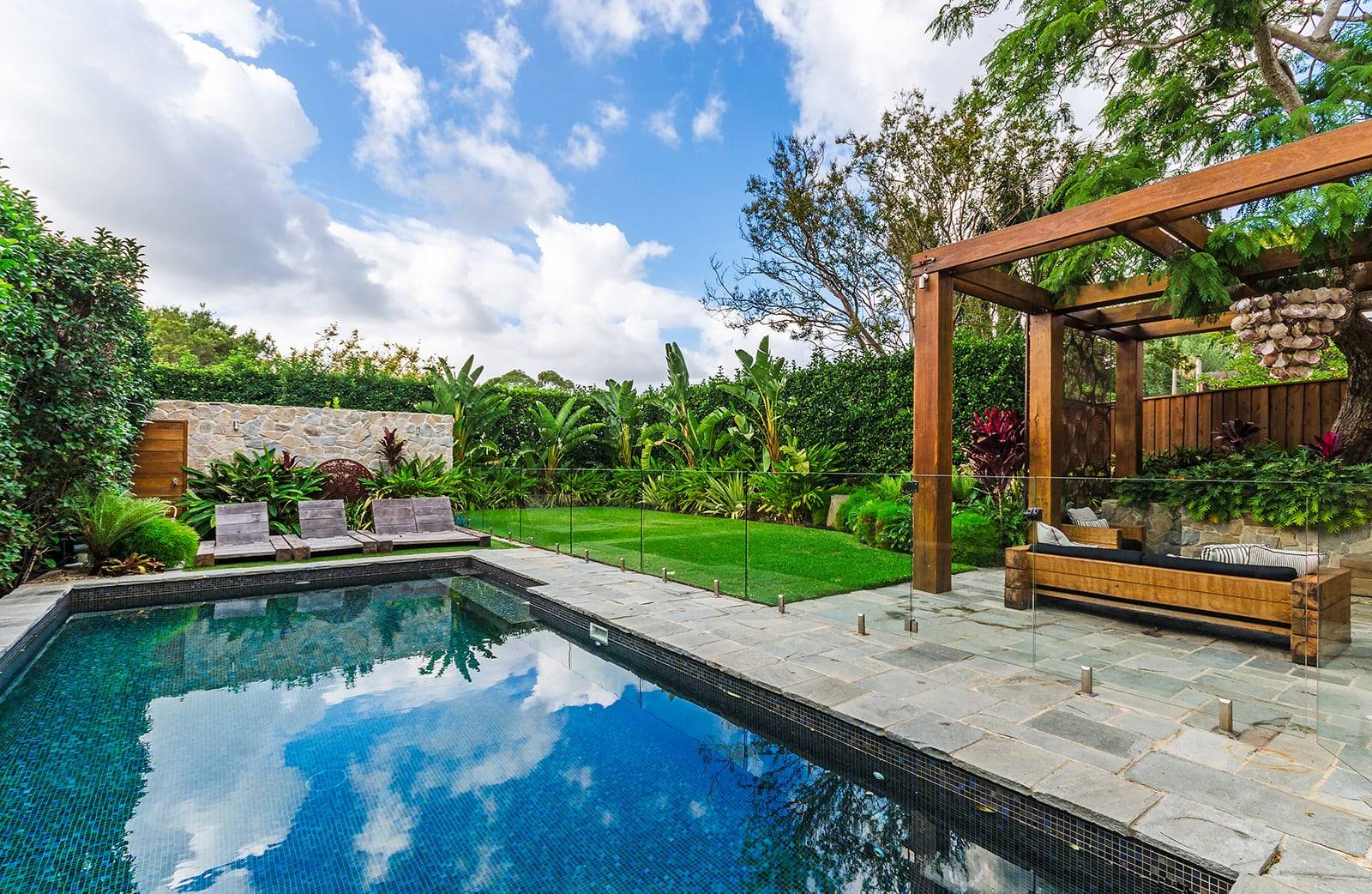 Sure we can go all-minimalist and just have a bare pool, but where's the fun in that right? Aside from just looking good, there are actually some practical reasons why we should seriously consider having some landscaping done around our pool area.
Additional cooling for your poolside area
Being in Australia, we all know how hot the summers can be and how the blazing sun can turn a nice summer day into an unbearable inferno. A properly landscaped poolside area can provide shade from the direct sunlight as well as keep the ground around your pool area from heating up and becoming a heated skillet! The ground heating up plays a huge part in the comfort levels when lounging around your pool. A properly shaded poolside can mean the difference between lounging around in a comfortable warmth with the breeze blowing and lounging around in a steamy hot environment.
Thinking of having a pool built? Click here to see the questions yo need to ask your pool builder
More Privacy for your poolside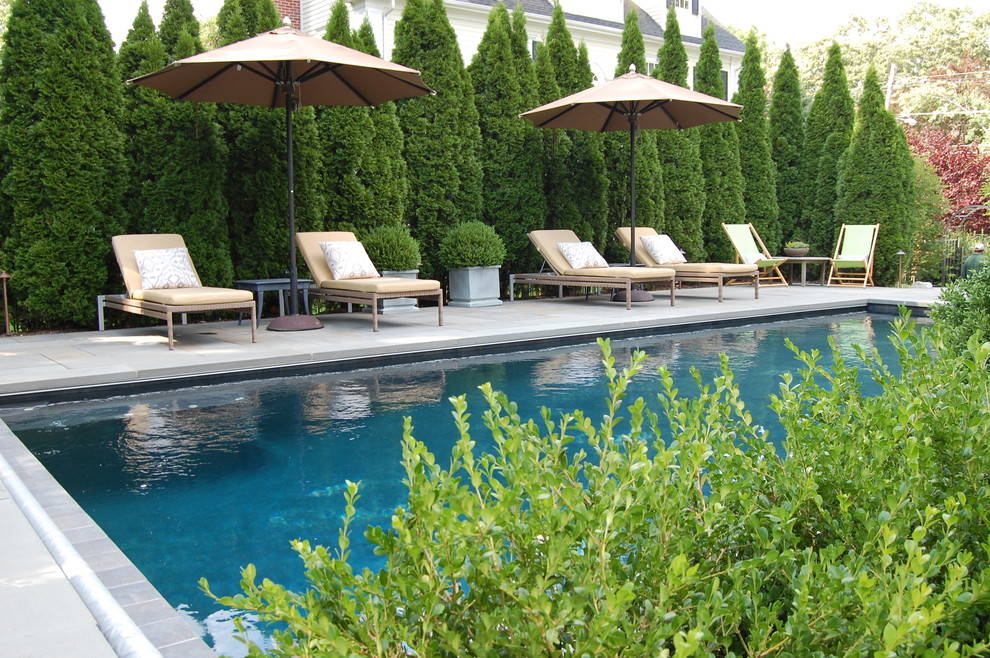 This goes without saying if you have high foliage around your poolside, the safer you are from prying eyes! Having plants instead of privacy shields to shield your swimming pool area is a stylish way of going about it. Privacy shields just scream "DON'T LOOK AT US" while plants can be a subtle way of saying, we're just stylish and you can't peek while we're swimming.
Adds to the relaxation factor of your swimming pool
Our swimming pools are there for the reason that we want a place where we can relax and plants can greatly increase that relaxation factor. It has been scientifically proven that plants can greatly reduce stress so having a beautifully landscaped poolside can turn your poolside oasis into a true oasis!
Landscaping makes your poolside look amazing
Did we mention that proper poolside landscaping will make your poolside look amazing? Yeah, I guess we did! But it's always good to stress that part again.
Real Plants VS Artificial Plants
Now there has been quite a debate whether to go with fake plants or real plants because of the "authenticity" factor, but with the advances in designer plastic plants, it's really hard to tell at first glance if the landscape is real or if it's fake. Here are some things to think about when deciding whether to go with real or fake.
Pool Landscape Maintenance
This is a no-brainer. If you have the time and if you love trimming plants and taking care of plants then having real plants is the way to go. But if you don't have the time for plant maintenance (or you don't want to hire someone to do it) then plastic plants can be a very valid and tasteful option.
If you have a lot of space then your choices for landscaping (real plants) are virtually unlimited and are only limited by your budget and your imagination. Limited poolside spaces on the other hand can make a very good argument for having artificial plants. Even with limited space, artificial plants can give you the illusion of full plant growth without the need for the space required by real plants to thrive.
Poolside Landscaping with Real Plants Considerations
If you've decided that real plants are the way to go with landscaping your poolside paradise then there are some considerations that you have to take note of. You just can't pick the best looking plants and stick them in the ground. Now we can't tell you exactly what plants you can use for landscaping because admittedly, we're not experts when it comes to that field, but what we can do is provide you with a handy checklist of things related to your pool (now that's something we're experts at!) that can affect your plant choices.
This factor will depend on the type of pool you have. It's very important to tell your landscaper whether you have a saltwater pool or if you have a traditionally chlorinated pool. Some plants cannot live around saltwater and it would just be a waste to landscape your pool area with plants that die after a few weeks because of the saltwater environment. Conversely, you can have plants that thrive in saltwater environments, making them easier to maintain!
Identify High Traffic Areas
Let your landscaper know where the heavy traffic areas in your pool are. This will let them know which plants to use in areas where there will be constant splashing and touching and to put the more fragile plants in places where they won't be disturbed.
Ask about leaf shedding plants
Obviously we don't want to add another layer of maintenance to our already loaded pool maintenance routine. Ask about using plants that don't shed a lot. Yes, some types of plants may look amazing in full bloom, but the effort needed when they dump all of the leaves into your pool is amazing as well!
Reasons to go with Artificial Plants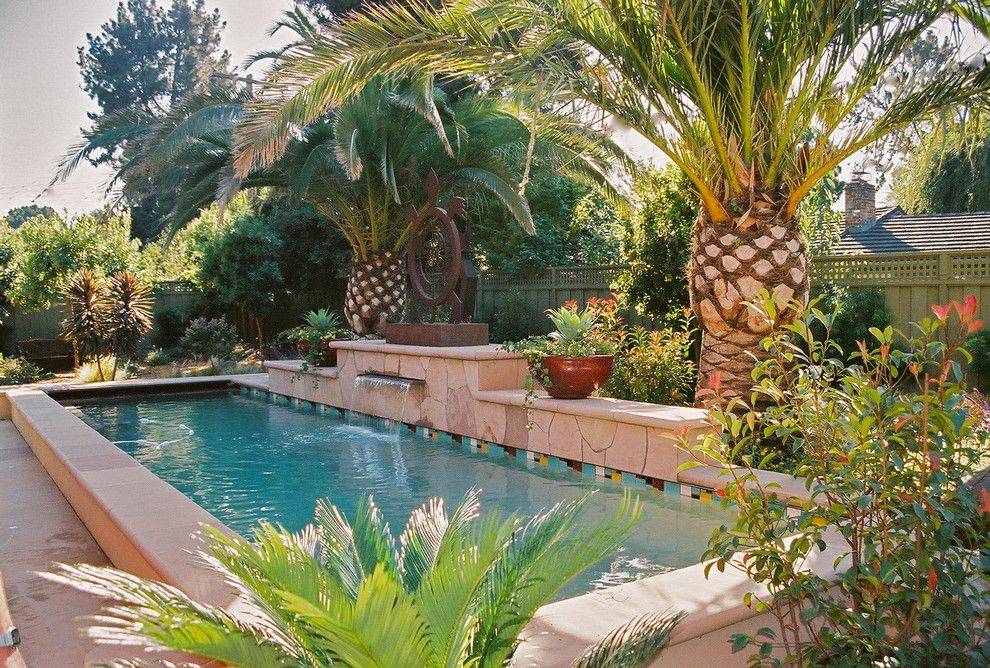 While we love the use of real plants for landscaping, using artificial plants can be a very viable option for pool landscaping in Australia. Why? Simple. Artificial plants don't care whether you have a chlorine pool or a salt water pool and they don't shed leaves all over your pool! Not only that, they look amazing the whole year round! They also don't bring with them the annoyance of bugs and other creepy crawlies that live and thrive in foliage but for some reason decide to crawl into our pools and die! Another thing that's great with artificial plants is that we can do our landscaping in the off-season while the pool is closed and when the pool opens in the spring or summer, everything is already in full bloom!
Types of Artificial Plants that are almost impossible for a typical home pool
Many hotels and resorts actually use artificial plants around their pool areas and we don't really notice them because of the quality of the newer types of plastic plants look exactly like the real thing!
Tropical Palm Trees - These are the most popular types of artificial plants to place around pools. I mean, who doesn't want to give their pool that tropical feeling right? Palm trees take years to reach a respectable size and if we're starting from seedlings, they have a way of not growing in the direction that we want them to.

Hedges - If your concern is privacy then nothing beats the added benefits of having instant hedges installed around your pool! Natural hedges take years to grow with a lot of trimming required in order to shape them properly and to encourage growth.

Vertical Gardens - If you lack the space, then a vertical garden will make the tight spaces look a little bit more appealing and relaxing.
Landscaping "Theme" Ideas for Australian Pools
When we're landscaping our pools, we must have a theme in mind. We just can't pick out good looking plants and stick them around the pool willy-nilly and expect it to look good. Here are some great themes that we can apply to our home pools to that everything will "meld" and look cohesive.
Vertical Gardens - If your pool area is a little bit tight then having vertical gardens built into the walls is the perfect way to go about landscaping your pool. Not only will it be easier on the eyes, but it gives that feeling of being in a safe and natural environment.

Tropical Oasis - We love referring to our pools as our tropical oasis and by landscaping it to look like one, we can honestly say that it is! Plants to consider for a tropical oasis theme would be tropical palm trees, wide leaf plants, and bushy ferns with overhanging leaves.

Private Beaches - Who doesn't want their own private beach right? Palm Trees and fire pits can turn a drab and bare pool area into your own private beach.

Secret Cove - Well positioned hedges and water features are the way to go if you want your own little private lagoon!  
Sprucing up your pool landscaping
There are many ways on how we can spruce up our landscaping and that's to add water features and led lights! Water features like the Davey Cascade Waterfall will add a "living" element to your pool, making the landscaping pop out even more. Led lights on the other hand, especially the multi color versions, will allow you to change the mood lighting of your pool at a click of a button!
Sometimes artificial plants just feel too… well, artificial. And to the discerning eye, it's a far cry from having real plants. So in the end, it really comes down to personal preference, but all of the advantages are the same and it's easier to maintain.
Do you have any questions about this topic or the featured products? No worries, we're here to help! Drop us a question down below and we'll get back to you ASAP.
Happy swimming :)