It's that time of the year to start thinking about getting your pool ready so that when summer rolls in, all you need to do is sit back, relax and enjoy your pool!
The pandemic has greatly changed the way Australians look at their swimming pools and it has been elevated from something that's nice to have at home to something that's more of an essential! Don't take our word for it, but a simple search will reveal that since the onset of COVID, pool building related jobs has spiked over 175% when compared to the same period before the pandemic!
This means that many pool builders will be booked for the foreseeable future so making plans this early is recommended if you want your pool to be ready for summer! So without further ado, here are the top swimming pool trends that we're seeing for Australian Pools this 2022!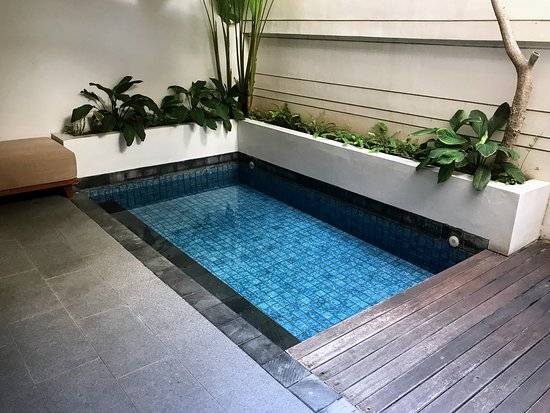 It's no secret that backyards are becoming smaller every year due to the rising cost of real estate. The pool industry has also realized this and what used to be something so specialized (either go big or don't!) has now become a common size, so common in fact that many fibreglass pool manufacturers will now have mid-sized plunge pools in stock. What is a plunge pool? Think of it as something in between a large spa and a tiny swimming pool!
We have a whole post dedicated to plunge pools which you can check out here if you're interested but here's our unbiased opinion: If a full-sized pool is out of the equation then a plunge pool is the next best thing!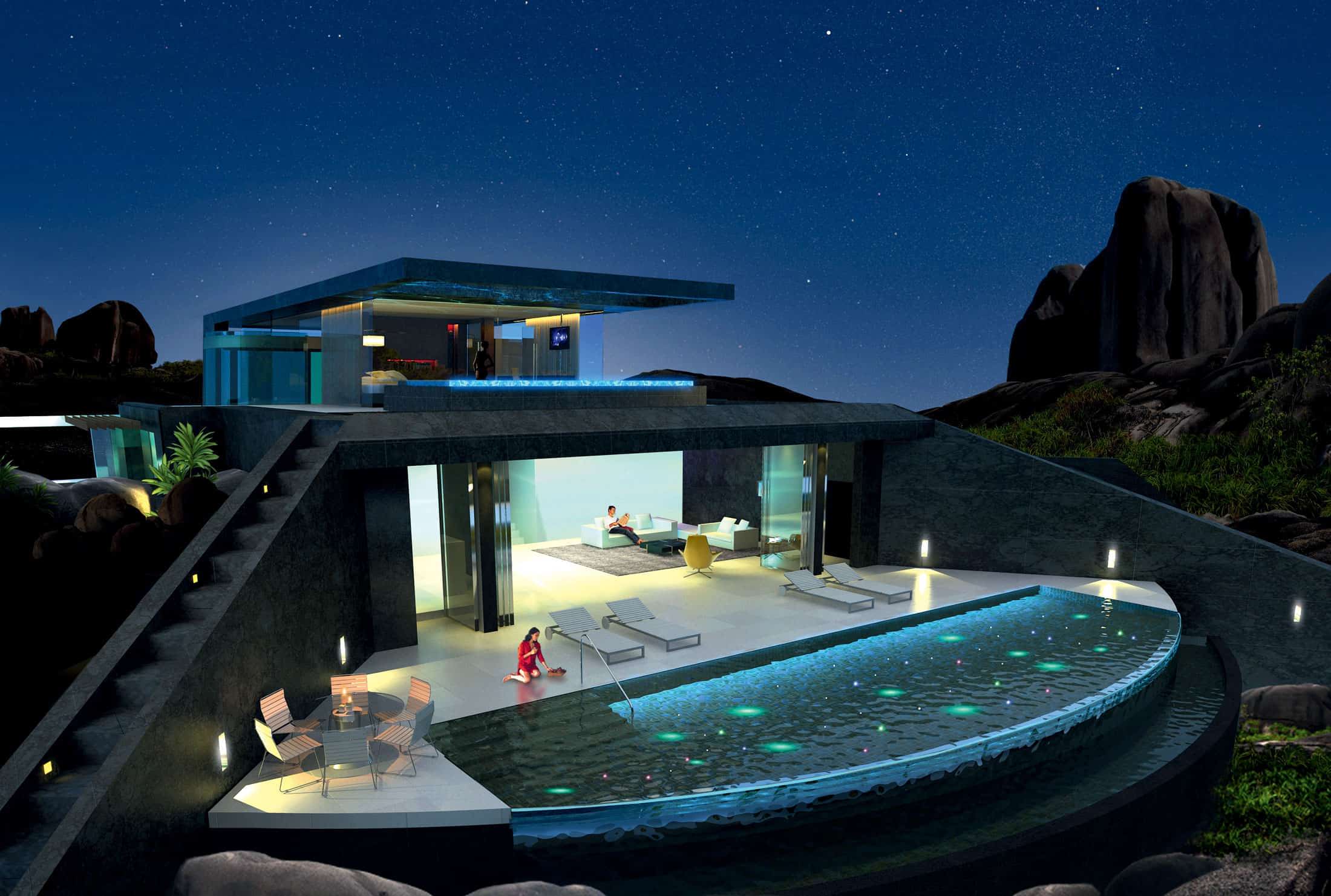 What used to be something that we only see in high end resorts can now be easily integrated into your home pools! And since we're on enforced-holidays a.k.a. Staycation mode for the foreseeable future, nothing brings a vacation feel to our home pools than an infinity pool!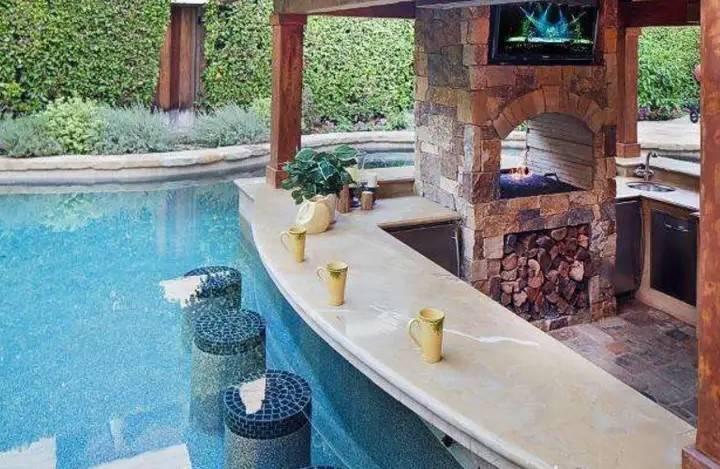 An incremental pool upgrade that's been making the rounds this year is the addition of a poolside bar! While poolside bars have been around for as long as swimming pools have been, it's only recently that many Australian homes have been adding them.
For what reason you ask? Well, if you've ever tried balancing a nice cold drink in your hand in a pool then you'll know what we're talking about! And of course, if you can't head down to your local watering hole then the next best thing is with your own!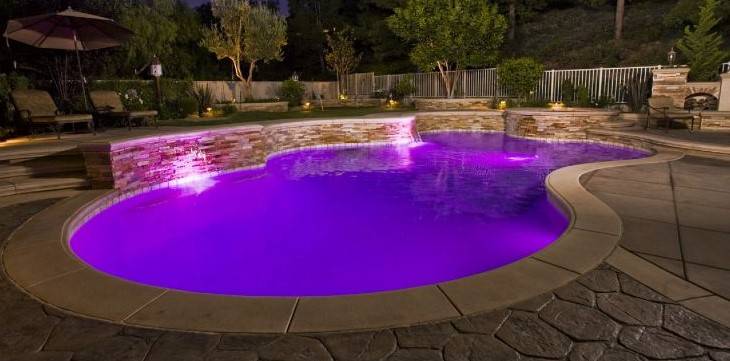 Adding some advanced LED lighting to your pool is an inexpensive way to spruce up any swimming pool space without breaking the bank. Many models like the one displayed below can change colors at a press of a button and they can set the mood for any event that you might think of! Want to relax at night? Your pool can be a nice calming blue with a button press! Have a color themed party? No problem! Switch your pool lights to match! And as a bonus? They last much, much longer than your traditional halogen or fluorescent pool lights by years and they virtually cost nothing to light up due to their energy efficiency!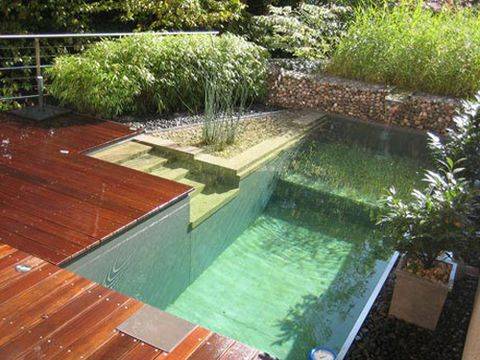 No, we're not talking about chlorine-free pools here (although that is still technically possible with the right chemicals from Lo-Chlor). Natural pools are built hand-in-hand with the landscaper to make your pool blend in seamlessly with the landscape, turning a pool from a standout in your backyard to something that blends in perfectly. Now that we really think about it, maybe it is having a nice chlorine-free pool to complete the illusion of a natural pool right? Check out our special coverage on the Chlorine-Free System by Lo-Chlor here.
Splash Decks and Tanning Ledges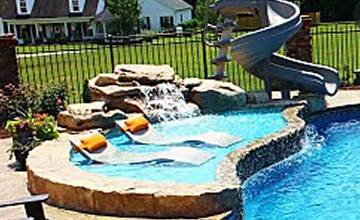 These are great additions to any pool! While they are usually added while the pool is being constructed since they require a lot of work, it is still possible to add splash decks and tanning ledges to your existing pool! All you need is the proper pool builder to do it for you. This is not something that you can DIY unless you're really intimate with your pool to avoid damaging any plumbing!
P.S. If you're thinking about adding a splash deck, try adding one that's close to your existing pavilion or lounge area so that you can dip your feet into the water under shade if you don't feel like relaxing under the Australian sun!
Unique Tile and Pool Finishes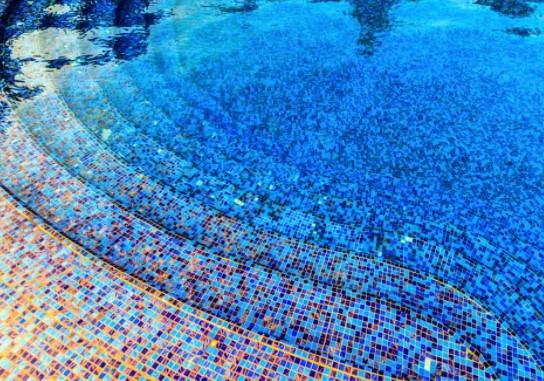 Let's face it, there's no hard and fast rule that your swimming pool should be tiled boring blue or white. Really! They've been that way for the longest time because well, because it's been accepted as the "best" color for swimming pools. Don't let that stop you though! Go crazy, go wild, go with the style that fits best with your personality and your home! And if you do go re-tile your pool surfaces and your pool surroundings, don't forget to hide your skimmer boxes with the Hide Skimmer Deck Lid System! Nothing messes up your personal style than those unsightly skimmer box covers, am I right or am I right? More information on the HIDE Skimmer Box Covers here.
While this trend isn't visual, it's no surprise that many Australian homes are investing in Eco-friendly pools! This includes upgrading your swimming pool pump to an energy-efficient variable speed pump, changing out traditional gas or electric heaters to pool heat pumps, adding solar pool covers, investing in a robotic pool cleaner, adding a salt water chlorinator or even going totally chlorine-free by using specialized chemicals from Lo-Chlor.
We also have a dedicated post on investing in an Eco-friendly pool which dives deeper into the advantages of upgrading your pool's existing equipment to more Eco-friendly components.
Need help with pool building? Mr Pool Man supplies only reputable pool builders in Australia so if you need help in locating one, reach out to us below!
Do you have any questions about this topic or the featured products? No worries, we're here to help! Drop us a question down below and we'll get back to you ASAP.
Happy swimming :)