Even though it's been a while since Mr Pool Man himself last cruised the streets of Australia in his pool van, a look into his toolbox reveals what any pool owner should have in his or her toolbox or in their pool shed to make sure that they're prepared for any eventuality.
Pool Water Testing Equipment
A good pool man (or woman!) owner should always have some pool water testing equipment to see what chemical levels need balancing in the pool. With the affordability of many pool testing kits nowadays, it really shouldn't be hard for anyone to have one or two of these in their home pools.
Test strips - for casual testing or for regular monitoring of pool chemical levels, nothing beats the affordability and ease of use of pool test strips like the Water Technix 7-in1

Reagent Test Kits - For accuracy that's one step above test strips, reagent test kits like the Water TechniX 5 in 1 pool test kit can give you some of the most accurate results in exchange for a little bit of effort.

Photometer Test Kits - For the absolute accuracy, photometer test kits are the way to go. Although a bit overboard for home use, if you absolutely need the most accurate test results for your pool then you can't go wrong with a photometer test kit.

Salt Test Strips - A must have if you deal with salt water pools, if you don't have a salt water chlorinator then you don't need this one.
Electrical Test Meter / Multimeter - For testing pumps, heaters, lighting fixtures, and other electrical stuff not only in and around the pool but in the house as well.

Dye Test Kits / Liquid Detergent - Good for spotting tiny leaks in your plumbing and pool equipment.
Some people just love to collect tools and being a pool man just gives us more reasons to buy and collect more tools!
Hand Saws and Reciprocating Saws - Used to cut PVC pipe for plumbing jobs as well for trimming overgrown hedges or overhanging branches.

Screwdrivers and Cordless Drills - I used to just rely on a manual screwdriver to remove and attach screws, but a cordless drill with different screw attachments can save a LOT of time and effort

Nut Drivers - These come in a wide range of sizes, but make sure to keep the ¼ and the 5/16 sizes safe and handy as these two sizes will be the ones that will be needed around the pool and on pool equipment.

Gripper tools - Equipment around the pool tends to be wet so a gripper tool to open them up can come in really handy.

Pliers and Wire Strippers - Don't really need an explanation for pliers and wire strippers and they should already be in your tool box even if you don't have a pool.

Blow dryer or a heat gun - Extremely useful in a pinch if you need to soften some ppr pipes and if you need to pop a vinyl liner back in place. Also great if you need to absolutely look your best after a long day of pool maintenance.
These are consumables that you absolutely need in your pool tool kit to make sure that you can deal with any situation that arises while waiting for a more permanent fix.
Pool Putty or Quick-set Epoxy repair - If you need a leak fixed quick, whether underwater or above the water, the Aussie Gold Aqua Fix is the perfect thing to have in your toolbox. It hardens in 15 minutes and completely cures in an hour so you can get rid of leaks in no time at all.

Teflon Tape, Electrical Tape and Duct Tape - Teflon tape is for making sure that your threaded pipes are snug, electrical tape for those on the fly electrical repairs and duct tape for everything else. Seriously, is there anything duct tape can't fix? No self-respecting pool man or handyman wouldn't be caught dead with a roll (or two!) of duct tape.

Silicone Based Lubricant - Whenever you open/close something with an o-ring, make sure to check if it's still lubricated properly to keep it supple and leak-proof! NEVER use oil-based lubricants.

Vinyl Repair Glue - Handy to have even if you don't have a vinyl liner pool. Can be used on pool toys and other inflatables. But if you have a vinyl liner pool then this is something that you MUST have in your pool tool box.

Pool Chemicals - Too many to list, but a good pool man will always have a complete collection of pool chemicals available at any time. See our ultimate guide to pool chemicals to learn more.
Other Pool tools and Equipment
Here are some other tools and equipment that are specific to pool use that every pool man must have in his tool box or pool shed.
Venturi Pump - We used to recommend having a submersible pump for partially draining flooded pools or sand filters, but since it's a pretty niche tool and it probably won't get used that much, a venturi pump is the next best thing. It uses no power (so it's great for those post-storm repairs) and it takes up absolutely no space at all.
Expansion Plugs - For plugging up pipes, intakes and returns if any repair work needs to be done. You can find different sized plugs on Mr Pool Man's online shop that are made especially for pools.
Bladder Type Hose Jets - For clogged pool lines, nothing can clear it faster than a Drain King bladder-type hose jet! This is another essential pool tool for anyone to have in their toolbox.
Buckets - If you have a pool then you should have buckets of all sizes! Small buckets, medium buckets, large buckets! Good for diluting chemicals, as temporary trash bins for work done around the pool, and more!

Professional Grade cleaning equipment - Even if you have a home pool, that doesn't mean that you have to suffer with cleaning equipment that you have to replace every few months. Get a good set of Water TechniX pool cleaning equipment and you'll have professional-grade cleaning equipment at affordable prices. For a complete breakdown of pool cleaning equipment, check out

our ultimate guide to cleaning your pool here.

 
Pool Hangers - This is another nifty thing to have in your tool box or tool shed. Say goodbye to hoses or other equipment just sprawled on the floor just like an accident waiting to happen. Pool Hangers like the Aussie Gold Hang and Hold will allow you to safely hang and organize your pool equipment so that they dry properly and are safe from step damage.

Protective Equipment - Since you'll be dealing with chemicals a lot, some protective equipment like gloves and masks are recommended. Nothing over the top, just some things to protect you from accidental spills, splashes, and vapor inhalation.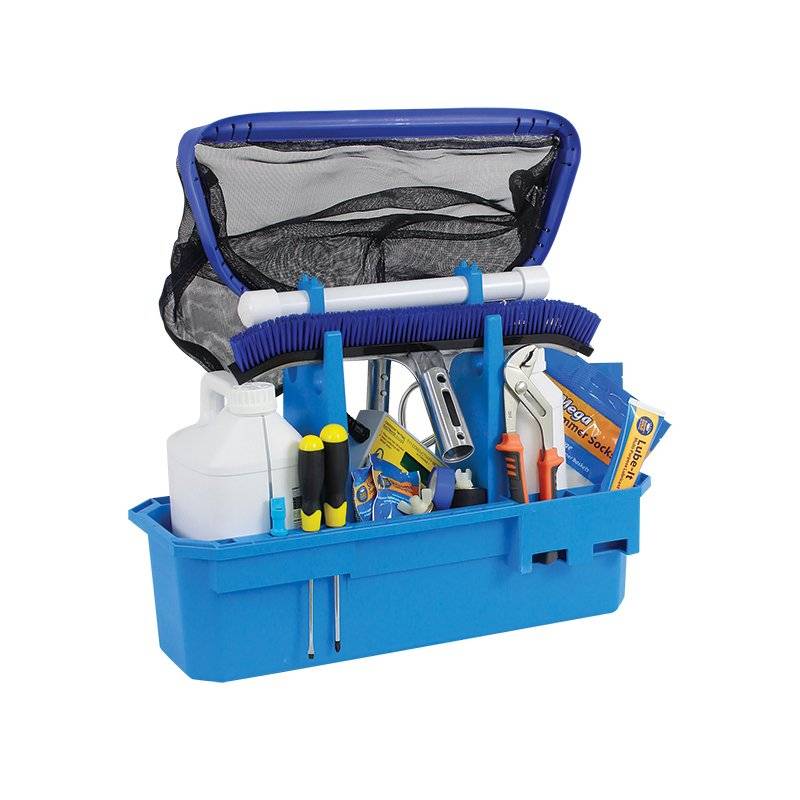 Well that's it. Every little pool tool and supply that you'll ever need in your toolbox for all your pool-related tasks. We used to have a saying, the only good pool man is a well-prepared pool man, and this is so true especially when it comes to our home pools. Having the right tools at the right time will make pool maintenance tasks go smoother and faster so that you'll spend more time IN your pool rather than doing pool chores.
Do you have any questions about this topic or the featured products? No worries, we're here to help! Drop us a question down below and we'll get back to you ASAP.
Happy swimming :)