The Water TechniX Viper Automatic Pool Cleaner is one of the newest addition to the Water TechniX line of professional-grade pool cleaning equipment for Australian pools. The Viper also comes with a whopping 12m sectional hose that gives it the range to cover pools of all shapes and sizes.
New and Improved Wheel Deflector

A flexible deflector wheel allows the Viper Automatic Pool Cleaner greatly improves the agility of this suction pool cleaner. Able to navigate tight pool corners without getting stuck, the Viper ensures that all of your pool's surfaces are clean as they can be!
The Viper comes with 12 pieces of 1m hose sections from Water TechniX. This allows full coverage for even the largest of home pools. And since the hoses are sectional, if you have a smaller pool, you can use just the required length and keep the extras for spares in case they get damaged or crushed.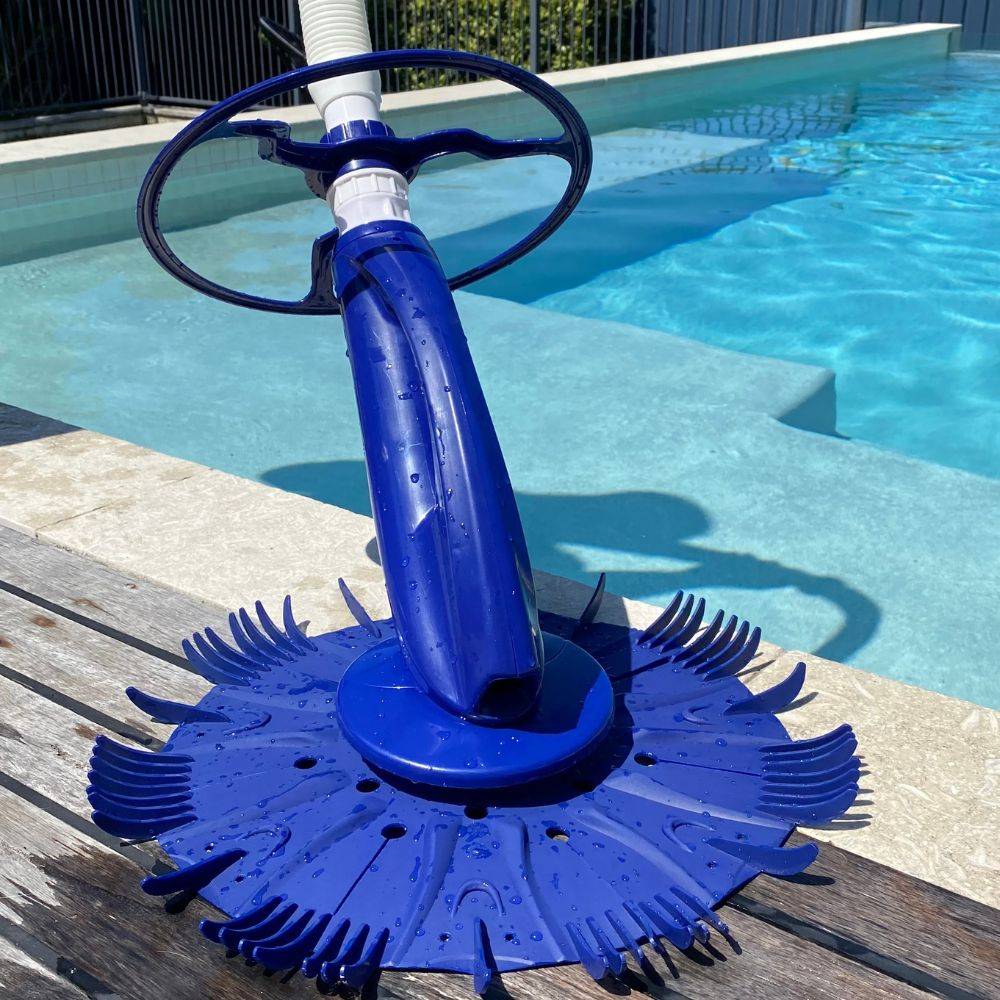 On top of that, the hose is designed to be scruff-resistant so that your pool surfaces are protected from scratches and scruffs caused by your regular flexible hoses. I mean, what's the purpose of having a clean pool surface only to be scratched up by a pool cleaner right?
One Moving Part / Long-life Diaphragm Design
With only one moving part, there's nothing to fix! If you've been scratching your head because of the sound of the standard clapper or hammer-type pool cleaners, then you'll love the Viper! The diaphragm is the only moving part, this means that there's nothing to fix, nothing else to replace, and nothing to get worn down. That's a whole lot of things to remove from your "things to worry about" list.
The diaphragm is also very easy to remove with its quick-release design. If it gets worn down, simply eject the cartridge and replace it with a new one and your cleaner will be as good as new!
And as a bonus, there's an included extra diaphragm in the package so you'll have a spare, just in case.
Unlike other automatic pool cleaners and suction pool cleaners, the viper has a staggered fin design that allows it to jostle itself out of tight corners and other awkward positions. Standard fin designs will have the tendency to bounce at the same angles while the Viper automatic pool cleaner will bounce at a different angle every time, giving it a whole new angle of attack and preventing your cleaner from bouncing around at one spot.
Suitable for All Pool Surfaces

Whether your pool is made from concrete, tile, or vinyl, the Viper Automatic Pool Cleaner can adhere to any surface. The fin maximizes the cleaning surface and even after a single use, the results are already noticeable.
Robust Hydraulic Design with Swivel hose
The swivel hose prevents tangles and flips that are common with regular fixed-type connections. Its improved hydraulic design also allows it to be used with low-powered pumps and energy-efficient ECO pool pumps like the Water TechniX VorteX pool pump, allowing you to have your pool cleaner running without running your pump at full power!
Easy to Install Automatic Pool Cleaner
The Viper comes pre-assembled, just unbox, set the hose length to the needed length and you're all set! No special connectors are needed, simply attach it to your vacuum plate and watch it go!
It also comes with a skimmers fittings pack like elbows, flow regulator valve, and hose weight so that you'll have it up and running just in case you need the fittings.
Our Best Bang-for-buck Automatic Pool Cleaner to Date
Rivalling suction pool cleaners that cost double the price, the Viper Automatic Pool Cleaner is definitely one of the best value for money pool cleaners out there. This, coupled with unmatched support from Mr Pool Man and Water TechniX makes it the perfect automatic pool cleaners for Australian pool owners who are looking to keep their pools clean without breaking the bank!
Do you have any questions about this topic or the featured products? No worries, we're here to help! Drop us a question down below and we'll get back to you ASAP.
Happy swimming :)