The Water TechniX Rapid Automatic Pool Cleaner is an affordable, easy-to-install, and bulletproof solution to your automatic pool cleaning needs. Designed by Water TechniX to meet even the toughest needs of Australian pool owners, the Rapid Automatic pool cleaner is truly the best value pool cleaner in its price range.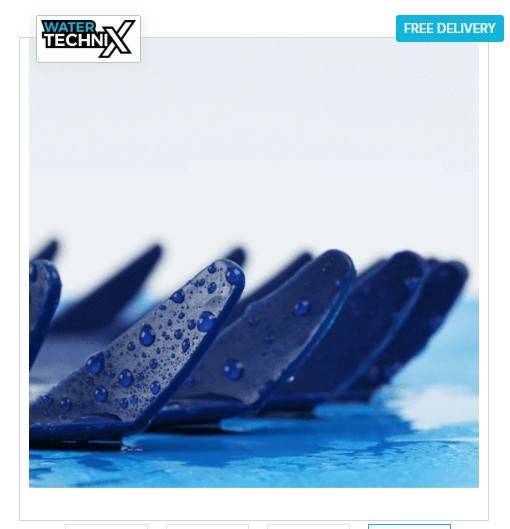 The Water TechniX Rapid automatic pool cleaner is designed for all types of pool surfaces. It can be used on both in-ground and above ground pools. Whatever the surface is, be it fiberglass, tile, vinyl, pebblecrete, cement, or gunite, the Rapid can grab on to it and clean it. With its finned disc design and included deflector wheel, the Rapid Automatic Pool Cleaner is chugs along happily no matter what shape your pool is, cleaning corners where other pool cleaners can't reach or get stuck on.
Removes leaves and debris from your pool
The Water TechniX Rapid automatic pool cleaner can deal with small to medium sized leaves, the kind of debris that tends to sink to the bottom of your pool. The Rapid Automatic pool cleaner can also be outfitted with leaf canisters to ensure uninterrupted cleaning by pre-filtering out any debris before they reach your skimmer and pump baskets.
Rugged Construction and Design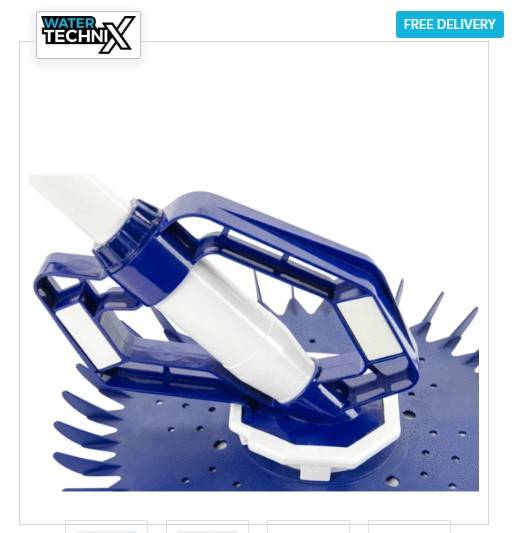 With minimal moving parts and rugged construction, the Water Technix Rapid automatic pool cleaner is guaranteed to render years of service even under the harshest Australian conditions. It has no complicated parts that will require servicing or replacing down the line.
Comes with all the fittings you'll need (and more)
The standard Water TechniX Rapid automatic pool cleaner comes with everything you need to get up and running. It comes with elbows, a flow regulator valve, 10 one meter hose segments (which you can add to or reduce depending on the size of your pool), a pool hose weight, and even an extra cassette diaphragm.
It will take longer to type up the setup process than actually doing it. To see how easy and fast it is to get you up and running with the Water TechniX Rapid automatic pool cleaner, here's our pool guru Tom with a step-by-step video on how to install the Rapid automatic pool cleaner.
Mr Pool Man stocks all of the replaceable parts (the disc, deflector wheel, and cassette) at all times so in case you need a replacement for any reason, replacement parts are just one click away.
Disadvantages of the Water TechniX Rapid automatic pool cleaner
Minimal bells and whistles – Unlike full-fledged robotic pool cleaners, the Rapid has none of the advanced features and is just a straightforward, easy-to-use, and efficient pool cleaner.

Larger leaves or debris can get stuck inside the diaphragm and cause clogging – This is not an issue exclusive to the Rapid but also with all pool cleaners, which is why we recommend scooping up larger pieces of debris with a leaf skimmer before using any automatic pool cleaner.
The Water TechniX Rapid automatic pool cleaner is the perfect upgrade for anyone who wants to raise their pool cleaning up to the next level. It's an excellent cleaner for Australian Residential Pools of any shape or size. While it does not have all of the bells and whistles of robotic pool cleaners three times its price, it still does an excellent job of keeping your pool surfaces spotless. In fact, you'd be hard pressed to spot the difference between a pool cleaned with the Water TechniX Rapid Automatic Pool cleaner and the Pentair Rebel 2 which is almost twice the price and requires more maintenance.
Other Water TechniX related articles that you might want to check out:
Do you have any questions about this topic or the featured products? No worries, we're here to help! Drop us a question down below and we'll get back to you ASAP.
Happy swimming :)