Is your pool starting to show its age? Don't worry, we've all been there. Cracks and discoloration are part of pool ownership, I mean, what wouldn't show signs of wear and tear after years of exposure to the elements and to pool chemicals right?
Best practices when reconditioning your pool

Reconditioning your pool is a big task, so it's best to make sure that you get the best for your pool. I mean, it's not something that you're going to do on a regular basis so it's best to make sure that you're going to use equipment and materials that will last you for years to come and not conk out on you in just a couple of years. You wouldn't want to re-do your pool after just two or three years right?
Far by the most common pool surface out there, many new pools come with plaster surfaces and typically they go for five to seven years before needing to be reconditioned. Now, if you're just dealing with discoloration, then a fresh coat of paint will do just fine, but if you're dealing with stress cracks, chips, and imperfections, the best way to go about it would be to repair it with some clear epoxy.
SEE ALSO: Swimming pool repairs that shouldn't be delayed
Many pool pros swear by the EPiC Epoxy 100 when conducting their reconditioning because of its high bond strength, resistance to scratching and abrasion, impervious to moisture (extremely important for swimming pools), and outstanding chemical resistance!
Painting the pool surface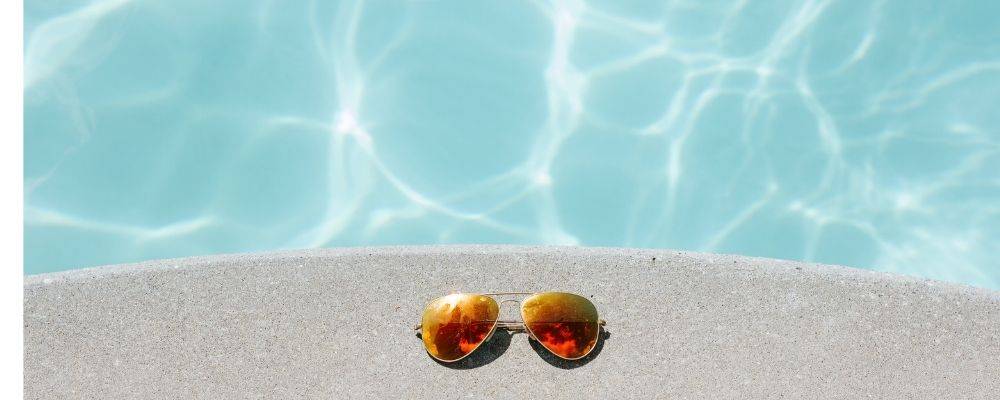 Before running out to your local DIY store to pick up a can of paint, it's worth noting that the type of paint you're going to use will determine how long you'll have before your pool needs to be repainted! While we don't carry their brand on the Mr Pool Man online store due to safety shipping concerns, you really should consider getting some Luxapool® pool chlorinated rubber paints.
With Luxapool® pool chlorinated rubber paint's fine sealing properties, maintenance has never been easier! Resistant to salt water and pool chemicals, you pool will stay crystal clear and algae-free without worrying about your pool surface cracking and discoloring before its time!
It's also available in a wide range of standard colors so you don't have to be stuck with a boring white pool surface (unless that's what your theme is, and in that case, they have a lovely pristine white color).
Tips for painting pool surfaces
Check the weather forecasts - For optimum results, look for a 5-day window to paint your pool surfaces with Luxapool® pool chlorinated rubber paints. I mean, you wouldn't want to get rained in while painting your pool right?

Be sure to check colour panels - Reputable brands like Luxapool® have color panels that will allow you to see and test what the colour will look like underwater! You can't just go with the printed colors on the can since light, water, and time of day will drastically change the appearance of the colour!

Don't forget to patch up any cracks or damage - Goes without saying, but this is the reason you're reconditioning you're pool right?

Let the paint cure - We know you're itching to get back to swimming, but best practice calls for letting the paint cure for around 7-10 days, the longer the better. This will allow the paint to harden and will allow ample time to check of any imperfections before you refill your pool.
Tired of boring pool surfaces?

Well, if paint is no longer doing it for you, how about plunging into a pool of jewels? Australian company Jewels4Pools has turned over 18,000 (as of writing) pools into sparking jewels amidst the Australian landscape! So what does the Jewels 4 Pools surface offer?
Smooth application - It feels smooth to the touch! Unlike a plain plaster surface that degrades and will feel rough over time, Jewels 4 Pools have that pleasant smooth pebble feel to them!
Colours will never fade - 5, 10, or even 15 years down the line, with proper maintenance, your pool surface will look the same as the day you installed the Jewels 4 Pools surface. Constant scrubbing will degrade paint faster but if you keep on scrubbing Jewels 4 Pools, the colors will just pop up more!

Unlimited combinations - With hundreds of colors to choose from, you can mix and match to create the perfect look for your pool.

100% glass and geo polymer technology - Practically lasts forever!
Other things to remember when reconditioning your pool
Since draining your pool isn't something you should be doing on a regular basis, it's time to check all of the other things n your pool that might have gotten overlooked! As they say, out of sight and out of mind!
While the pool water is out, give your main drain covers a good once-over. If they're faded or cracked, replace them! No better opportunity to replace them while the water is out. In fact, even if they still look in good condition, why not replace them just to be safe right? The next time you'll be seeing them will be years away the next time you drain your pool!
Another one of those things that are out of sight and out of mind, your pool's hydrostatic valve. While it's a small piece of your pool, it's one of the most important pieces of equipment of your pool! Hydrostatic valves relieve the pool of pressure, protecting it from popping out of the ground, especially for pools that are located in places with high water tables! Damaged or undamaged, it's a good idea to replace your hydrostatic valves while your pool is drained. Better safe than sorry right?
Another perfect opportunity to check your valves and fittings! Since the pool is already out of commission, check all your valves and fittings for leaks and replace them as needed! This is something that many pool owners just forget for another day causing thousands of dollars in wasted money from leaks and waste of pool chemicals. Check out all of our pool skimmers, valves, and fittings here.
Pool reconditioning isn't just about painting your pool surfaces or applying a new surface to it like Jewels 4 Pools. It's about reconditioning everything in your pool so that you'll have a pool that's good as the day it was first built!
Do you have any questions about this topic or the featured products? No worries, we're here to help! Drop us a question down below and we'll get back to you ASAP.
Happy swimming :)