Update: We wrote this a couple of days before the world's longest lockdowns were eased, but the idea is still the same! Whether it's a government-imposed lockdown or if you just want to stay fit while staying at home, these recommendations are the best pool exercise equipment that you can get for you and your home pool!
Benefits of exercising in the pool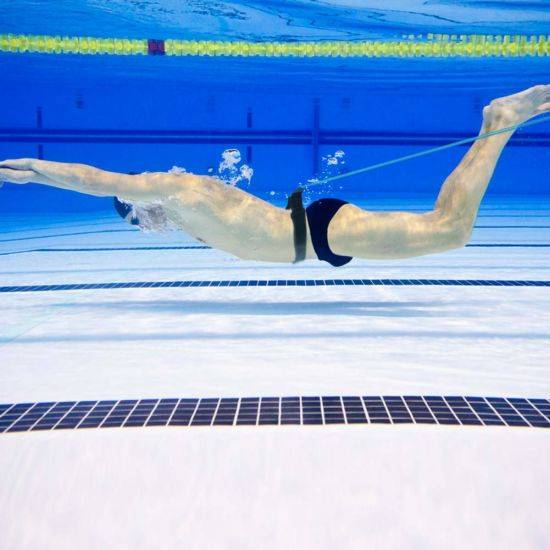 Aside from being great fun, exercising in the pool does have a lot of other added benefits versus doing your exercise regimen in the gym!
Safer - This is the obvious one, since you're going to be with family, there's really almost zero chance of catching anything (even the common cold) when you're there exercising in the safety and privacy of your own pool!

No Commute - Even if the roads are pretty clear, you're still going to be spending money on petrol and with the price of petrol soaring nowadays, you're going to be saving a pretty penny by avoiding the drive.

Easier on your joints - When you're in the water, you're taking approximately 90% off of your body weight because of buoyancy. This allows you to stretch and move in ways that are practically impossible on land! While this doesn't sound like it's going to be a workout, it actually is since there's going to be a lot more resistance than air! Every little movement you'll make will actually be giving you a workout and will work like you have weights attached all over your body.

Burns Fat, Builds Muscle - Studies have shown that exercises done in the pool, even if they're lower impact and doesn't feel as tiring as those done on the surface, can burn as much fat and build as much muscle as doing them on the surface!
SEE ALSO: 10 Ways a Swimming Pool Will Change Your Lifestyle
Exercises you can do without pool exercise equipment
Before we dive into exercise equipment that's needed for your pool, it's worth noting that there are a lot of exercises that you can do without the use of any specialised equipment!
Swimming around - Well, this one doesn't need any explanation. Swimming around in your pool is pretty good exercise in itself! Depending on the intensity of your swim session, you can burn anywhere from 140 to 300 calories every 30 minutes in the pool! Which is about the same as a medium-intensity workout in the gym for the same (or longer) length of time!
SEE ALSO: Family Pool Games for Summer & Cool Drinks for Kids

Walking around in your pool - Since water produces a lot of resistance, walking around in your pool just above waist level can be a pretty good workout in itself!

Static stretches - Promote circulation and flexibility by doing static stretches in the pool! Aside from being fun, you won't have to worry about falling flat on your face and hurting yourself since you can just float when you lose your balance.

Jumping Jacks - Just like stretching, doing jumping jacks in water is a lot more effective than doing them on the surface because of the water resistance! And the same plus applies as well! You don't have to worry about falling and hurting yourself since you're in water!
For more exercises you can do in the pool without equipment, check out this in-depth article on pool exercises here.
Specialized pool training equipment
Now we're going into the meat of the article! Specialized pool exercise equipment you'll need during lockdown (and even after it's done!) while there are dozens of different pool exercise equipment out there, we're going to keep it simple and narrow it down to the best 3 pool exercise equipment you'll need during lockdown.
Water TechniX Swim Tether Pool Resistance Belt Trainer
The most basic of pool exercise equipment that one can have. It's quite affordable and it practically lasts forever. This piece of pool equipment allows you to swim in place or jog in place if you have limited pool space. Perfect for those who want or need uninterrupted swim sessions! Very simple to use, just secure one end of the tether to a secure surface and attach the other end to the included waist best and you're good to go! Not only can you have a continuous swimming session, but you can focus on improving your form and stroke without worrying about injuring yourself or hitting other people in the pool!
This piece of equipment takes the place of swim jets that cost thousands of dollars! Who would have thought it right?
Life Fitness Kit Pool Ankle Weights & Dumbbells
Increase water resistance by adding weights and dumbbells to your pool workout! The kit consists of 2 resistance dumbbells and 2 resistance ankle cuffs that are designed specifically for use with swimming pools. The main factor that makes swimming pool exercises really effective is water resistance and the ankle weights and dumbbells increase that resistance! This provides a more vigorous workout without the added stress.
The dumbbells are also designed to be hydrodynamic, which means that with a slight angle change, you can reduce the resistance greatly! This is best for getting them back to position without straining your arms too much!
The ankle weights are a perfect addition to balance exercises, walking, or jogging in place at the pool! As a bit of trivia, did you know that ankle weights have been used for hundreds of years to help develop leg strength? Now you have develop yours as well in the comfort of your own pool!
And as an added bonus, the ankle weights and dumbbells are safe for your pool surfaces! If you drop them, you don't have to worry about damaging your surfaces! (Unlike if you bring metal dumbbells into the pool, which we really don't recommend doing)
Life Resistance Belt Pool Swim Trainer
While it may sound confusing, the Life Resistance Belt Pool Swim trainer is basically a set of weights designed to be worn comfortably around your waist. This helps give you more mass to offset for pool buoyancy and give you a more intense core workout without the added impact. This takes your pool aerobic or stretching exercises to a whole new level! Not only that, but the Life Resistance Belt Pool Swim trainer helps you develop your balance and tone your body faster.

BONUS: 10 Must have Swimming Pool Accessories
So there you have it. Whether you're in for some serious pool training or if you just want to maintain a level of fitness while stuck at home during lockdown, having the pool exercise equipment featured above can be a great help! They're easy to use, safe for everyone, and they're safe for your pool as well!

Related Articles:
Do you have any questions about this topic or the featured products? No worries, we're here to help! Drop us a question down below and we'll get back to you ASAP.
Happy swimming :)