Before we all get excited, let me just preface this article by saying that none of the chores that we'll be suggesting today should be given to kids who don't know how to swim and without proper supervision!
Getting your kids to help you do some pool maintenance work is not only fun (especially for you!) but for the kids themselves as well. Today we're going to look at some of the things that your kids can help with around the pool to help take some of the load off of your regular pool maintenance tasks. These are basic things to do around the pool that doesn't involve the use of any chemicals or having to interact with anything with moving parts.
Emptying the skimmer baskets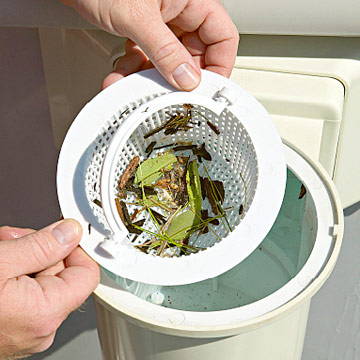 Kids love bugs! And where can they open a treasure box with bugs on a daily basis? In your skimmer boxes of course! Teach your kids how to properly open the skimmer cover, show them how to remove it, where to dump the debris (and bugs!) and how to put everything back afterwards. You can also use some skimmer socks so their little treasure box can catch even more bugs! The fine mesh of the skimmer socks catches everything before they get sucked into the pool pump. Less maintenance for your pumps and filters, more fun for your little treasure hunters.


Skimming the pool for leaves
If your kid is big enough to handle a telepole then they're big enough to skim the pool for leaves. Teach them how to properly use a leaf skimmer or leaf rake so they can do the regular skimming or even just give them a sense of accomplishment by allowing them to scoop out the easy-to-reach debris.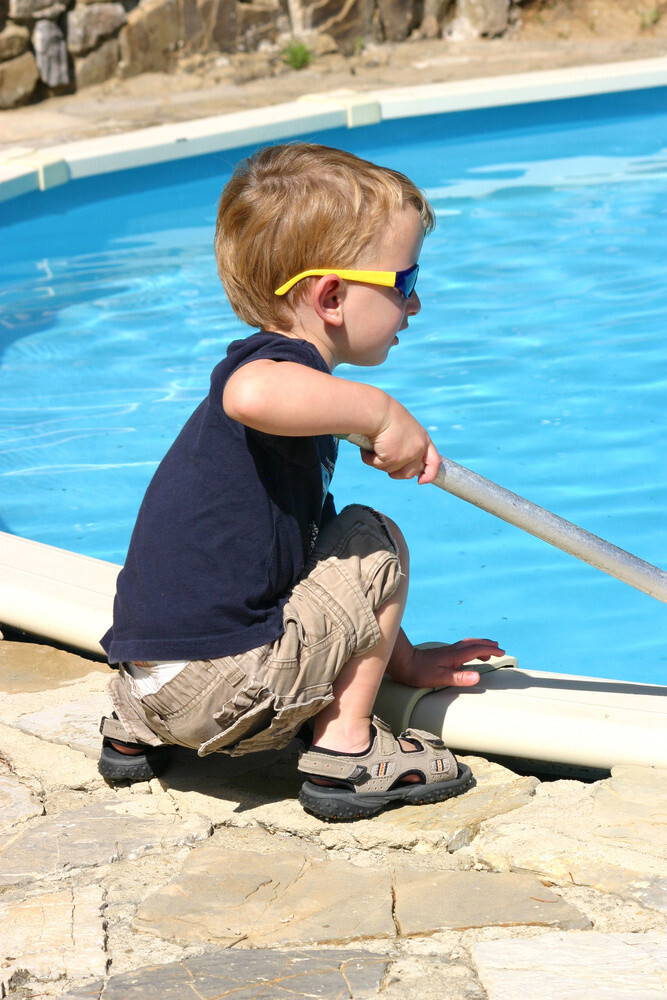 Now for the little ones, it might be tough for them to setup a manual pool vacuum by themselves, so this is something you have to do yourself. But after it's on and running, hand it off to them and let them do the vacuuming. Kids love watching tiny dirt and debris get sucked up by the vacuum head so this is one fun thing for them to do. Learn more about the Do's and Don'ts, Tips and Tricks you should know about your Swimming Pool by clicking here.
Operating the Robotic Pool Cleaner
Remember when we said that robotic pool cleaners like the Zodiac Tornax TX30 were so simple to use that a kid could use it? Well, now's the chance to do so! Just make sure to position the robotic pool cleaner near the water and safely plug it in, then they can press the clean button and watch it go! They can also help clean out the built in filter canister after the cleaning cycle is done too! And while they're at it, have them spray it with fresh water afterwards to remove chemical residues before storage.
Now this can border a little bit on child labour, but if you won't tell, we won't tell! Get a pool stone cleaning block so they don't have to deal with any chemicals, and then teach them how to gently scrub the surfaces of your pool or focus on areas with stains. You'll be surprised on how thorough kids can get when playing with a giant "eraser".
Pool water testing with test strips from Water TechniX and Aussie Gold is as simple as dipping the test strip into the water, reading the results and recording the result. Teach your kids how to do this and you'll never have to worry about forgetting to test your pool water ever again. For older kids, you can teach them to use reagent kits if you think they're old enough to drop in reagents properly. Don't forget to tell them to write down the results!
Ask them to keep a pool journal
Put the kids in charge of monitoring your pool maintenance tasks! Give them a schedule of when to test, when to clean, and what to write down. Things to monitor around the pool would be your pool filter pressure, pool temperature, and pool chemical levels so you can monitor at a glance the overall health of your pool without getting your hands dirty.

At the start, kids will be resistant to doing these things if they view it as "work" but with the proper incentives, it's not hard to get them into the groove of doing these things at a regular basis. Some ideas on how to incentivise pool cleaning is to get them rewards like new pool toys or floats if they complete a certain number of tasks.
You can even throw them the best pool party if they do very well! Some kids will respond well to getting them their own pool cleaning set (a shorter telepole with brushes) and toolbox for their testing kits. It's really up to you how you'll incentivise the pool maintenance tasks. Or if everything else fails, you can always get them to choose between doing these minor tasks for the pool and doing real tasks like yardwork or washing the dishes! Once faced with the choice, they're sure to pick pool maintenance tasks over "real" work any day of the week!

Getting your kids to help around the pool is a great way to give your kids a sense of pride and self-esteem especially if you give them a sense of ownership of the task. Over time, they can take over most aspects of pool maintenance which builds a lot of character in our opinion.
But above everything, don't leave them alone to do these tasks (even if you're tempted to do it!). Have fun with them and build memories! This is one of the reasons we had a pool built in the first place right? Turn your child's memories of cleaning the pool into fun and fond memories that will stay with him forever.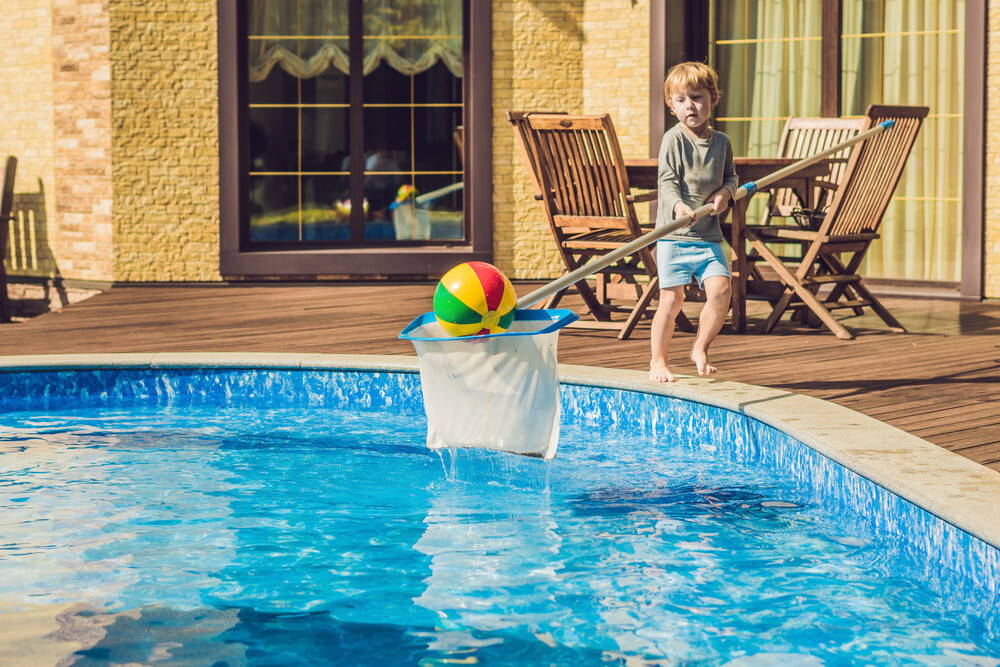 Got that? Good. Now get those kids to work!
Do you have any questions about this topic or the featured products? No worries, we're here to help! Drop us a question down below and we'll get back to you ASAP.
Happy swimming :)