One of the biggest decisions a homeowner in Australia can make in the course of homeownership is choosing what type of pool to have installed for your backyard. By becoming armed with as much information as possible, we can make our decisions easier and we might even end up saving a couple of thousand dollars in the long run.
What is the right pool size for your backyard?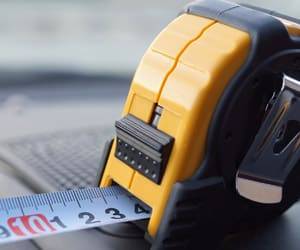 The first instinct would be to just utilize as much space as possible and fill every single inch of our yards will pool space, leaving the bare minimum for poolside furniture and space. This isn't actually a good idea as we'll just end up with a pool that can be too big for our needs and will just be underutilised and will actually end up costing a lot in the long run when it comes to maintenance costs! There are actually no hard and fast rules determining the right pool size like, if yard size is X then get size Y pool. Nope, doesn't work like that. Swimming pool choice is as personal as each individual that will use the pool!
Swimming pool size considerations
Here are the main points that we have to think about when deciding to build a pool for our backyard. And no, contrary to popular belief, budget is not the first consideration! A lot of people will think, oh, I can afford this much to build my pool so I should just get this size pool. Don't do that, consider all of the following things first before making any sort of decision.
Swimming pool use and purpose
To swim of course! Well, in reality, there are actually different types of activities that a pool can be used for. To be more specific, different primary activities will ultimately affect the length, depth, and shape of your planned swimming pool!
 

Primarily for exercise - If you plan to use your pool primarily for swimming laps, then you'll need a long pool (around 30 feet in length), with the width being a minimal factor. You can consider getting a long lap pool which is perfect for exercise. In fact, if space doesn't allow for a full-sized lap pool, you can design a plunge pool with swim jets to save space and still get the most from your pool!

For family fun - If you have younger kids (or older grandparents) in the family and you plan on utilizing the pool every weekend (or even daily!) for some family fun then you should consider easy entries to your pool like maybe having a lot of steps or even a beach-entry type (gradual slope) on one end of the pool so that everyone can enjoy the pool!

As a focal point for the backyard - if you don't plan to use the pool for any specialized purpose then in some cases a plunge pool will be more than enough for relaxation purposes. Getting a plunge pool also frees up your budget for a lot of other incidentals or landscaping use!

For relaxation - If you plan to use the pool just to relax every once in a while, you can even consider just getting a smaller pool with an attached spa so to cut down on the heating and maintenance expenses. You'll have a smaller pool footprint but with the attached spa, you can still enjoy a relaxing dip even in the winter without breaking the bank in heating costs!
Backyard Pool Size Considerations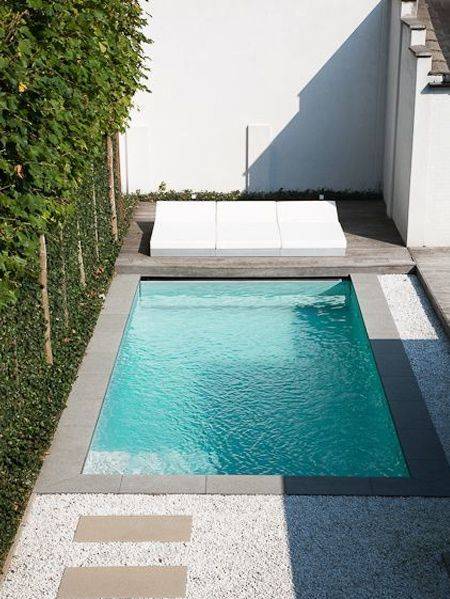 We go back again to the issue of swimming pool size! While your pool size is ultimately dictated by the available space in your yard. One good metric of determining the pool size is the number of average users for your pool.
For families of six members and below, a 16 foot by 32-foot pool would be more than enough. This will allow you to swim laps comfortably and still have enough space for everyone to enjoy the pool at the same time.

For families of seven members and above, an 18 foot by 32-foot pool should work, and increase by the width of the pool by two feet for every additional family member expected. But generally speaking, it's almost impossible to get everyone in the pool all at the same time, especially for families this size! Save on the pool building costs and improve your poolside furniture instead!

For families of four members and below, a small pool or plunge pool will be more than enough. How small is small? A 14x25 pool is more than enough! In fact, some families can even have a lot of fun in a 10x20 pool! P.S. for smaller families, a great idea is to just get a 10x20 pool and get an attached spa, the best of both worlds!
Pool Shape Considerations for your backyard
There will be different opinions on pool shapes, some will say that shape doesn't matter and others will say that it does! What's the truth then? Well, let's look at the design considerations for the different pool shapes, shall we?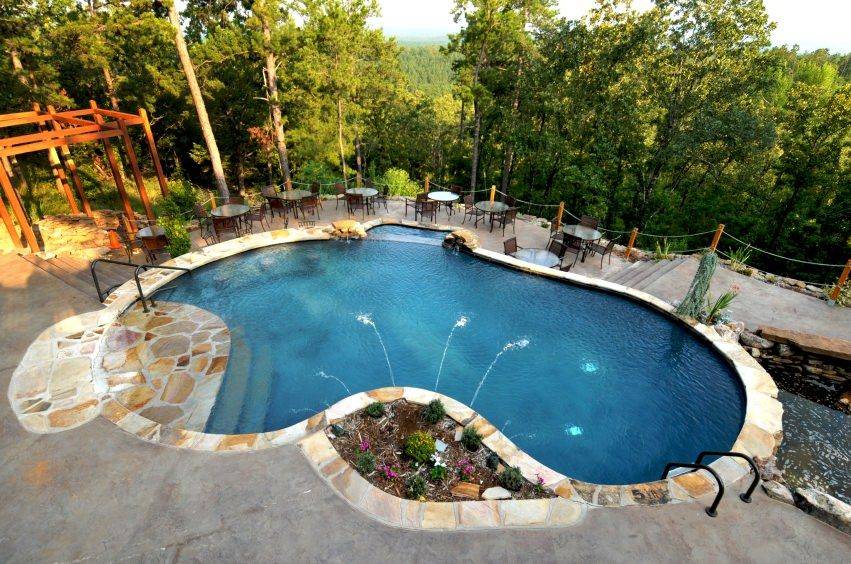 Kidney-shaped pools - This type of pool was the most popular design in the 60s and 70s but it has been overtaken by the more utilitarian and simple design of rectangular pools. While no longer popular, we're still big fans of the kidney-shaped pool! Why? The indentation of the pool lends itself to adding water features like a waterfall or even space for pool lounge furniture. And what many people fail to realize is that a kidney-shaped pool is actually cheaper (even though it doesn't look like it!) because it actually has lower perimeter footage which is basically the bulk of pool construction costs!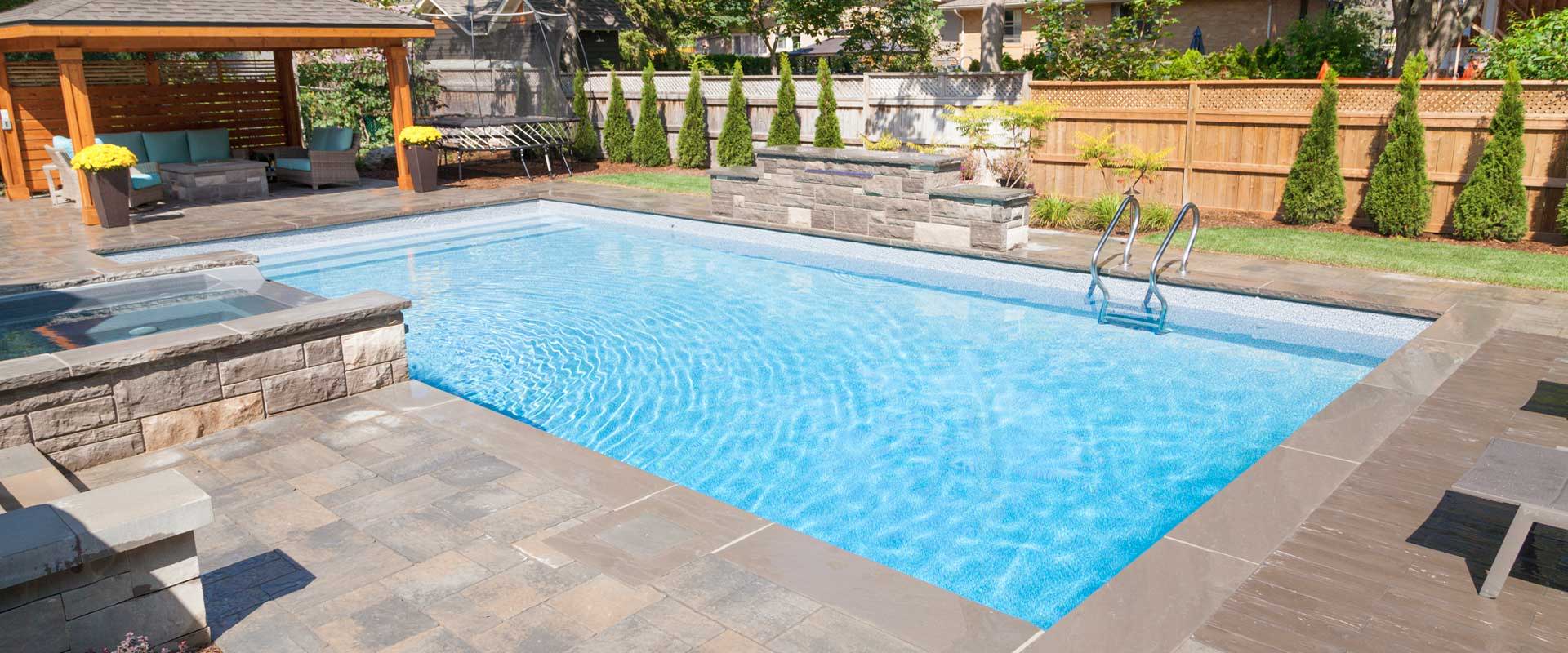 Rectangle-shaped pools - these are currently (2021) the most popular pool shape out there as it goes with the more "modern" and sleek feel that many households are looking for. As we mentioned earlier, rectangular-shaped pools are more expensive than kidney-shaped pools because of the higher perimeter footage. The straight design also won't allow for the intrusion of other external structures so you'll have to dedicate a sizable part of your yard to have a pool built.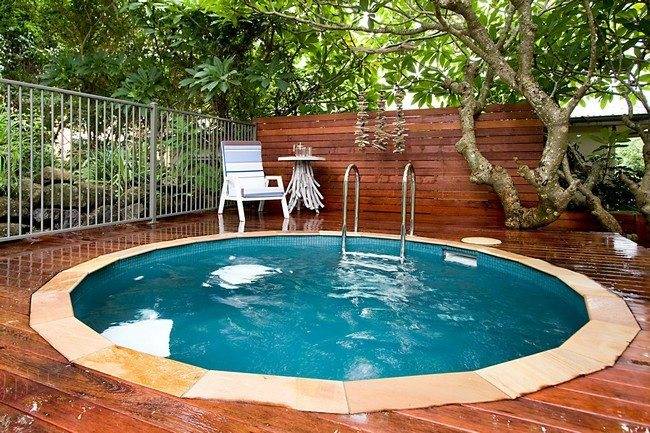 Round pools - Round pools have fallen in popularity because this design reduces the actual swimmable space, but don't get us wrong though. For backyards with very limited space and for smaller families, a round/small oval pool might be right for you.
In the end, consult with your pool builder and landscaper to see how your backyard space can be maximized! Making every inch count is paramount to getting the best bang for your buck when it comes to pool construction! P.S. ask your pool builder about free-form pools to get even more value for your space.
Concrete vs Fibreglass Pools for your Backyard
We've gone through the finer points of concrete vs Fibreglass pools in this post here but we'll put down a quick summary for you here to add to your notes. But if you need to drill down then it's a great idea to check the full post out!
Key Points for getting a fibreglass pool.
Fibreglass pools are cheaper than traditional concrete pools by about 20% to 30% depending on comparable size and design.

They're quick to install. With a good installer, you can have your backyard pool up and running in a month!

They're more durable than vinyl liner pools.
Key Points for getting a concrete pool
Concrete pools can be customized to any shape and size!

You can customize the interior finish to match your landscaping style and design.

Other customizations like a beach entry and other poolscape ideas can be implemented!

With some proper care, a good concrete pool can virtually last forever!
Landscaping ideas and for backyard pools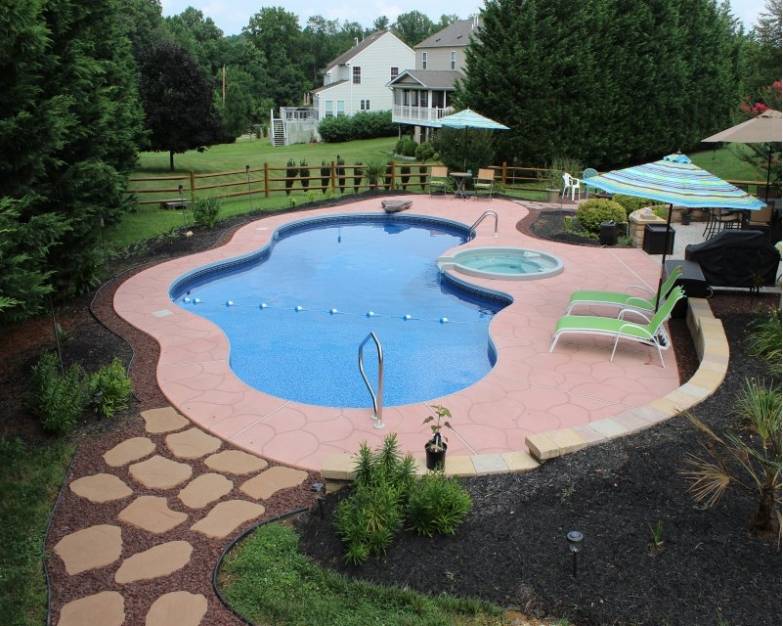 If your space is an issue, then landscaping is your best friend! The proper landscape design and space utilization can make your backyard pool appear larger than it actually is and maximize every bit of space you have at your disposal! Don't take it for granted, we've seen ultra-pools that still feel cramped because of the lack of relaxation space around the pool and we've also seen small pools that just feel perfect because of the addition of the proper foliage and relaxation furniture around the poolside area!
For a deeper look into landscaping ideas for backyard pools in Australia, check this post here.
Budget Considerations for Backyard Pools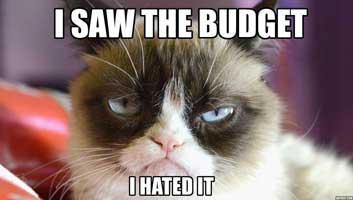 Now that you've taken into account all of the above factors for your own backyard pool, it's now time to bring it to your local pool builder for an actual quote! This way, you'll have a clearer picture of how much your pool will cost to build. Don't forget to take into account all of the incidental expenses like ongoing pool maintenance costs, electricity, water, and other factors.
For a deeper look into ongoing pool maintenance costs check out our in-depth coverage here.
As you can see, there are no hard and fast rules for choosing the perfect sized pool for your backyard. The best we can do is to plan, plan, and plan for maximum utilization of the available space and getting the best bang for your buck when it comes to pool building. An aspect where you can also add to savings when it comes to building your dream backyard pool is to get professional-grade pool equipment like your pool pumps, sand filters, salt water chlorinators, and more installed from the get-go.
Some builders can reduce the overall cost of the project by opting to use lower quality pool equipment initially but this is not a good idea. Opting for cheaper equipment to save up on costs will end up costing you a lot more in the long run! The good news is that Mr Pool Man offers some of the most competitively priced professional-grade pool equipment online in Australia!
We also work with a lot of pool builders around the country to provide new pool owners with affordable and durable pool equipment!
Competitively priced pool pumps? We got them right here!
What pool pump size do I need? Of course!
Pool Filters for all pool sizes? Check!
Salt Water Chlorinators for hassle-free sanitising of your pool? Confirmed!
Pool Cleaners to make life much more easier? You got it!
Know the right Cartridge Filter Size? YES!
Affordable pool chemicals for crystal clear water the whole year round? Yep!
Do you have any questions about this topic or the featured products? No worries, we're here to help! Drop us a question down below and we'll get back to you ASAP.
Happy swimming :)