Space is rapidly becoming a premium with many homes having smaller and smaller backyards, and with that in mind, is it still possible to get a full swimming workout right there at home without splurging for a full-sized pool? I mean, let's face it, Olympic-sized pools aren't really feasible for most homes. Not only are they really expensive to build, but maintenance alone can be more than one bargains for.
So is there a solution to get a full swimming workout and not build a gigantic pool at the same time? Yes! They're called lap pools!
What are lap pools and what are the benefits?
Lap pools are exactly what they sound like. Swimming pools that are designed for you to swim laps in. This means that unlike traditional rectangular pools or round pools, lap pools are longer lengthwise and are generally narrower when it comes to width.
Being long and narrow, lap pools can fit in areas where a traditional pool won't fit. With a little bit of creative design, lap pools can seamlessly fit into home designs to make them not only utilitarian but extremely pleasing aesthetically as well
How much space does a lap pool need?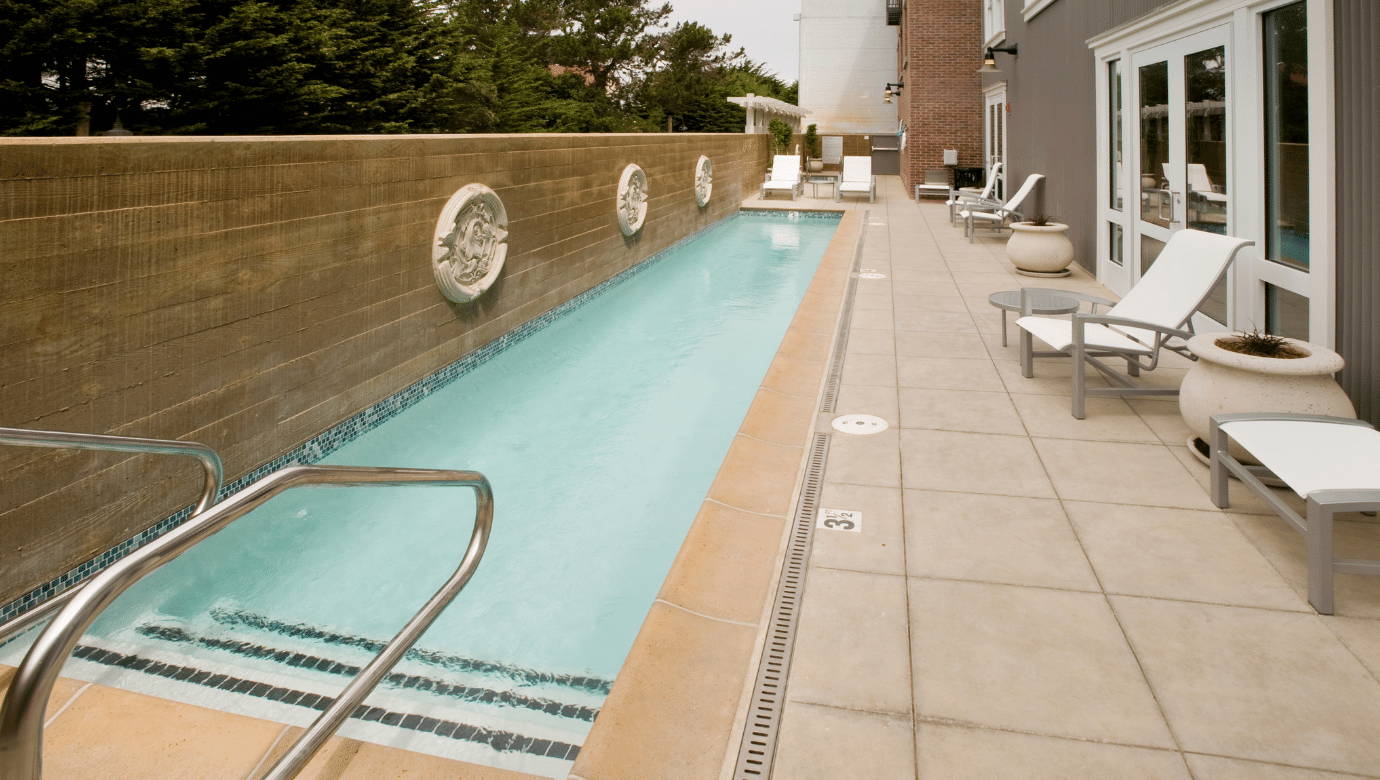 The space required for lap pools depends on the purpose of the owner. For reference, a full-sized Olympic pool is 50 meters or 164 feet long. For lap pools, it's generally recommended to have the length to be at 45 feet. This allows 2 laps to be the equivalent of one full Olympic pool leg. As for the width, the minimum recommended is at least 2.5 meters or 8 feet to allow enough space and to prevent your arms from hitting the sides of the pool.
A helpful design consideration for lap pools is to have a "leg" area at one end of the pool for access steps or as a small area for children to play in (or even place a couple of spa jets if you want a small spa area at the end of the pool).
Lap Pools Encourage a Healthy Lifestyle
Because of their design, lap pools not only provide a large measure of enjoyment for you and your family, but they encourage a healthy lifestyle. I mean, what can be healthier than getting proper exercise and putting in some laps right? The design itself calls for the users to practice their swimming and more than enough space to do it.
Things to consider when choosing a lap pool installation
The number one consideration when building a lap pool is obviously space. The longer the length of the pool, the better it is for practicing the proper swimming stroke for longer swimming sessions.
Another consideration for installing the lap pool is the deck. Unlike most pools, the deck design for the lap pool is more important than those of regular pools. Due to the tightness of the pool and the intended use, splashes are more common in a lap pool so a deck design that allows water to flow back into the pool is something that must be considered. A deck area of at least 4 feet wide on each side would be advisable for lap pools.
Thinking of having a lap pool or a small pool built in your backyard? We have prepared the questions you need to ask your pool builder. Check out this link for more information.
Can children use a lap pool?
We don't see why not! In fact, lap pools are great for kids to get them started on developing a love of swimming early on! If the kids see you do laps, they will want to emulate you! Remember the "leg" area we mentioned earlier? If they're too small to do laps, then this small area is the perfect place for them to play and splash around.
The recommended depths for lap pools should at least be 3 feet on the shallow end and around 4 to 5 feet on the deep end. The leg area can be shallower and can contain steps as long as the main length area remains deep enough for continuous swimming.
Features that can be added to a lap pool.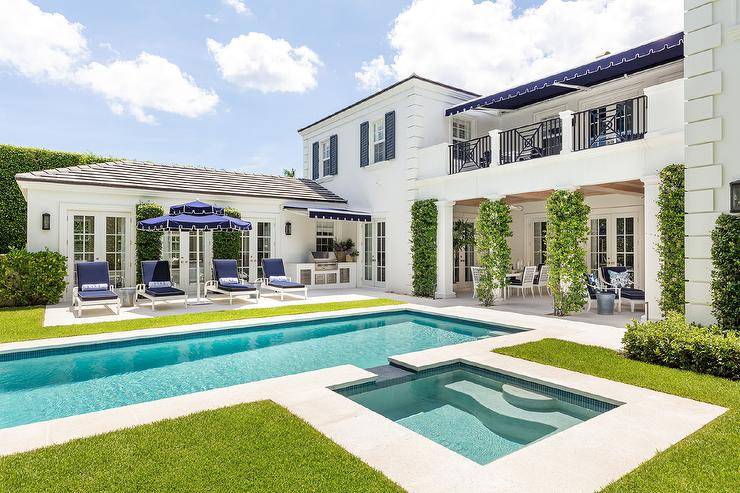 For the main rectangular segment of the lap pool, no features are needed, but for the leg area, the sky is the limit! You can add spa jets, a tanning ledge, and more!
A fun feature for a lap pool would be to line one side of the lap pool with plants and creative landscaping to give it a feel of swimming through a hidden lagoon!
P.S. Don't forget to place a guide line at the bottom of the lap pool so that it's easier to determine when you're close to the edge.
If your lap pool is long enough, no swimming aids are needed but if you need extra help in developing your stroke then a swimming tether like the Water TechniX swimming belt can do wonders for your stroke! We won't go into the details here, but if you want to learn more about how a swimming belt can help you improve your stroke, be sure to check out our swim tether guide here.
Who wants to practice swimming in a cold pool right? Since lap pools typically has less volume than a standard swimming pool, it's easier to warm up and it's easier to keep warm, which makes them perfect for energy-efficient pool heat pumps like the Water TechniX Paradise! Once the initial heat-up period is over, keeping your lap pool heated is virtually free with its average COP of 14!
View our Range of Water TechniX Inverter Paradise Heat Pumps
Because of their non-traditional design, finding a pre-cut pool cover for your lap pool is going to be hard. That's not saying that you can't cover your lap pool though! That just means that in order to properly cover your lap pool, you're going to need a customized pool cover, which is exactly what you can get from the Daisy Pool Covers that we have on the Mr Pool Man online Store!
Lighting your new lap pool is perfect with the new Water TechniX LED pool lights! We recommend getting the multi-color version so that you can change the light color to fit the mood! As we mentioned earlier, lap pools don't have to be utilitarian, but they can be extremely aesthetically pleasing as well! And with the energy efficiency of LED pool lights, you can keep your pool lighted every single night without breaking the bank on electricity bills!
Enjoying your new lap pool
With everything being said, enjoying your lap pool is quite straightforward! Put in some laps, get some much-needed exercise, stay in shape, all in the comfort of your own home! And if you have installed spa features at the leg area of your lap pool then it can be a place for the whole family!
Do you have any questions about this topic or the featured products? No worries, we're here to help! Drop us a question down below and we'll get back to you ASAP.
Happy swimming :)