We've harped on before about how easy it was to install the Acoustic Box Pump & Filter Enclosure but we've never really shown you how to do that and we apologize for that oversight. The reason for that was when we unpacked our unit, we started to lay it out, and we were done in no time at all! By the time we realized that we didn't get any photos of the process, we were long done!
Tools Required to Install the Acoustic Box
These tools should be readily available if you have a swimming pool at home or if you're a fan of DIY work. If not, then the neighbors will probably have these as these are fairly common tools.
Phillips Screwdriver - No explanation needed here. Everyone has one of these.

Rubber Mallet - Used to gently tap in locking bolts without damaging them. If you don't have a rubber mallet, then a regular hammer will work, just make sure to add something to the tip to dampen the impacts. A lot of people use an old tennis ball or something similar to cushion the blows.

Power Drill - This is optional and is only used if you need to make a timber frame for the base.
First Set - Securing the Base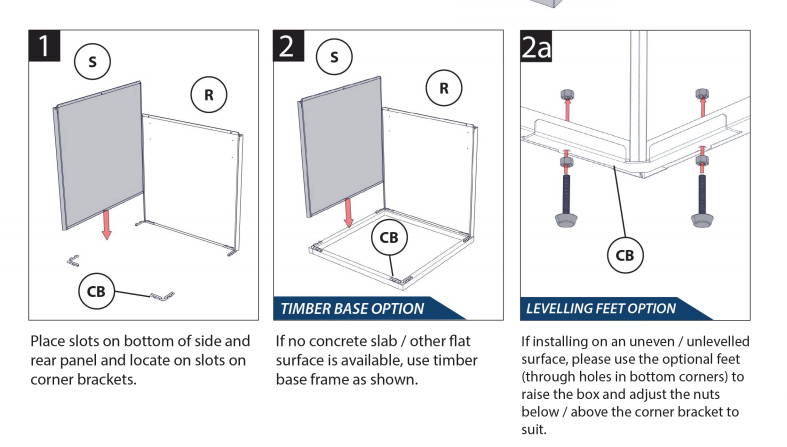 The first step to installing the Acoustic Box is straightforward. Take one of the side panels and the rear panel and place them on the corner brackets. It should look like the one marked (1) on the graphic above.
If your pool equipment already sits on a concrete base then the second step shouldn't be needed. But if the surface is uneven, you may need to create a timber base frame or use some levelling feet (available at almost all handyman stores).
Second Set - Securing the side panels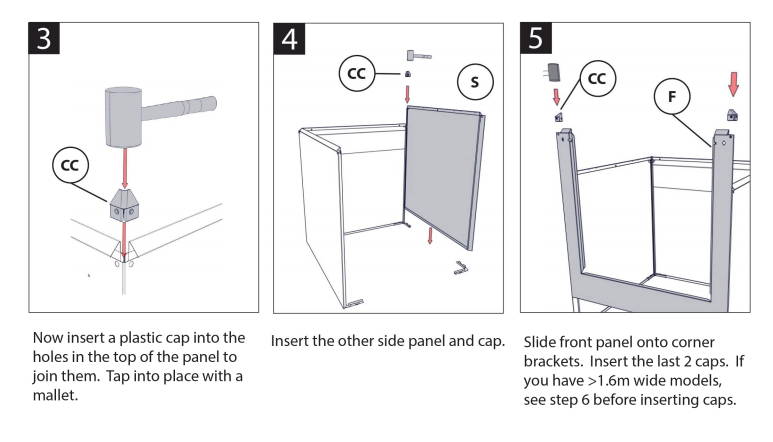 Once you've secured the base of the Acoustic Box, insert a plastic cap where the side panel meets the rear panel and gently tap into place with a rubber mallet. Once that's done, slide in the other side panel opposite to the one already installed and tap in the other plastic cap.
Once those two sides are secure, slide in the front panel and secure with the remaining plastic cap on each side.
Third Set - Attaching the lids and covers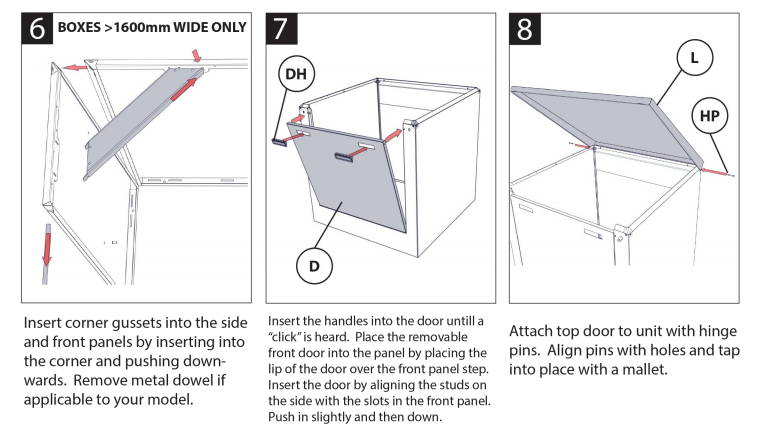 If you have a model that's wider than 1600mm then insert the included corner gussets for added stability. After that, install the handles into the door panels until an audible "click" is heard. Align the door on the front panel side studs and gently push down into place.
Attach the top cover (figure 8) and secure it with the included hinge pins. Gently tap the pins into place with a rubber mallet.
Final Set - Locking everything into place

By now, the Acoustic box should look like the finished version, all we need to do now is to secure everything. Insert the staple lock into the slot on the top panel (figure 9) and then attach the gas struts on the pre drilled holes.
Your acoustic box should be basically done by now. All you need to do is to secure the entire box to the surface where you placed it. There are pre drilled holes on the corner brackets where you can place locking bolts to secure them to the ground.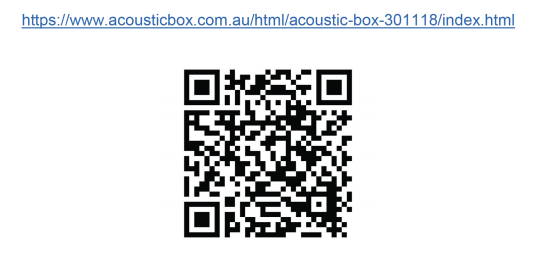 If you want to check out the 3D instructions on your phone, scan the QR code above!
Now you have a completed Acoustic pump box! That was simple right? It'll probably took me a lot longer to write down this quick guide than it was installing! So what are you waiting for? Order your Acoustic Box today and have it delivered straight to your door! On top of it being ultra easy to install, did we mention that it's easy to pay for as well with our different payment options which include interest-free installments? Check out our payments page to learn more.
If you have any other questions, feel free to drop us a line below and we'll get back to you ASAP!
Need a smaller or larger sized Acoustic Box Pump & Filter Enclosure? Click the button below to browse all of the available sizes on Mr Pool Man's online pool supply store!
Explore these must-read articles to perfect your pool setup and dive into summer the right way:

Do you have any questions about this topic or the featured products? No worries, we're here to help! Drop us a question down below and we'll get back to you ASAP.
Happy swimming :)