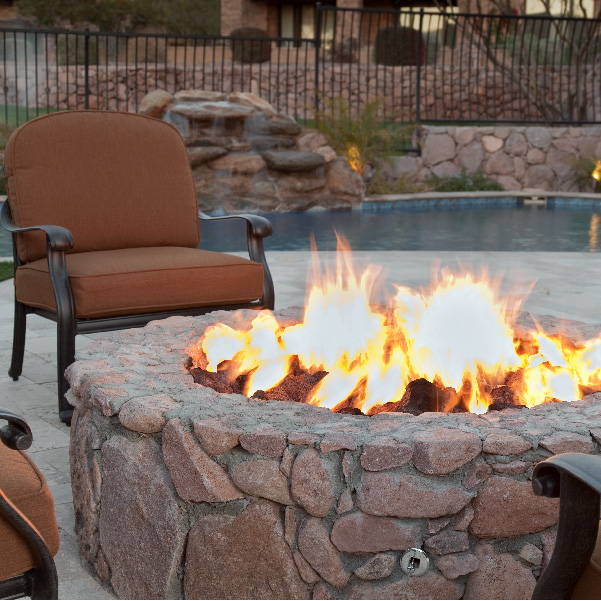 2020 is finally over and 2021 here but it seems like 2020 still isn't done with us yet! With the summer season in full swing and lockdowns are popping up everywhere, it's time for a fun summer project that's not only cool, but it will add value to your home pool for years to come! We're talking about a fire pit near your pool!
Camping (next to swimming of course!) is on the top of the list when it comes to outdoor activities that Australians love. The highlight of any camping trip would probably be the campfire! A roaring fire, providing warmth on those chilly nights and having some smores, nothing would be better, except maybe doing it at home, and getting to sleep indoors afterward. All kidding aside, building a fire pit in your backyard is fun activity that everyone can enjoy building and using.
Preparing your yard for a poolside fire pit
Before starting the project, be sure to check with the local Recreational fire laws in your area. Every local council has different rules so make sure to check with them before digging up your yard! A good place to start would be with your state fire authorities. We're including some helpful links to some state fire resources which can be a great starting point for your fire pit project:
On top of your state or county laws, be sure to check with your neighborhood association rules as well! Even if everything is legal in your state or territory, your neighborhood might not allow it, so be sure that everything is legal and acceptable before starting to build your poolside fire pit!
Now if you've determined that it's OK to have a fire pit, then it's time to get into the nittygritty of taking your swimming pool to the next level with a fire pit!
Selecting a location for your fire pit
While you can put in a fire pit almost anywhere, here are some things to keep in mind when positioning your fire pit for maximum safety and convenience:
Place your fire pit at least 10 feet away from trees and other structures. This is for safety reasons, you don't want a flare-up to catch leaves or part of your house and set it on fire.

Position your fire pit away from places of heavy foot traffic. You don't want people (kids especially) running into your fire pit!
Types of fire pits for home pools
Now that you've chosen the location for your fire pit, it's now time to choose between rolling up your sleeves and doing some hard work, or getting a pre-made fire cauldron for instant fire pit goodness!
Option One: Pre-Made Fire Pits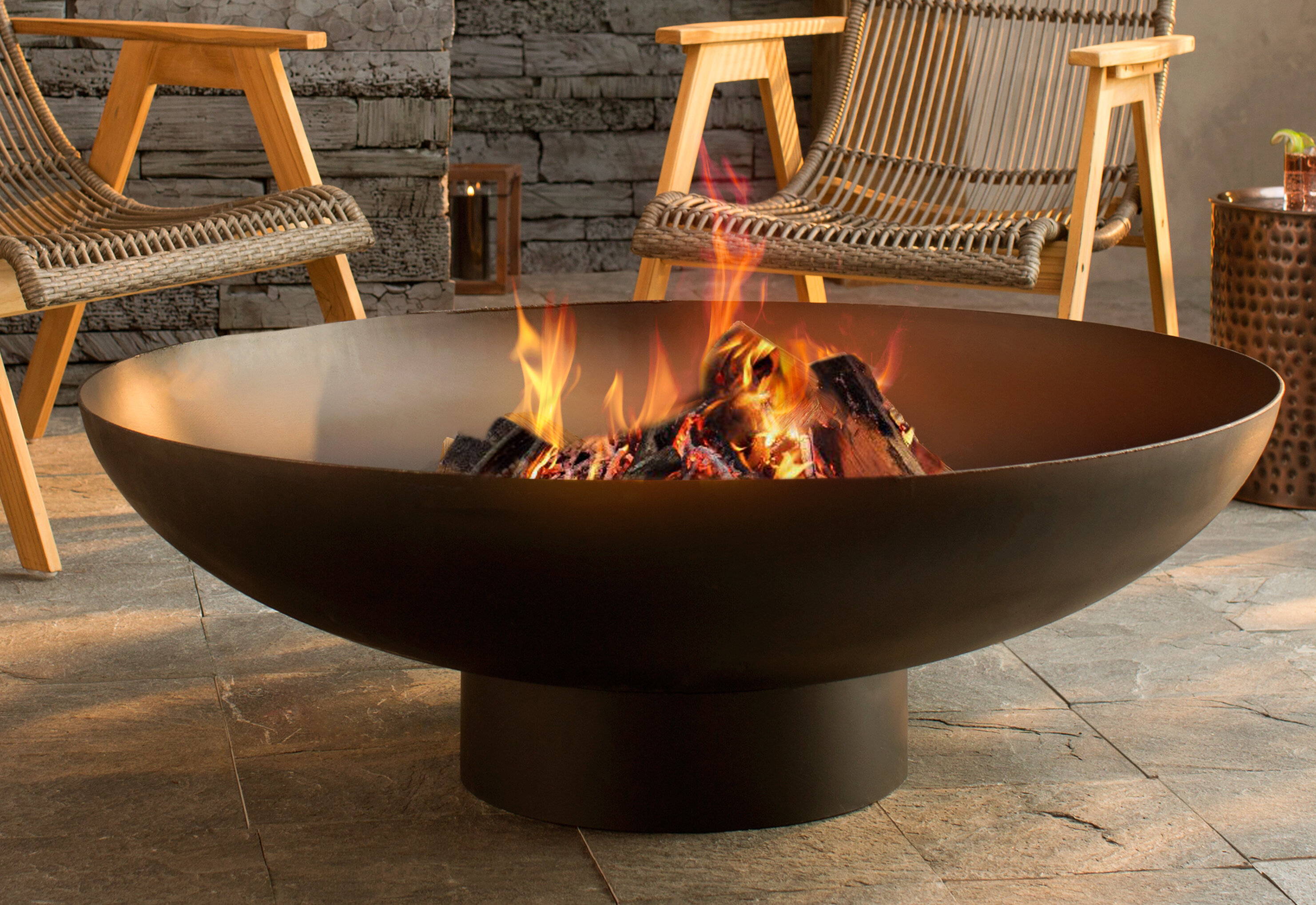 This is the easiest option when it comes to fire pits, simply pick the design that you want, install it, and it's done! There are endless options for pre-made fire pits, from classic cauldrons, wok-style fire pits, and even modern designs with sharp lines, the choices are almost endless! Just make sure to pick one that's made from reasonably thick steel to prevent it from rusting out and falling apart on you.
Option Two: Build your own fire pit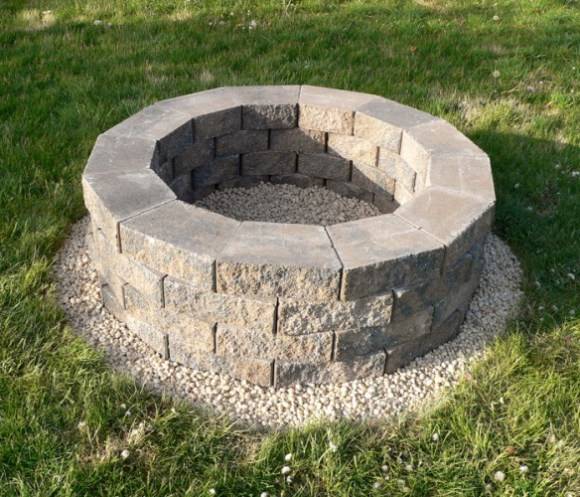 Now things are getting interesting. Building your own fire pit is not only cheaper than getting a pre-made fire pit, but it's also a fun activity that can be done during the hot summer months as well!
P.S. The firepit pictured above was built for under $100!
Materials needed for building a poolside fire pit
Here are some of the basic materials that you'll be needing if you plan on building your own poolside fire pit:
Digging Tools

Gravel, for filling out the bottom of your fire pit

Landscaping stones

Masonry Adhesive for fire pits (Important, since it's going to be exposed to heat and fire)

Rubber Mallet

Fire Pit Ring (Optional)
Let me start off by saying that a fire pit ring is purely optional. If you're thinking of making the firepit a permanent fixture in your yard, then a fire pit ring is the way to go. It maintains the structural integrity of your fire pit, making it last for years and years to come. But if the fire pit is just for a few years, or if you're planning a major renovation soon and would just want to build a fire pit as a pet project then you can save a lot of money by skipping the fire pit ring altogether. You'll still get the full experience and you'll have the option of rebuilding/installing a fire pit ring down the line.
Step One: Outline your fire pit
If you're using a fire pit ring, simply place the ring on the ground and line the edges with your landscaping stones to mark the edges of where you're going to dig. If you're not using a ring, then do the same thing, and mark off the approximate edges of your poolside fire pit with the stones.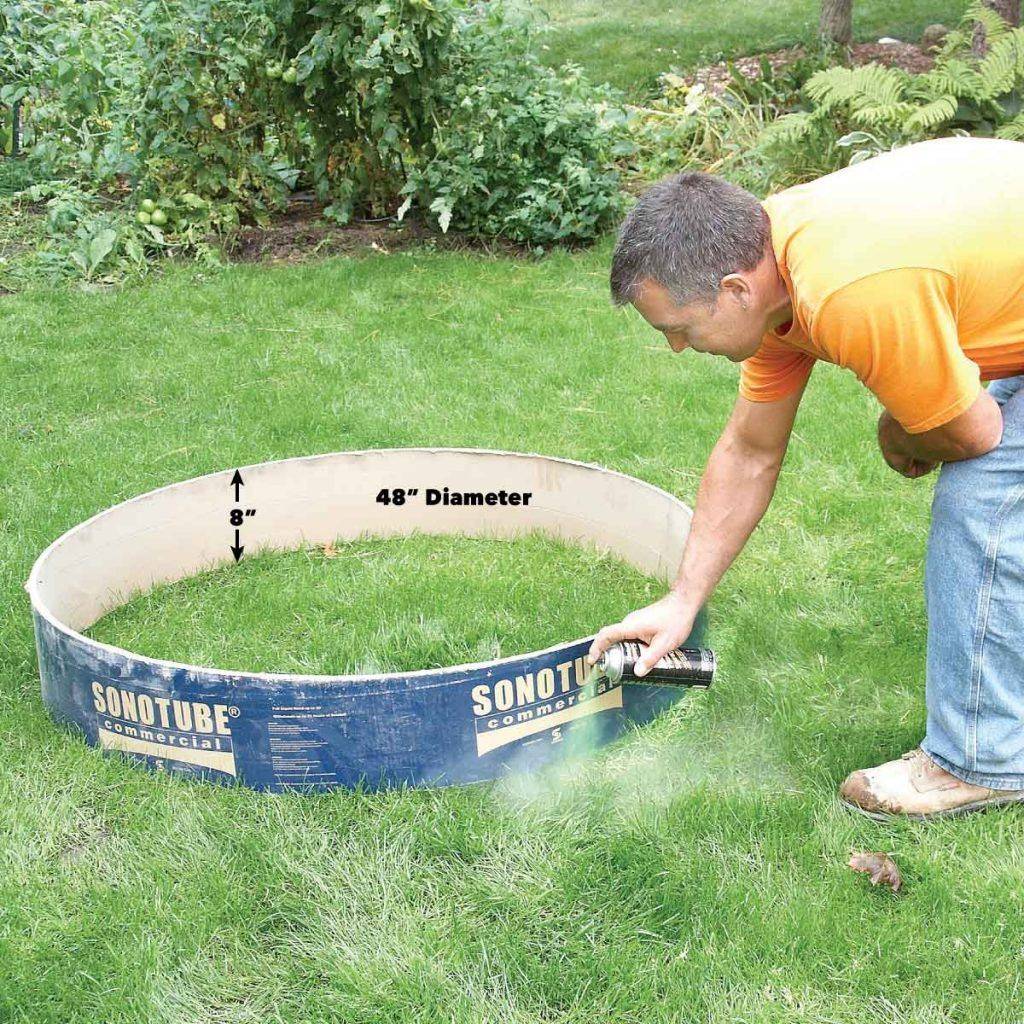 Step Two: Digging and filing your fire pit
Once that the edges have been marked off, it's time to roll up your sleeves and time to dig up your yard! Dig to a depth of around 6 inches. Now that you've gone down at least 6 inches, fill it up with gravel all the way until it's level with the ground. This provides a good drainage for your fire pit in the event that it rains, ensuring that you can use your pit after rain and you won't be left with a muddy fire pit. Now if you live in an area that experiences a lot of rain, you'll want to dig your pit a bit deeper to provide more drainage depth for your fire pit.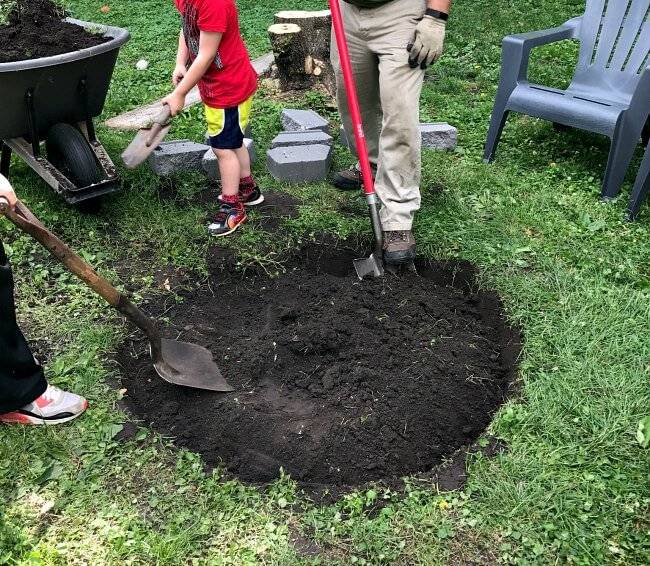 Step Three: Building your Fire Pit
Now that your gravel base is all filled out, it's time for the fun part! Time to build out your fire pit! Lay out the first layer of landscaping stores around the gravel base and gently tap it down with a rubber mallet. Remember to use a rubber mallet so that you won't crack them. Once the first layer is all set, time to place the second layer. Generously apply some masonry adhesive to the bottom of the landscaping blocks for your second layer. Don't forget to stagger the placement, putting the next layer in between the seams of the lower layer. Repeat this process with the third (and fourth) layer of landscaping blocks, depending on the height of the blocks you're using.
Step Four: Using your poolside fire pit
The building process is pretty straightforward. After allowing your masonry adhesive to set, it's now time to light up your brand new fire pit! Starting a fire is straightforward, simply make a starter fire with a few small twigs, newspaper, and scrap paper (don't use plastic!) and one that's going, you can now place logs on your pit and bask in the warmth of your brand new pit!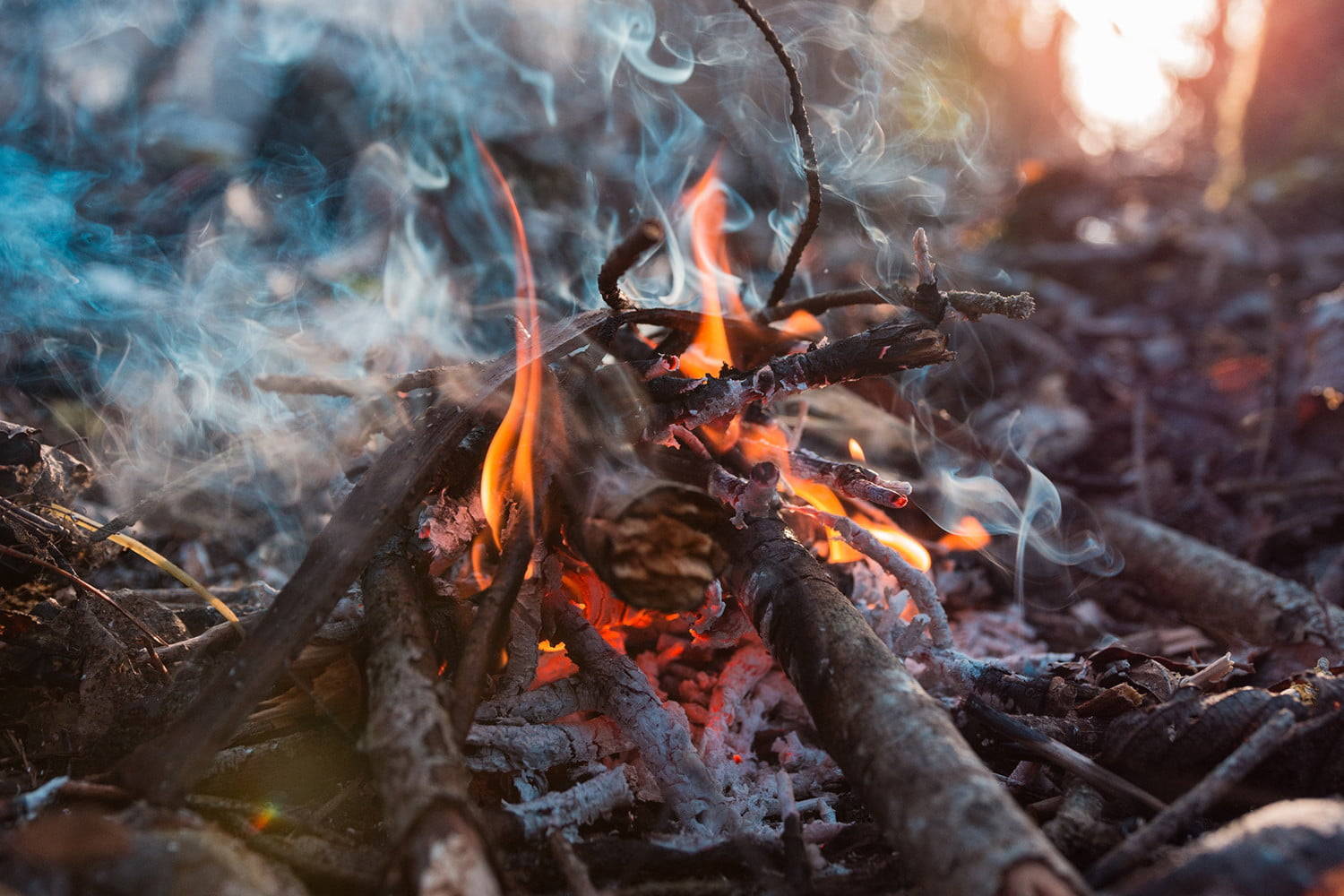 Tips on how to enjoy your poolside fire pit
Of course, a fire pit in itself is a great addition to your poolside paradise, but the fun doesn't stop there!
Surround your poolside fire pit with some weather-proof furniture so you can lounge around the pit and roast some smores after a long day of swimming.

Use a shop vac after a few fires to suck out the ashes from your fire pit to make sure that you don't get white ash blowing around from a build-up.

If you're using small gravel for your base, you can install a mesh grate on top of it to avoid it getting vacuumed out when cleaning out the ashes.

Don't leave the fire burning when leaving for the night/day. If you're done with your fire pit, extinguish the fire with some water. NEVER EVER leave a fire burning, you'll never know when a loose ember can be carried by the wind when no one is watching.

Use kiln-dried firewood to ensure that your fire burns clean and clear. The more moisture your firewood has, the more smoke is produced by your fire pit!

Always have a fire blanket / fire extinguisher handy. This is for peace of mind. Even though your swimming pool is nearby with an unlimited supply of water just in case of a fire, it's still best to have some basic safety equipment for combatting fires.

Get a grill cover. A fire pit isn't just for warmth and design! You can also throw on a grill cover and use it as an outdoor BBQ pit!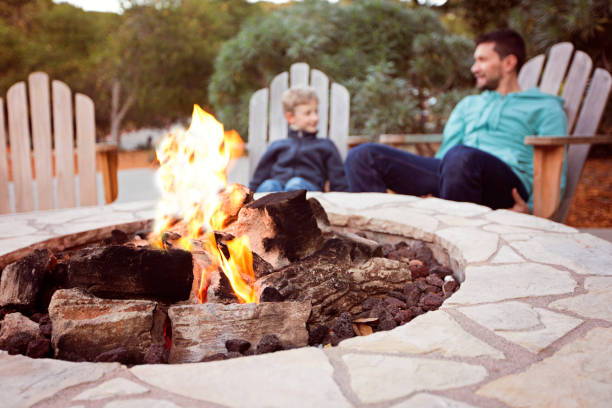 A fire pit is a fun way to spruce up your poolside paradise and if you want to save a few hundred dollars, you can do it yourself! It's a fun activity for the whole family that can last for years and can become a great centerpiece for your yard, especially when the government is enforcing stay-cations for everyone!
And for those that are asking, poolside fire pits don't have to be circular! The shape and design is only limited by your imagination and budget, so go wild!
Thinking of having of having a fire pit built or even a pool? We have listed all the things you need to ask your builder. Click here to view the blog post.
Do you have any questions about this topic or the featured products? No worries, we're here to help! Drop us a question down below and we'll get back to you ASAP.
Happy swimming :)