First of all, unlike traditional pool heaters, a pool heat pump does not generate heat, it draws in heat from the air and amplifies it then transfers it to your pool water. That's it in a nutshell. But for more detailed information on how a pool heat pump works, read on!
How air moves in a swimming pool heat pump
The first stage involves fans drawing in air that has been warmed by the sun. Even if it feels cold outside, trust us, there's heat in the air.
The warm air is then circulated through an evaporator coil that absorbs the heat from the air. Inside the evaporator coil, there is a liquid refrigerant that turns into gas when heated. The refrigerant turned gas inside the coil is then pumped through a compressor which increases the heat by, well, compressing the gas. As the gas is being compressed, the temperature of the gas can reach all the way up to 200F.
How does a pool heat pump heat pool water?
On the other end of the unit, cool water from the pool that has already been filtered is pumped into the pool heat pump into a tank with a condenser coil. The compressed hot air (from the compressor) flows through the condenser which in turn transfers the heat from the hot air into the water into the tank. The water temperature is typically increased by a few degrees before being pumped back into the pool.
The gas inside of the condenser coil, now cooled back into its liquid refrigerant state, is cycled back into the evaporator coil in which the whole cycle begins anew.
While it sounds really complicated, it's a very simple process that efficiently heats your pool without using too much energy.
What size heat pool heat pump do I need for my pool?
While pool heat pump manufacturers have a recommended chart to determine what size pool heat pump is needed for specific pool sizes, it's always good to know how this recommendation is determined. Why? Because their pool heat pump recommendations are just that, recommendations. Knowing pool heat pump capacities can actually give you more efficient heating and give you the best heating solution for your swimming pool!
The table below will show you how much each size pool heat pump will raise your water temperature per hour. So for example, an 8KW pool heat pump will raise a 10,000L pool by 0.58 degrees Celcius per hour, while on the other end of the spectrum, a 36KW pool heat pump will raise a 10,000L pool by 2.64 degrees Celcius per hour.
| | | | | | |
| --- | --- | --- | --- | --- | --- |
| Volume | 8KW | 12KW | 18KW | 25KW | 36KW |
| | | | | | |
| | | | | | |
| | | | | | |
| | | | | | |
| | | | | | |
| | | | | | |
| | | | | | |
| | | | | | |
| | | | | | |
| | | | | | |
| | | | | | |
Now, if you're asking yourself what size heat pump do I need for your pool then you can simply refer to the actual table above. An additional question you need to answer is that how fast do you need your pool to be warm? Do you have a swimming schedule? If you plan on just using your pool occasionally then a pool heat pump that's oversized and will heat your pool fast is the way to go. But if you (or your family) will be planning on constantly using your pool then you can actually get away with a pool heat pump that's sized "Just right".
Why? Well, pool heat pumps work best at maintaining temperature for extended periods of time. Just like an inverter AC, you'll start to feel the savings kick in the longer that it is running!
Need more help on proper pool heat pump sizing? We have a dedicated post here to help you determine what size pool heat pump you need!
Now that we answer the question how does a heat pump pool heater work, it's now all about making the decision on whether to get one or not. While it's true that they are more expensive than traditional pool heaters, they have benefits that far outweigh the initial cost and will basically pay for itself in savings in the years to come. Read more about the benefits of a pool heat pump by clicking the button below.
Manufacturer pool heat pump size recommendations

The tables below come directly from Madimack and shows the estimated run costs of having an energy efficient pool pump.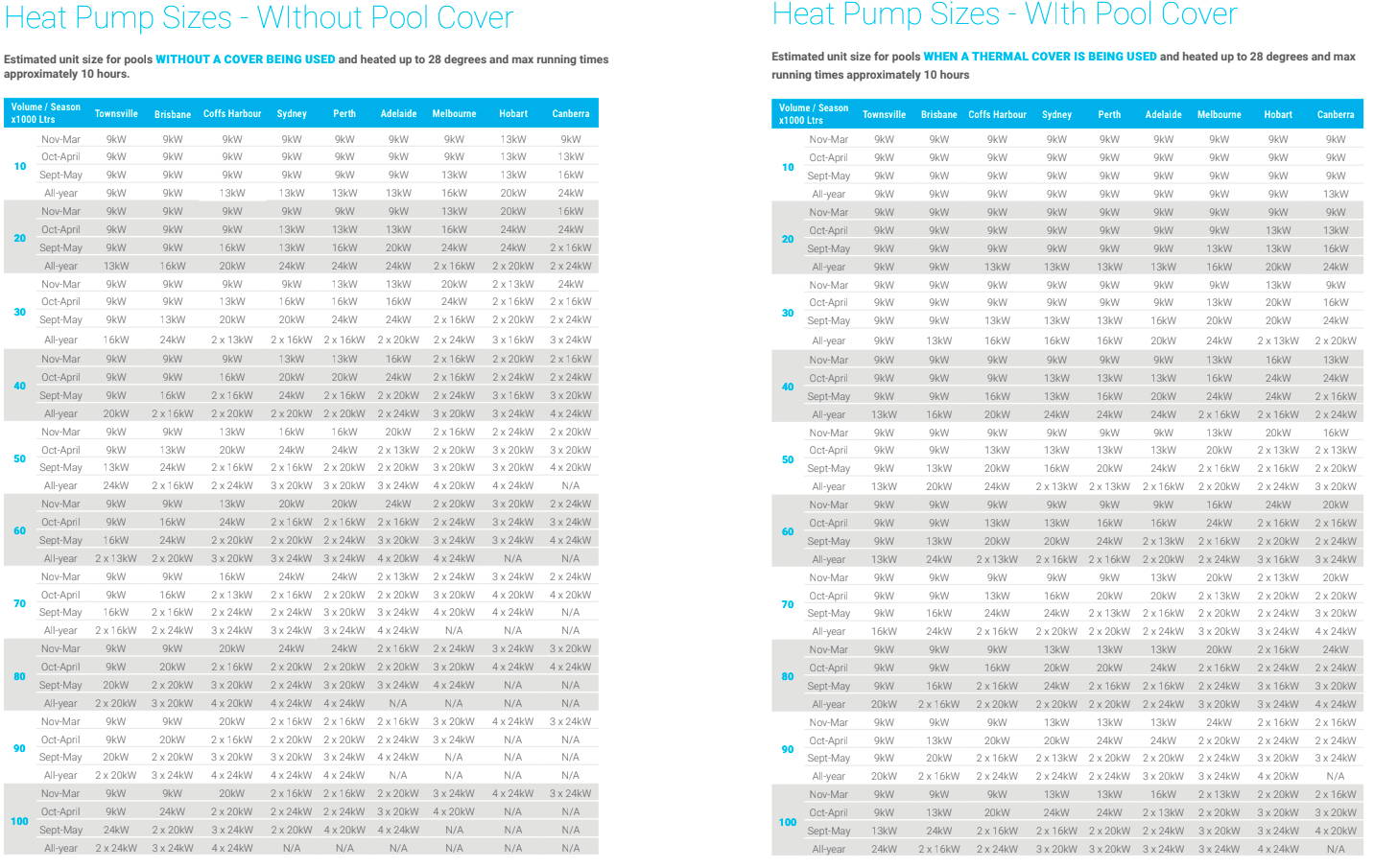 Pool Heat Pump Installation Notes
The total price of the Madimack Pool Heat Pump does not include any electrical installation costs and plumbing costs. For the electrical installation, a qualified electrician is required to properly ground the unit and hardwire it into your home's electrical system. The total costs for electrical installation of the Madimack Pool Heat Pump can run anywhere from $120 - $200 depending on labor costs, location, and materials used for installation.
For the plumbing costs, a trade qualification is not required, but is recommended to ensure that the warranty isn't voided. Plumbing costs can be anywhere from $100 - $500 depending on the labor costs and the complexity of the plumbing work to be done. If your pool's plumbing system has enough space to accommodate a pool heat pump without complex plumbing work then it shouldn't cost too much.
These are just rough approximations of the installation costs, for a more accurate estimate, contact your local electrician and plumber.
For a more detailed explanation on things to consider when getting a Madimack Pool Heat Pump, click the button below.
Recommended Pool Heat Pumps
View our Range of Water TechniX Inverter Paradise Heat Pumps
Mr Pool Man is the exclusive distributor of the Water TechniX Inverter Heat Pump Paradise, possibly the most bang-for-the-buck swimming pool heat pump in the Australian market today! Ultra quiet and ultra energy-efficient, you can literally heat your pool for cents on the dollar when compared to traditional pool heating technology.
Do you have any questions about this topic or the featured products? No worries, we're here to help! Drop us a question down below and we'll get back to you ASAP.
Happy swimming :)