When you've got the family, friends, pets and football team in the pool more than usual over Summer, cloudy pool water can arise! Stay on top of your clear water by maintaining your filtration in peak season:
Your filter should be running minimum 6 hours, maximum 10 hours and ideally at night time. Avoid the temptation of running your pump less than what it takes to circulate your pool water completely because that would leave a lot of dirt and debris in your pool.
Run pool pump at night time
If running your filtration system and noise is not a factor with the neighbours, we recommend running at night time as the more disturbance in the water during daylight hours allows the sun to extract and break down your chemical levels in the pool.
Did you know that you can increase filtration time AND run your pool pump at night, AND save money at the same time? ECO pumps can run at lower speeds, providing not only energy efficiency, but they run whisper quiet, okay, not whisper quiet but quiet enough not to be noticed when it is running in the middle of the night!
Learn more about ECO pumps and our reviews of the Best Energy Efficient ECO Pumps Here.
Keep your filters in top shape by cleaning them as well. Even the cleaners need a deep clean every now and then!

Cartridge filter tip - Always have 2 cartridges on hand so you can swap out and continue filtering your pool when you do a deep cartridge clean. To deep clean your filter cartridges, soak your cartridge in a tub of clean water with some Water TechniX Filter Cleaner overnight then hose it off the next day for a thorough clean. The Filter Cleaning solution melts away stubborn dirt, gunk, oils, and everything else that doesn't get hosed away during filter cleaning tasks.
For sand filters, a good backwash will usually get you back on track with filtering your pool during peak season. But during the peak season, the amount of body oils and dead skin cells may gunk up even sand filter media so you can use some filter cleaner on it as well. Just close up the valves, put the filter cleaner directly into your sand filter and let it stand for 24 hours and then give it a good backwash and then set it to rinse for at least 10-15 seconds before setting it back to filter mode.
Remove your pool cleaners after using
Good clarity comes from good filtration, so leaving your suction cleaner attached 24/7 isn't a good idea as this also puts a strain on your pool pump, trying to suck water through a 38mm hole.
Aside from improving your filtration, taking your cleaners out of the pool after using them will greatly increase the lifespan of your pool cleaners!
Empty pump and skimmer baskets daily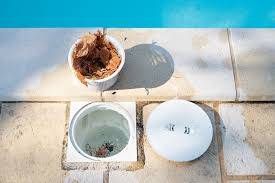 Keep your skimmer basket and pump basket empty to allow for good filtration. Without blockage, your pump can function / draw water in easier so that it will be pushed through your filtration system with ease. For even better protection, the addition of some skimmer socks will trap even the tiniest debris and prevent them from being sucked into your pool pumps!
Conclusion and Other Notes
Do you have any questions about this topic or the featured products? No worries, we're here to help! Drop us a question down below and we'll get back to you ASAP.
Happy swimming :)