Halogen vs LED lights, what's the difference? Here we dive into a full guide of pool lighting options for new and old pools.
In addition to being practical by allowing pool owners to safely swim in their pool once the sun has gone down, lighting also enhances the design of a pool and can transform a watery shadow into an impressive water feature.
Halogen globes have traditionally been the most commonly used kind of pool lighting due to their easily changed globes; however, they are slowly losing favour as consumers turn to more energy-efficient and brighter LED lights which operate on 15% of the energy of a halogen light, paying themselves off in the long run.

The main advantage halogen holds over LED is that when it has reached the end of its life, you can simply change the globe, whereas an LED light needs to be replaced with a completely new module.

With that being said, the average halogen light can be expected to last 2000-5000 hours, compared to an LED which can live for over 50,000 hours (based on 6 hours of use per day).
The availability of high-quality, brighter LED lights is much more widespread and the price has come down to make them more affordable and a viable option when compared to halogen.
With halogen lights are an old and inefficient technology, they have proven to be expensive to run and require constant maintenance and globe changes. With retrofit models available for most old installations, there is no reason why you can't upgrade to a more efficient LED model. Click here for a more in-depth discussion about the difference between a LED and Halogen Pool Lights.
Need more information? Here's our pool guru Tom with a quick rundown of the Water TechniX LED Pool Lights.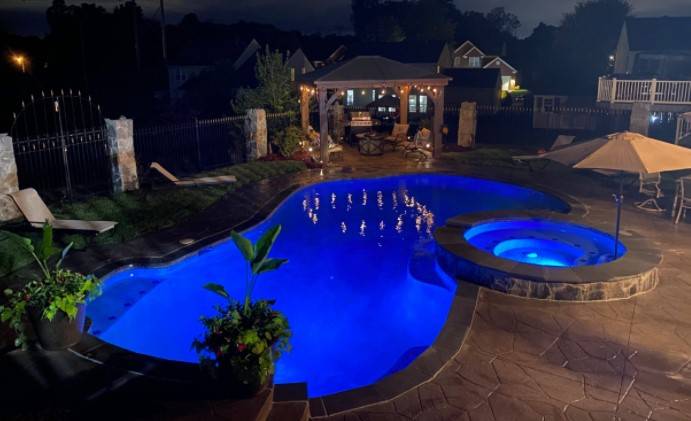 The most popular retrofitting option is to upgrade older halogen lights to LED. The process is simple and can be carried out by most pool professionals, usually without lowering the pool water level. Variable voltage technology in LED design allows the existing transformer to remain in place. Check out our Blue Retro Fit Pool Spa LED Pool Light.
Spa lights can very easily be retrofitted to an existing portable spa. A standard sharp hole saw of appropriate size is all that's required to enhance an otherwise ageing spa. The type of lighting options will partially depend on the control system used and the access under the spa.
The most important thing is to ensure there is enough cable stored behind the light during installation to allow for the lights to be removed from the pool without the need to lower the water level. While lights do not often need servicing, it can be very frustrating for pool owners when they need to remove the lights and find they need to lower the water to access them.
Types of lights available for pools and concrete spas are surface-mounted (most common) and flush-mounted, with both of these being available in LED (light-emitting diode) versions.
Surface-mounted are usually large diameter lights (around 220-250 mm) that are mounted on top of the pool surface. These are simpler to install than flush-mounted lights as they only require a conduit provision to be installed through the pool wall during construction. They are extremely popular in the retrofit market, where older-style halogen lights are simply cut off and replaced with new surface-mounted LED lights.

Surface-mounted LED lights are a great option for sprucing up an existing pool, though their larger size is making them increasingly unpopular in new pools as consumers are now looking for compact and unobtrusive, flush-mounted lights.
Flush-mounted lights fit into a housing or 'niche' that is built into the pool wall; therefore, the front face of the pool light is flush with the pool interior. These are very popular for new pools.
Number and positioning of lights
When positioning pool lights, they should be positioned to provide maximum illumination without shadowing, enhance the colour of the interior pool surface and be accessible for possible future servicing. Additionally, wherever possible, position the pool lights facing away from the house (or main viewing area). That way, the pool owner will see the illuminated pool without seeing the source or glare of the light. This is a current trend in pool construction from budget-friendly to high-end designer pools.
When positioning lights in a spa, it is preferable for lights to be placed in positions that illuminate the spa relatively evenly - away from seating positions and away from foot-wells. If only one light is being fitted, a badly positioned installation will generally result in half the spa remaining in darkness. The intensity of bullet lighting above water level should be controlled to prevent spa user 'blindness'.
Position lights to maximise even coverage for appearance. Consider options apart from mainstream lighting. For example, use clear air injectors and illuminate them with string lighting rather than standard side-wall lighting for a point of difference.
The LED pool lights shown above are just a small slice of the different types of pool led lights available on our online store. Click the button below to browse Energy Efficient LED Lights, Light controllers, accessories and more on the Mr Pool Man online pool store.
How to get the most out of your LED light
Firstly, maintenance is the key for keeping all pool equipment healthy. This includes having properly balanced water all year round as this prevents corrosion occurring within the light from unstable chemicals levels.
Read more on how to test and balance pool water here
Second to this, but just as important, is ensuring your lights are turned on for 15 minutes minimum per week all year round. Doing this helps to eliminate the build-up of moisture inside the light cavity that occurs when the light is not in use.
Top tips for maximizing your LED Pool Lights
Having energy efficient LED Pool Lights is one thing and making the most out of them is another! Here are some top tips for LED Pool Light ownership!
Use quality brands like the Water TechniX LED Pool Lights

If your pool still has halogen lights, switch them on for an hour each week, even during the winter months, as a lack of use can damage the globes.

Dark-coloured pools need more lights than light-coloured pools.

When positioning lights into a new pool, consider accessibility for future servicing.

Ensure there is a sufficient amount of lighting for night-time safety.
Other Posts that you may find useful

Do you have any questions about this topic or the featured products? No worries, we're here to help! Drop us a question down below and we'll get back to you ASAP.
Happy swimming :)