Tired coming back to your pool still dirty because your pool cleaner got stuck or tangled because of unruly hoses or long power cables? Tangled cords and hoses are a thing of the past with the NEW SoniX Cordless Robotic Pool Cleaner from Water TechniX!  
Water TechniX SoniX Quick Start Guide

We made a quick start video so you can see how easy it is to use the SoniX Cordless Robotic Pool Cleaner. The video contains everything you'll need to know to get your Cordless Robotic Pool Cleaner and has all of the highlights as well! (For those who want to see how it works)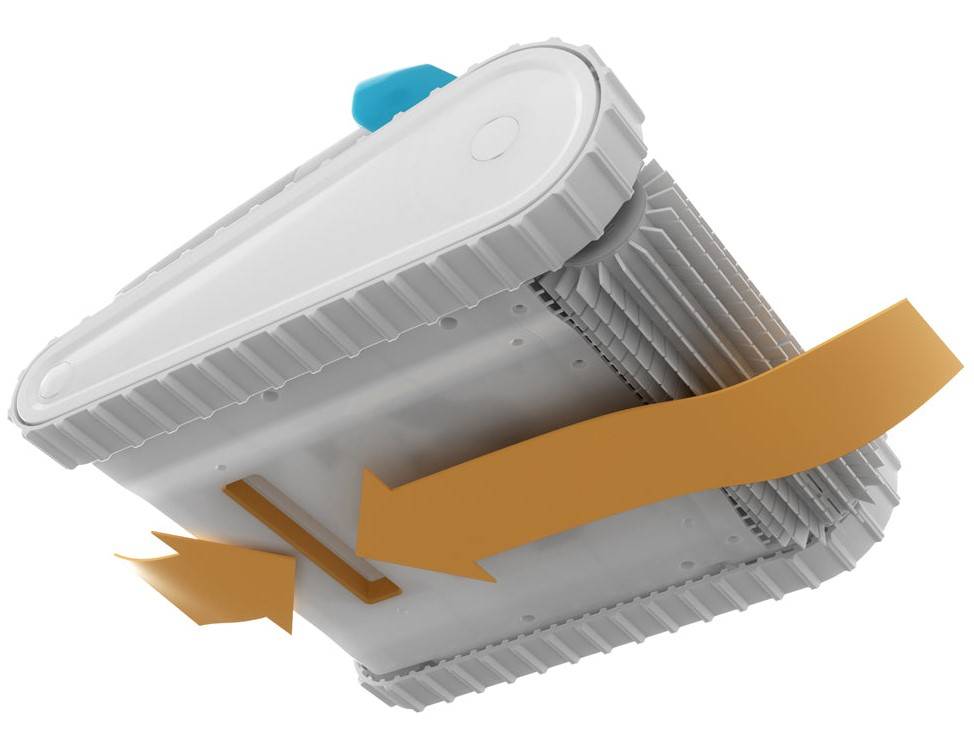 Utilizing the latest in pool cleaning technology, the X11 is able to pick up debris of all sizes from the floor of your swimming pool. It also has a poweful scrubber that cleans your water lines so say goodbye to those waterline stains for good! No more scrubbing the water lines with a brush for a complete clean!
Energy-efficient Cordless Robotic Pool Cleaner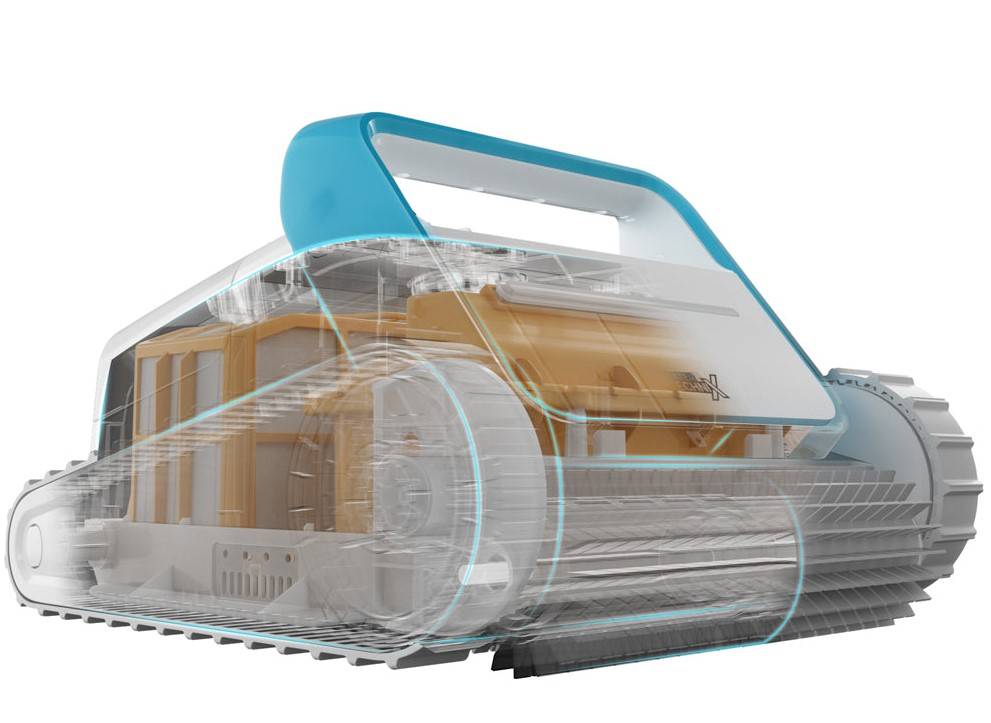 The SoniX X11 Cordless Robotic Pool cleaner fully charges in 3.5 hours and has a run time of 3.5 hours, more than enough to scrub all of your pool surfaces crystal clear and vacuum out all of the debris from your pool with time to spare. And since it's self contained, you don't have to have expensive booster pumps or even have your pool pump running while the Cordless Pool Cleaner does its job.
SEE ALSO: 11 Reasons to Buy a Robotic Pool Cleaner
Intelligent Pool Cleaning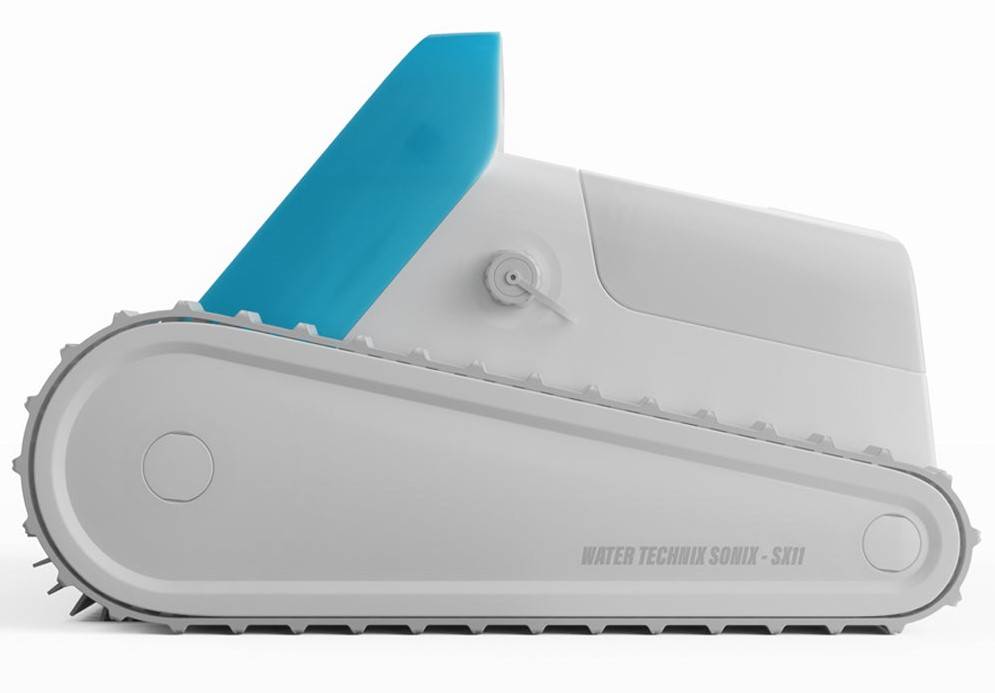 Featuring intelligent programming, the SoniX X11 Cordless Pool Cleaner efficently covers all areas of your pool and ensures that every single sinch of your pool is scrubbed and cleaned. No more getting stuck or cleaning a spot over and over again which is the case with many of the older robotic pool cleaner modles.
Versatile Cleaning for All Pool Surfaces
The Water TechniX Sonix Cordless Robotic Pool Cleaner stands out as a cutting-edge solution for maintaining the pristine condition of various pool surfaces. Engineered with advanced technology, this innovative pool cleaner is designed to cater to a wide range of pool types, including those with concrete, fiberglass, tiles, and vinyl surfaces.
Suitable for Australian Home Pools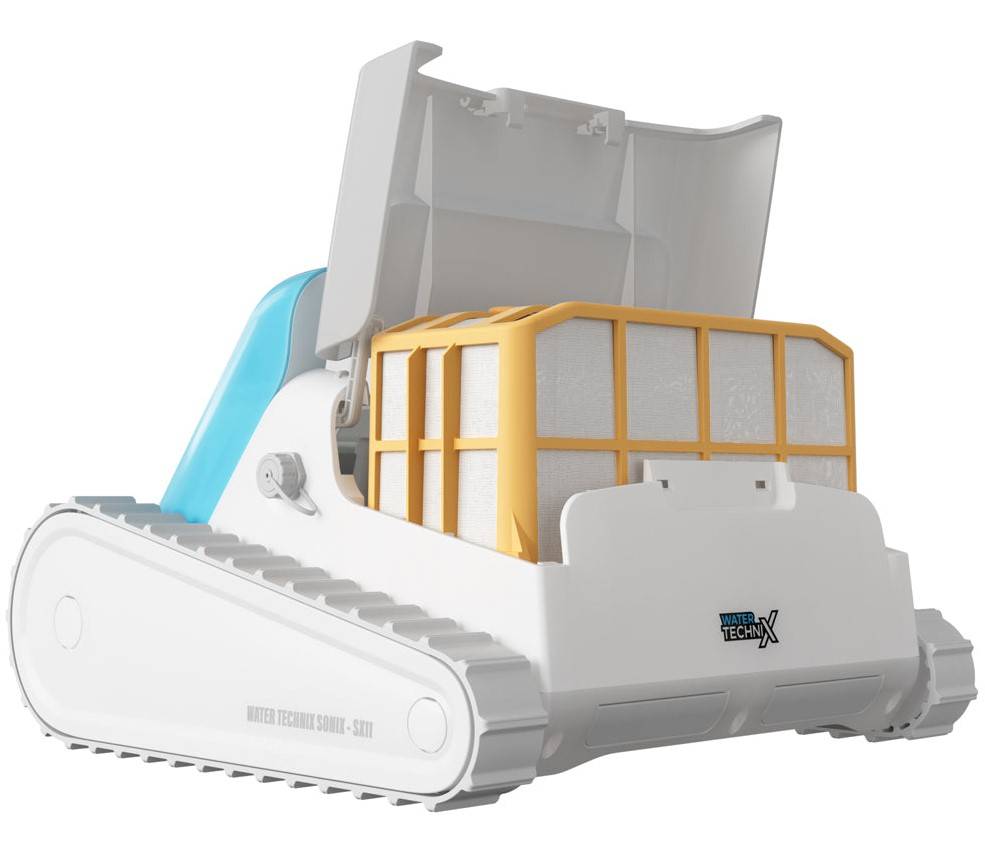 With a maximum cleaning capacity of 2m x 20m x 10m (or any shape pool with an area of not exceeding 360 squuare meters), the SoniX X11 is the best cordless robotic pool cleaner for Australian home pools!
Featuing a 2-year manufacturer's warranty from Mr Pool Man and Water TechniX, if any issues arise with your cordless robotic pool cleaner, our customer service team is just a contact away. On top of that, you'll get unlimited support from the Mr Pool Man team forever!
Everything you need to get your pool surfaces squeaky clean and your pool debris-free is included when you purchase the SoniX X11 Cordless Robotic Pool cleaner. Works out of the box and no need for extra purchases.
1 Water TechniX SoniX Cordless Robotic Pool Cleaner

1 AU Power Adapter

1 Hook (for easy cleaner removal)

1 Fine filter basket

User Manual
SoniX X11 Cordless Robotic Pool Cleaner Features and Benefits
Here are the features and benefits of the SoniX in a nutshell:
SoniX Cordless Robotic Pool Cleaner Features
Can be used in all pool surfaces, Concrete, Fibreglass, Tiles and Vinyl

Able to pick up small, medium, and large debris

Cleans both the floor and walls of the pool

Easily scrubs the waterline

Equipped with two heavy-duty PVA brushes

Active traction tires for easy navigation

Three power plant motors for consistent performance

Fully rechargeable in 3.5 hours

3.5 hour run cycle for complete pool coverage

Intelligent cleaning path programming

Easy-to-clean 180 micron filter canister

Dry weight of 8.5kg

Suitable for use in pools up to 2m x 20m x 10m (360 sq meters!)

Huge 2 year factory warranty

*doesnt include telepole for the hook attachment
Sonix Cordless Robotic Pool Cleaner Benefits
Cordless and Tangle-free pool cleaning ensuring that your pool cleaning cycle gets completed every single time

Large 10000mAh battery that has enough juice to completely clean pools up to 360 square meters in area. Features quick charging technology that allows you to charge up in 3.5hrs for a cleaning cycle of 3.5 hours

Dual brushes that scrubs away all types of stains and pick up dirt and debris of all sizes from your pool surfaces leaving them squeaky clean

Powerful Triple Motor design allows it to climb steps and pool walls easily and get rid of water line stains and those hard to reach areas

Smart technology making it 10 times more efficient than your traditional suction or automatic pool cleaner

Simple operation. Press the start button, place it in your pool and wait until the cleaning cycle is completed
The Water Technix Sonix X11 Cordless Robotic Pool Cleaner is a game-changer in pool maintenance. With its powerful suction, efficient filtration system, and cordless operation, this cleaner offers a convenient and effective solution for keeping your pool sparkling clean. The X11 is packed with features to make pool cleaning quick, easy and stress-free. Whether you're looking to keep your pool in top condition or save time and energy, the Sonix X11 is the perfect choice.
Don't waste another day struggling with a subpar pool cleaning solution. Upgrade to the Water Technix Sonix X11 Cordless Robotic Pool Cleaner today and experience the difference for yourself. With its top-of-the-line technology and superior performance, it is in line to be one of the best cordless robotic pool cleaners in Australia. Order now and take the first step towards effortless pool maintenance.
How to Use the SoniX Cordless Robotic Pool Cleaner
Using a cordless robotic pool cleaner like the Water TechniX SoniX is simple and straightforward. Most important thing to remember is that before using the cordless robotic pool cleaner, ensure that the charging port is closed and tightly sealed. Once you've done that, choose your desired cleaning mode (Standard or Fast) then turn your robotic cleaner on. Once the light flashes yellow, that means that your cordless pool robot is ready to go!
Grab the robot by the handle and gently lower it into your pool. Be sure not to tilt it so that it will land flat on the bottom.
Once the cleaner robot has settled on the bottom, it will start its cleaning cycle. Once the robot is don cleaning your pool, just fish it out with a telepole or some similar device.
How to Maintain Your Cordless Pool Robot
Maintaining your cordless robot pool cleaner is quite simple, give it a good hose down after use (to get rid of any pool chemical residue on the robot) and then open it up, give the filter a good hosedown as well to get rid of the collected dirt and debris during its cleaning cycle. Store away from direct sunlight and make sure to charge it up so that it's ready to go the next time!
Related articles:
Do you have any questions about this topic or the featured products? No worries, we're here to help! Drop us a question down below and we'll get back to you ASAP.
Happy swimming :)