Everyone knows that it COSTS money to maintain your pool, but what if there was an opportunity to EARN money while you're not using your pool?
Mr Pool Man has partnered with Swimply to give you exclusive, Australian-first access to make money from your backyard oasis.
As we head into Summer, earn upwards of $5,000 per month by renting your private pool by the hour on Swimply.
Simply sign-up, set your schedule, hourly rate and open your pool for business.

You beauty. It's easy, and it's available now.

Pools just like yours for rent on Swimply: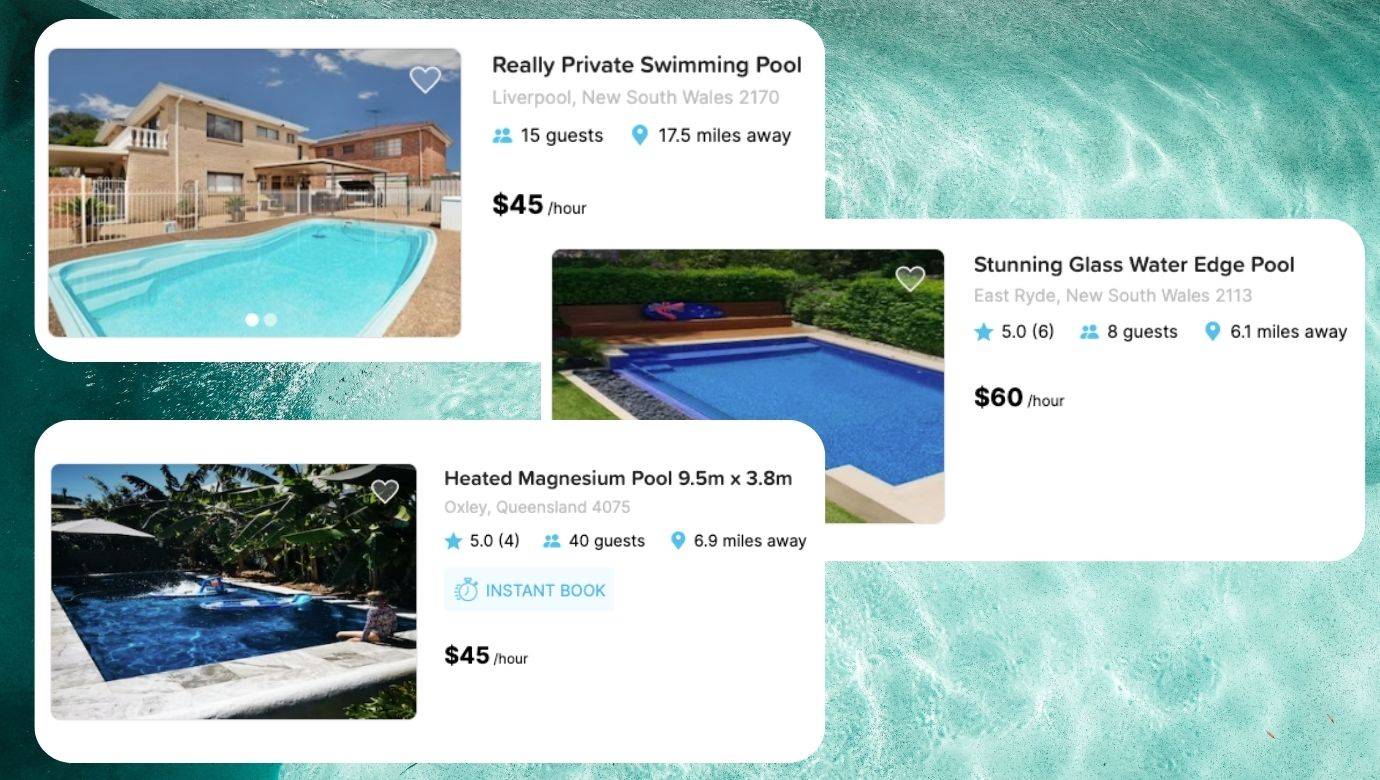 Swimply is the Airbnb of Swimming Pools. It basically has the same functionality as these other platforms, but for pools. Guests simply browse for pools near them (or near the area they want to be in), request to book, and have a fun pool day with the family. You can become a Host, a Guest, or both. The choice is yours.
Why has Mr Pool Man partnered with Swimply?

We not only love the opportunity for Aussies to make money from their backyard Oasis, we also think this goes hand-in-hand with what Mr Pool Man is all about, providing a better way to pool. Passive income from your pool coupled with a trusted source to get pool supplies and expert advice is on our words, a match made in pool heaven.
+ How much can I earn with Swimply?
You can easily make $1,000/month with Swimply. Charging $20/hour: $136/week, $589/month, $7,072/year. Now that's just an average charging the lowest rate, at a few hours a week. Most Australian pools charge on average $30-$70/hour.
Your Swimply earnings ultimately depends on how often you accept reservations for your pool, but for really active hosts, Swimply users can earn over six digits over a year, which more than offsets the costs of pool maintenance.
A lot of Swimply users put that extra savings and earning towards upgrades like ECO Pool Pumps or larger filters which lowers their cost for filtration, energy-efficient heat pumps which allow them to rent out their pools even in the cold weather, or simply put it in their back pocket as extra income.
+ Why should I become a Swimply host?
If your pool is just sitting there, it would be a shame to let it go to waste, right? I mean, you're splashing cash every month just to keep it crystal-clear so why not earn from it?
Becoming a host carries no risk and is super simple. Set your hourly price for your pool, upload photos, add some house rules (ie. a maximum number of guests, what they can or can't do, what they can bring, etc) and availability and all you have to do is wait for the reservations to come in.
And the beautiful part is, you don't HAVE to accept their reservations. The final decision is up to you. You can chat with guests beforehand, check their reviews, and make sure that you are 100% comfortable with the guest before accepting ANY reservations.
+ How will I get paid by Swimply?
Once the guests are done with their swimming session, the amount that was charged to them when they initially did their booking will be credited into your Swimply host account and then transferred to your bank account within 1-2 days. It's that simple.
+ What are the steps to become a Host?
It really is as simple as 3 steps:
Step 1: List your pool on Swimply (for free)
Step 2: Accept reservations (whenever you want)
Step 3: Get paid directly!
See, easy.
+ What if issues come up during a booking?
For any issues, Swimply's Australian chat support team is always available for any questions and booking adjustments, so simply chat with them and they'll deal with the issue right there and then.
+ What about liability? I've heard horror stories about AirBnbs getting trashed!
All hosts are entitled to their Swimply Protection Guarantee. This includes a host liability insurance of up to $1,000,000 for any untoward incident or bodily injury that occurs during a Swimply reservation. Peace of mind for both the host and the guests!
All hosts are also eligible for property damage protection of up to $10,000 if the pool or any other associated property with the reservation is damaged during the booking.
+ Do I need to be home during bookings?
No, but many hosts prefer to be at home during bookings either to make sure everything is going fine or just to become good hosts to establish rapport with the guests and get repeat reservations!  
+ Can I be a guest and a host?
Absolutely! Many Swimply hosts enjoy exploring new local pools, or interstate pools when they travel.  Click here to rent a pool on Swimply.