As pool owners ourselves, we understand the importance of finding a filter that is not only easy to use, but also reliable and durable. That's why we're excited to introduce the Water TechniX Media Filter Aspire. This filter is perfect for pool owners who are looking for a filter that will solve their pool water quality problems without any added stress.
The Aspire is designed with durability and ease of use in mind. Its housing is made from tough and weather-resistant fibreglass, and its internal components are built to last. This means that you can count on the Aspire to provide you with years of trouble-free operation.
The Aspire is also incredibly easy to use. Its intuitive design makes it simple to install and operate, and its user-friendly multi-port valve make it a breeze to keep your pool clean and clear.
But perhaps the best thing about the Aspire is its amazing performance. This filter utilizes a powerful media filtration system that's compatible with glass, sand, Zelbrite, and silica media to remove even the smallest particles from your pool water. This results in crystal clear water that is safe for swimming and enjoying.
So if you're looking for a durable, easy-to-use, and reliable filter, the Water TechniX Media Filter Aspire is the perfect choice for you. Give it a try today and see for yourself!
Media Filter designed with ease of use and simplicity in mind
The Water TechniX Media Filter Aspire embodies Mr Pool Man's ethos of having a better way to pool!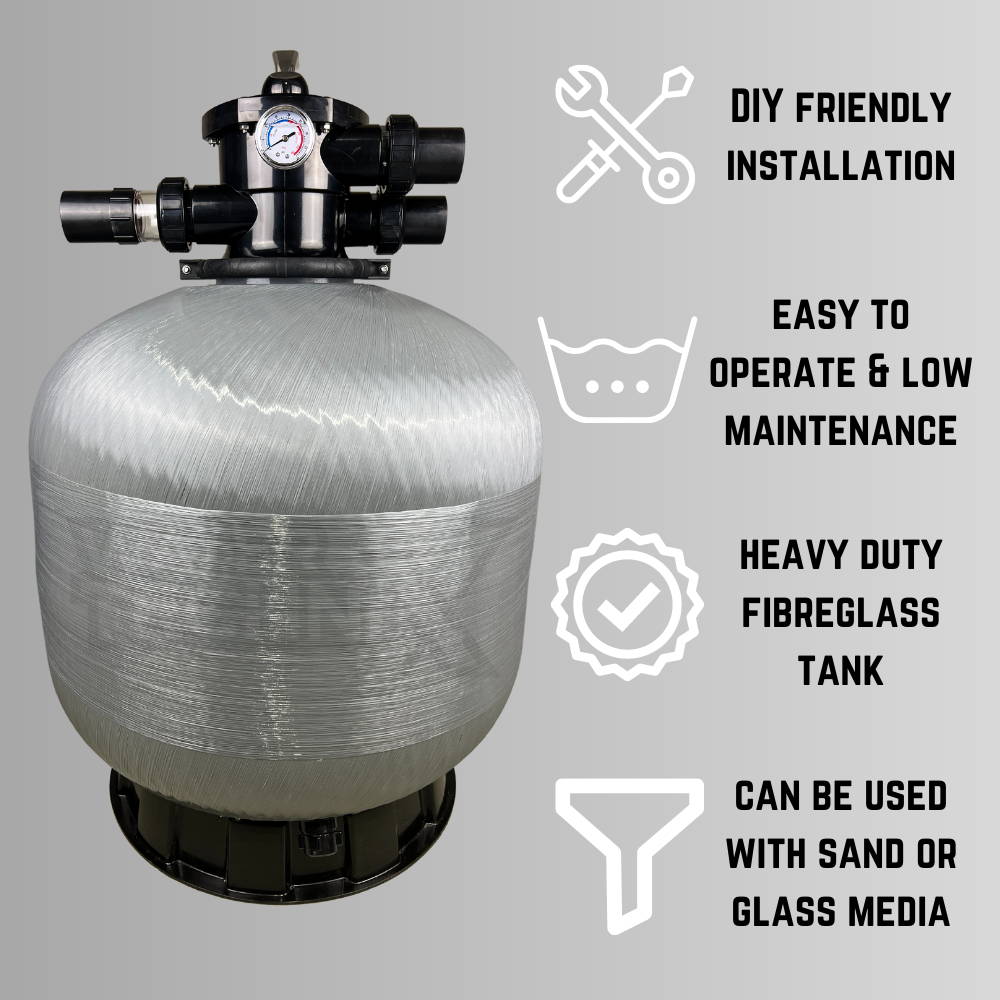 The Water TechniX Media Filter Aspire doesn't require any specialised tools or even a professional to install it. DIY-Friendly installation makes it so that you can replace or set up your new pool sand filter up and running in just a couple of hours.
The Aspire's multiport has easy to read settings and smooth operation, guaranteeing zero problems when backwashing your pool. Not only that, but the multiport and the pressure gauge has a 1-year industry-leading warranty! And speaking of warranties, the tank itself has a 10-year warranty versus other tanks that only carry a 5-year warranty
Large diameter tank providing maximum filtration area

When it comes to pool media filters, volume isn't enough. This is why the Aspire is designed with a large diameter tank for maximum filtration area but still compact enough to fit in most back yard pool spaces!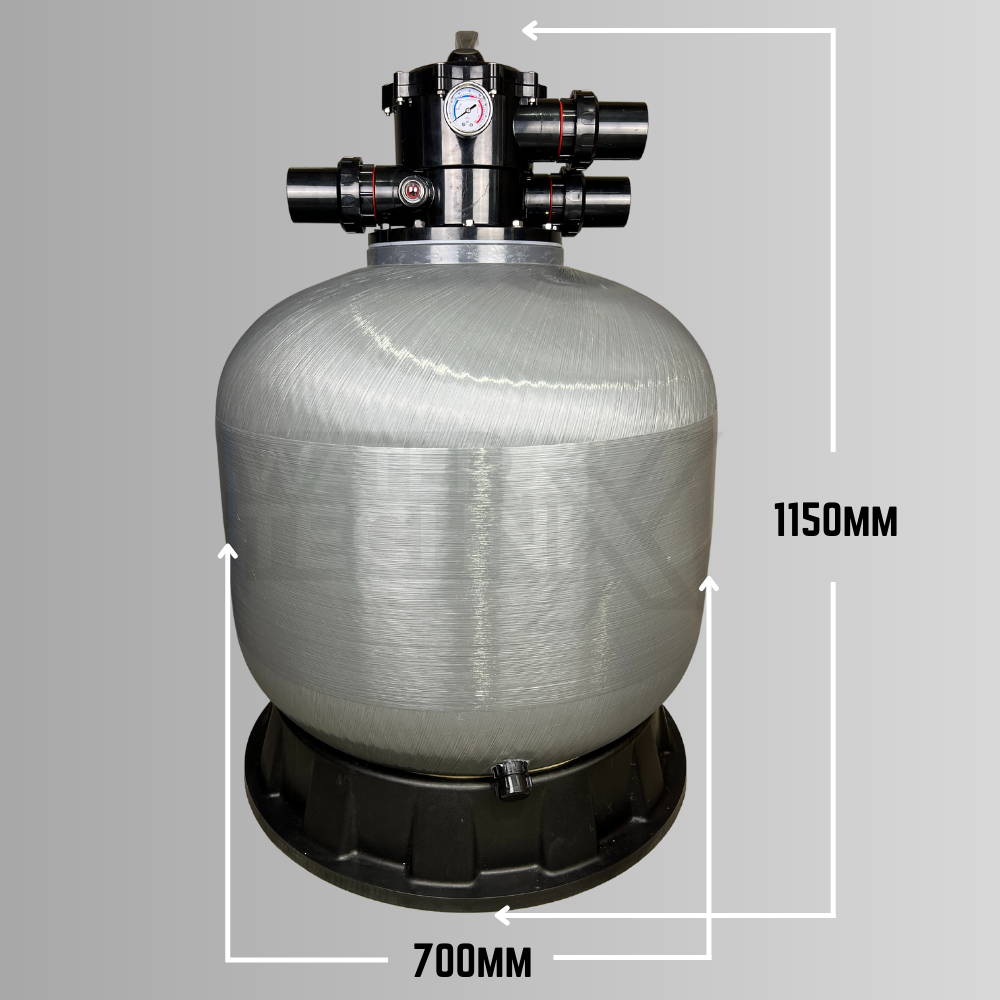 The wider the filtration area, the more the pool water is being filtered, leading to clearer and cleaner water faster.
Intuitive media filter design

The Water TechniX Media filter aspire has a large clear sight glass so you can know exactly when to finish with your backwashing. No more estimating backwashes by time and wasting hundreds of liters of water every time. Just run your backwash and once the water on the glass sight runs clear, then you're good to go! (tip: when performing a backwash, you dispel approx 1 bath tub of water, 300 - 400L).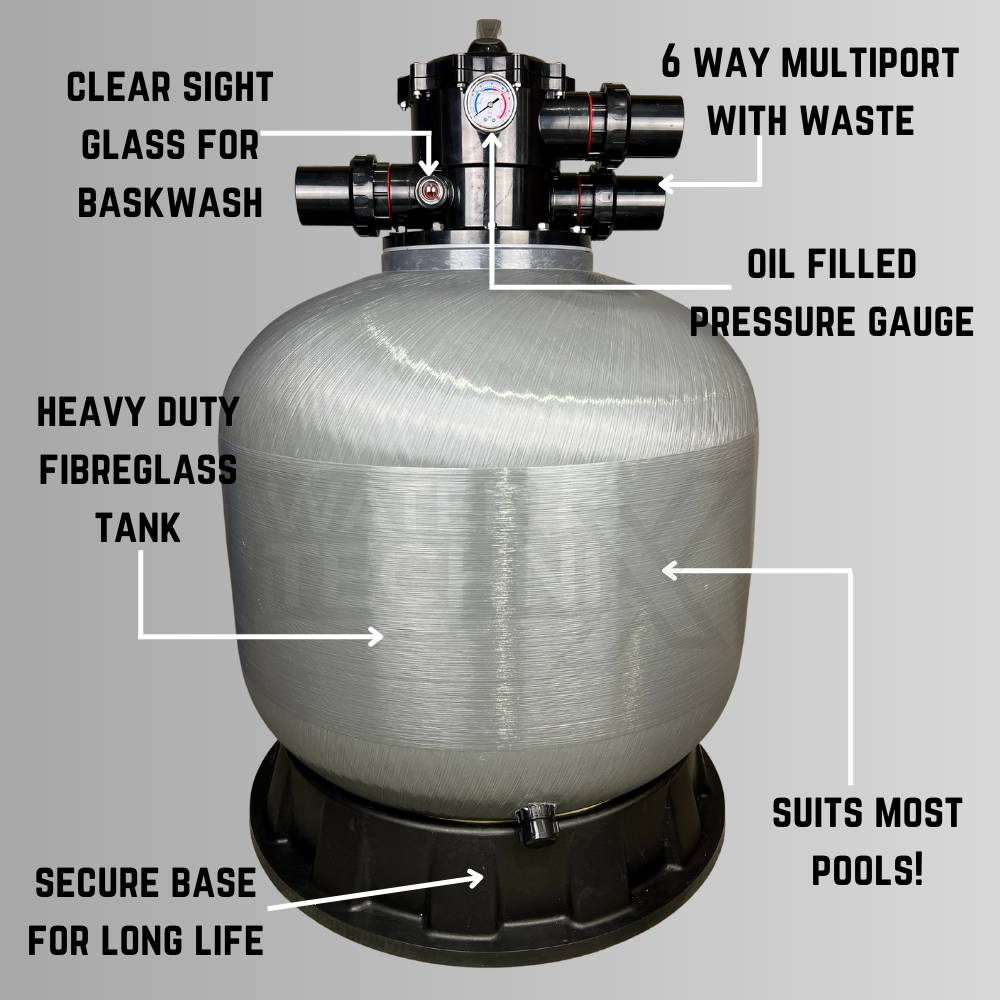 | | |
| --- | --- |
| Valve Position | Function |
| | Normal filtration and vacuuming |
| | Cleaning the filter by reversing the water flow |
| | Used after backwash to flush dirt from pipes |
| | Bypasses filter for circulating water to pool |
| | Bypasses filter and sends water directly to waste |
| | Shuts off both input and output valves |
The pressure gauge is professional-grade oil-filled, guaranteeing years of flawless performance. It is also very easy to read so you'll know exactly when your pool needs a backwash!
The Aspire also has a secure base that's built to last, ensuring that your media filter is secure and stable for years to come!
What media to use with pool media filters?
For best filtration performance, Mr Pool Man recommends that you use glass media. While sand is the most common type of pool filter media, glass media is a superior option in several ways.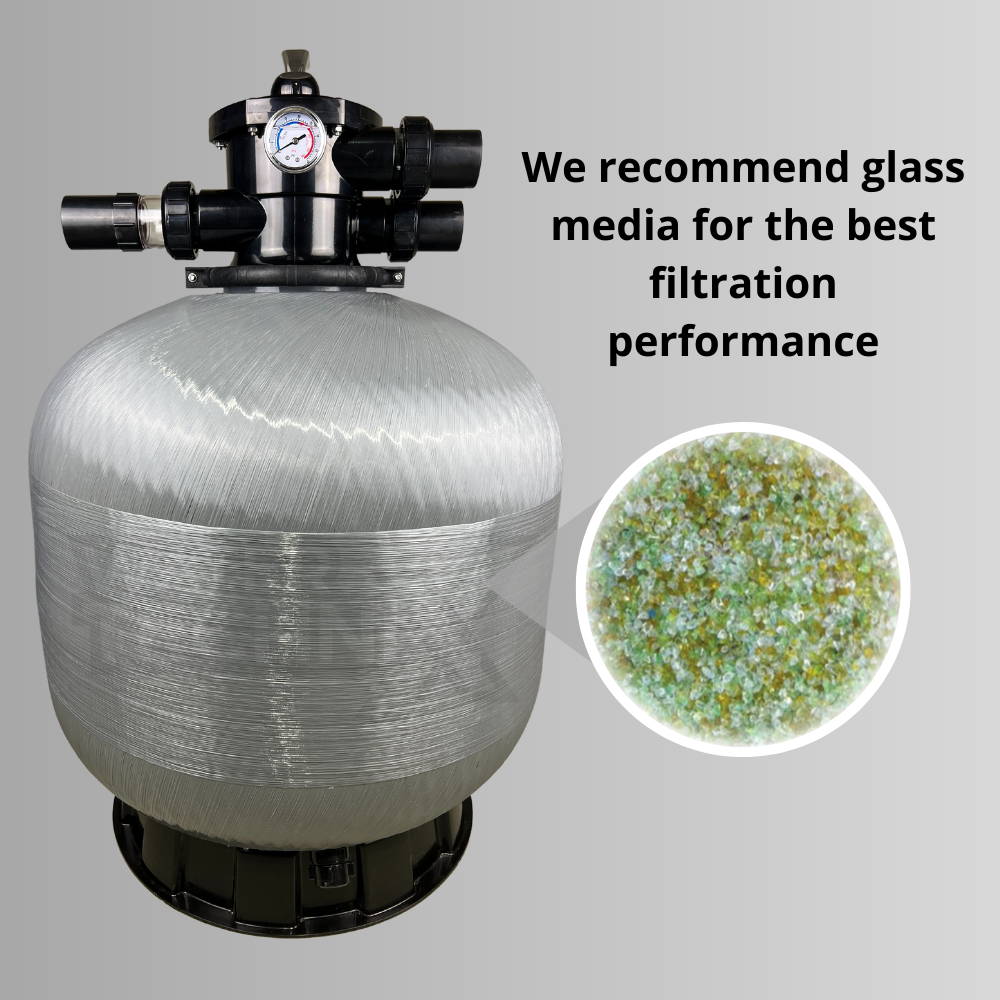 Glass media capture contaminants as small as 5 microns, while sand filters only capture contaminants as small as 20-40 microns. This means that glass media will remove much smaller particles from your pool water, resulting in cleaner and clearer water.
Glass media is also much more durable than sand media, and they require less maintenance. Sand media must be replaced every 3-5 years, while glass media filters can last up to 10 years. And because glass media filters don't require replacement as often, they're a more cost-effective option in the long run.
SAND MEDIA REQUIRED FOR YOUR FILTER
21" Sand Filter - 80kgs

25" Sand Filter - 120kgs

28" Sand Filter - 150kgs

30" Sand Filter - 200kgs
GLASS MEDIA REQUIRED FOR YOUR FILTER
21" Sand Filter - 1 coarse and 3 fine

25" Sand Filter - 2 coarse and 5 fine

28" Sand Filter - 3 coarse and 8 fine

32" Sand Filter - 5 coarse and 13 fine
Always go big when it comes to filters
There are currently two models available for t he Water TechniX Media Filter Aspire. A 25-inch model for small to medium sized pools and a 28-inch model for larger Australian home pools. Although not a hard and fast rule, we recommend getting a larger media filter no matter what your pool size is. The reason for this is that larger filtersr filter your water faster for the same amount of pump runtime and its larger capacity means longer intervals between backwashing, saving you water and pool chemicals at the same time!
Do you have any questions about this topic or the featured products? No worries, we're here to help! Drop us a question down below and we'll get back to you ASAP.
Happy swimming :)